Library
Welcome to the MPCC Learning Commons Library
The North Platte Learning Commons Library is home to both the Nursing Library and the Historical Nursing Library. Materials in this section include textbooks and workbooks, study guides for nursing exams, books on relevant medical topics, and a skeleton kit. Once material in the Nursing Library is seven years past its copyright, it is moved into the Historical Nursing Library.
Students, staff, faculty and area residents are eligible for borrowing privileges. By checking out materials, each individual agrees to be financially responsible for all materials/equipment borrowed under his/her name. A MPCC Campus Card, community ID card, or driver's license is required to check out library materials.
Computers in the library are primarily provided for Mid-Plains students. Some computers are restricted for student use only due to software access needs.
Laptops can be checked out for in-library use or daily check-out to use in classrooms. Laptops must be returned to the library before closing that same day. When you check out a laptop, you agree to pay the replacement costs of any lost, stolen, or damaged computer and/or accessory. Never leave a laptop unattended; you will be held responsible for it if it is stolen. If a computer, AC adapter, or other components are not returned, then lending check-out permissions will be limited.
Books check out for 90 days, magazines check out for 14 days, and DVDs check out for 7 days. Faculty and staff members have extended borrowing privileges for library materials; however, items may be recalled by the library if other patrons request usage.
Persons with overdue materials and/or unpaid fines may forfeit their borrowing privileges, and students may have a hold placed on his/her MPCC student account until the matter is resolved.
The cost of the item, plus a $5.00 non-refundable processing fee will be assessed for items that are lost or damaged. If a lost item is recovered and/or returned in satisfactory condition, a refund may be requested for the cost of the material. This is at the discretion of the librarian. Exception: The cost for lost or damaged interlibrary loan (ILL) materials will be determined by the lending library. ILL fines, once billed, will not be refunded.
Electronic resources, such as e-books and online databases, are available to all registered MPCC students and faculty. These resources are available through the MPCC Learning Commons online catalog. The credentials for login are specific to each individual and not are to be shared with individuals not registered with the college.
All students and faculty must use their MPCC Campus Cards to print or copy in the Learning Commons. For community members, the cost of photocopies is .05 cents per black and white copy (one-sided) and .20 cents per color copy (one-sided) and should be paid to library staff at the time of making copies. Scanning documents is available at no charge for all patrons. Faxing is not available in the library.
The Mid-Plains Community College (MPCC) Learning Commons Libraries provide high quality collections, staff, services and physical spaces that support the study, teaching and research needs of MPCC students, faculty and staff, and promotes the effective use of these resources. In fulfilling this mission, the Libraries are guided by principles and priorities that include:
Focus on the MPCC curriculum
Support lifelong learning by teaching information literacy
Developing competency skills as integral to an MPCC education
Ease and continuity of access to library resources in all formats
Continuing education and development of library staff
Collaboration with campus departments, academic libraries, and other partners
Respect for individuals, for diverse points of view, and for the free exchange of ideas
Confidentiality of library records and privacy of library users
ALA Bill of Rights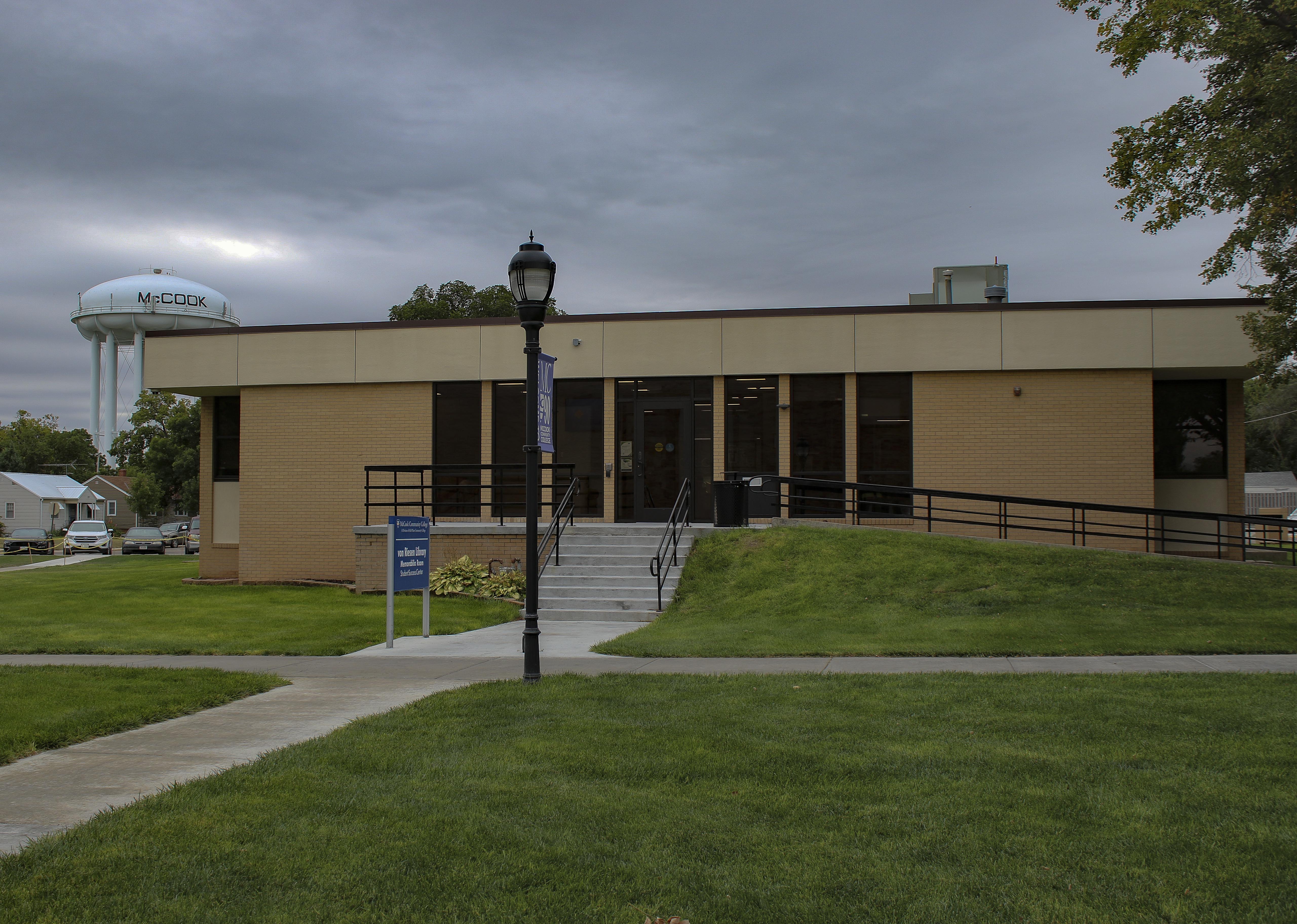 Von Riesen Learning Commons - McCook Community College
308-252-1828
MCLearningCommons@mpcc.edu
North Platte Learning Commons
MB 146 South Campus
308-221-6433
NPLearningCommons@mpcc.edu
McCook Learning Commons:
| | |
| --- | --- |
| Monday-Thursday: | 7:30am – 8:00pm |
| Friday: | 7:30am – 4:30pm |
| Saturday & Sunday: | Closed |
North Platte Learning Commons:
| | |
| --- | --- |
| Monday-Thursday: | 7:30am – 8:00pm |
| Friday: | 7:30am – 4:30pm |
| Saturday & Sunday: | Closed |