Area students earn scholarships at Inter-High Day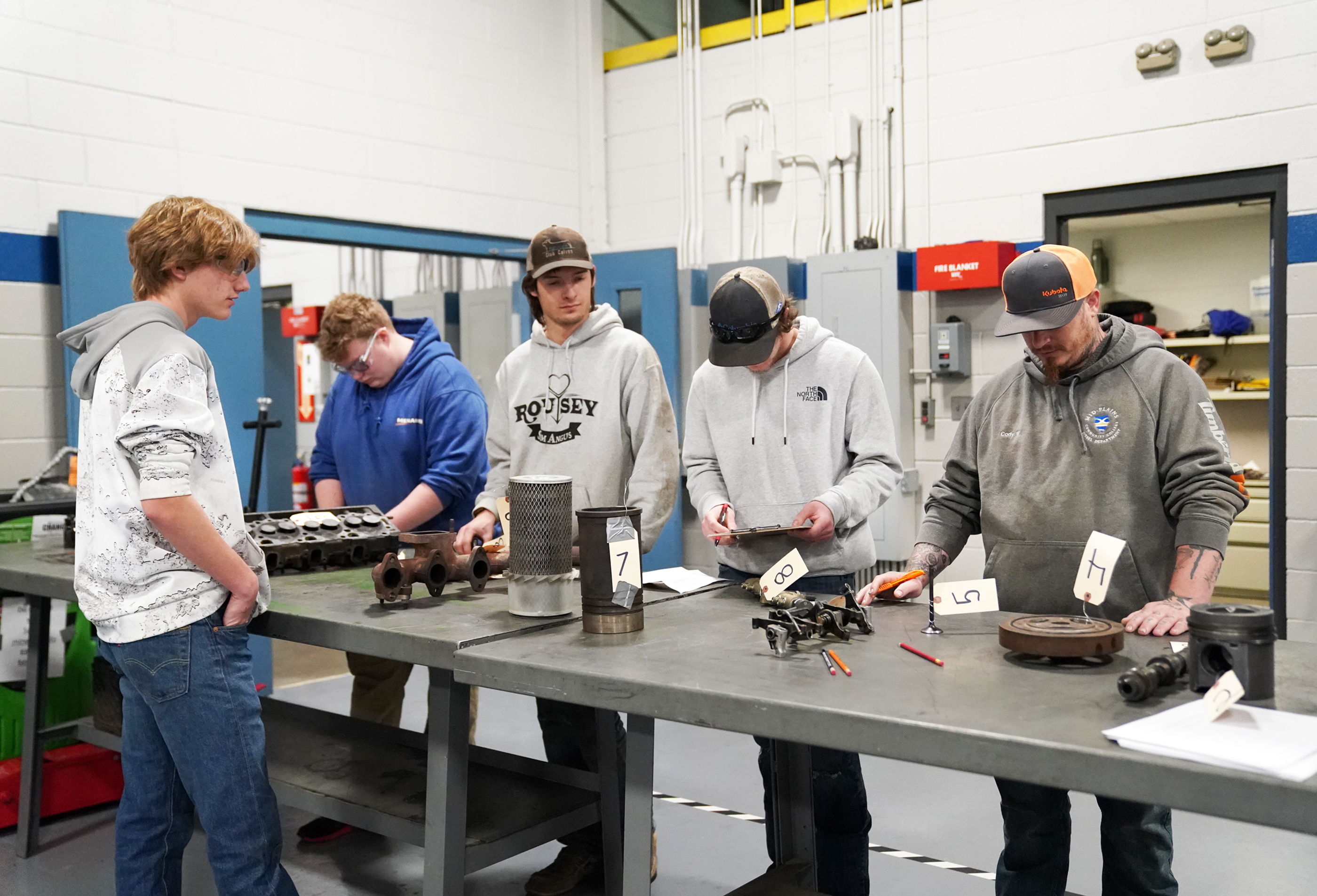 Wednesday, March 30, 2022
More than 500 students from 18 area high schools descended on North Platte Community College Wednesday for the 53rd Inter-High Day scholastic contest.
The students' knowledge and skills were tested in everything from accounting, health occupations, chemistry and music theory to auto body, welding, electrical technology and diesel mechanics.
Schools earned points based on how well their students placed in the academic divisions. The top three point earning schools received a plaque and a $500 scholarship to award to a student of their choice.
Winners in each category received a medal and a $500 scholarship to the college. Additionally, those placing first through third earned certificates for up to three credit hours of summer tuition.
Winners in the applied technology competitions also received industry tools that applied to their particular test areas.
Results were as follows:
Top School Division 1
First – Callaway
Second – Maxwell
Third – Eustis-Farnam
Top School Division 2
First – Stapleton
Second – St. Pat's
Third – Maywood
Top School Division 3
First – Hershey
Second – Hitchcock County
Third – Southwest
Academic categories:
Accounting
First – Megan Amos, Stapleton
Second – Cole Kramer, Stapleton
Third – Alex Honeywell, Stapleton
Art
First – Robi Winder, McCook
Second – Teya Carlini, St. Pat's
Third – Arianna Pierson, McCook
Biological Science
First – Will Krondak, St. Pat's
Second – Grant Hrupek, Callaway
Third – Louie Doyle, Medicine Valley
Business Communications
First – Megan Amos, Stapleton
Second – Emmy Oldham, Maywood
Third – Natalie Malcom, Eustis-Farnam
Chemistry
First – Ansley Williams, Eustis-Farnam
Second – Sophia Doyle, Callaway
Third – Joe Brown, Medicine Valley
Dramatic Arts/Theater (11th-12th grades)
First – Isabelle Stallbaumer, Callaway
Second – Jenason Spady, Garden County
Third – Angelica Vazquez, Wallace
Dramatic Arts/Theater (9th-10th grades)
First – Lisselle Lucas, Maxwell
Second – Tuesday Allen, North Platte
Third – Pryce Johnston, Maywood
Health Occupations
First – Lindsey Rippen, Hitchcock County
Second – Nathan Unger, North Platte
Third – Hayley Miles, St. Pat's
Information Technology
First – Damin Luedke, Paxton
Second – Peter Boyd, Hitchcock County
Third – Cole Barnett, Southwest
Introduction to Business
First – Ashton Guo, St. Pat's
Second – Sam Schmer, Ord
Third – Logan Fletcher, Hershey
Mathematics
First – Calen Pollard, Ord
Second – Allyson Jay, Paxton
Third – Tyler Abbott, Hershey
Medical Terminology
First – Tad Dimmitt, Stapleton
Second – Kate Stienike, St. Pat's
Third – Jordan Lech, St. Pat's
Microsoft Office Suite
First – Lance Wooters, Callaway
Second – Chloe Bassett, Stapleton
Third – Klayton Rinne, Dundy County Stratton
Music/Instrumental
First – Katie Hrnchir, Hitchcock County
Second – Tierinie Viter-Zogg, Hershey
Third – Bailey Hidy, Hitchcock County
Music/Vocal
First – Blane Lehman, Wallace
Second – Hannah Masin, Ord
Third – Cally Smith, Hitchcock County
Music Theory
First – Cruz Brooks, Hershey
Second – Tierinie Viter-Zogg, Hershey
Third – Britta Deden, Ord
NPCC Facts
First – Chloe Stucky, Maywood
Second – Harley Kuenning, Maxwell
Third – Breanna Francescato, Maxwell
Personal Finance
First – Ainsley Stawder, Wallace
Second – Michalee Brownawell, Hershey
Third – Gracie Seaman, Hershey
Poetry Writing
First – Ariel Gallegos, Southwest
Second – Jeremiah Ingison, Maywood
Third – Rainna Sierks, Ord
Prose Writing
First – Emmy Oldham, Maywood
Second – Jocelyn McGee, Eustis-Farnam
Third – Mallory Zorn, Garden County
STEM/Engineering
First – Casey Jones, Maxwell
Second – Lillian Wiese, Dundy County Stratton
Third – Dillon Christiansen, Garden County
Applied Technology:
Auto Body
First – Jacob Tobey, Maxwell
Second – Nathan Lytle, Southwest
Third – Tyler Cappa, Maywood
Automotive/Diesel Mechanics
First – Nathan Lytle, Southwest
Second – Jacob Tobey, Maxwell
Third – Koltar Rahn, Hershey
Building Construction
First – Brady High School - Cooper Franzen, Tayvier Mitchell, Kaden Dady and Aiden Mullen
Second – Arnold Public School - Cache Gracey, Trey Connell, Logan Recoy and Grace Bierman
Third – Hershey High School - Landon Hart, Chase Moorhead, Drew Hoelscher and Chris Miller
Electrical
First – Issac Weekly, Hershey
Second – Chase Martin, Wallace
Third – Jesson McClintoch, Wallace
Heating, Ventilation and Air Conditioning
First – Ethan Nicholson, Stapleton
Second – Nathan Kollinorgen, Hitchcock County
Third – Eric Halsted, Sutherland
Welding Division I
First – Bo Pokorny, Central Valley
Second – Isaac Anderson, North Platte
Third – Zach Stobbe, Central Valley
Welding Division II
First – Wyatt Heessel, Maxwell
Second – Coy Johnson, Stapleton
Third – Kyler Flaming, Wallace
---