MPCC Shooting Club competes at Prairie Circuit Classic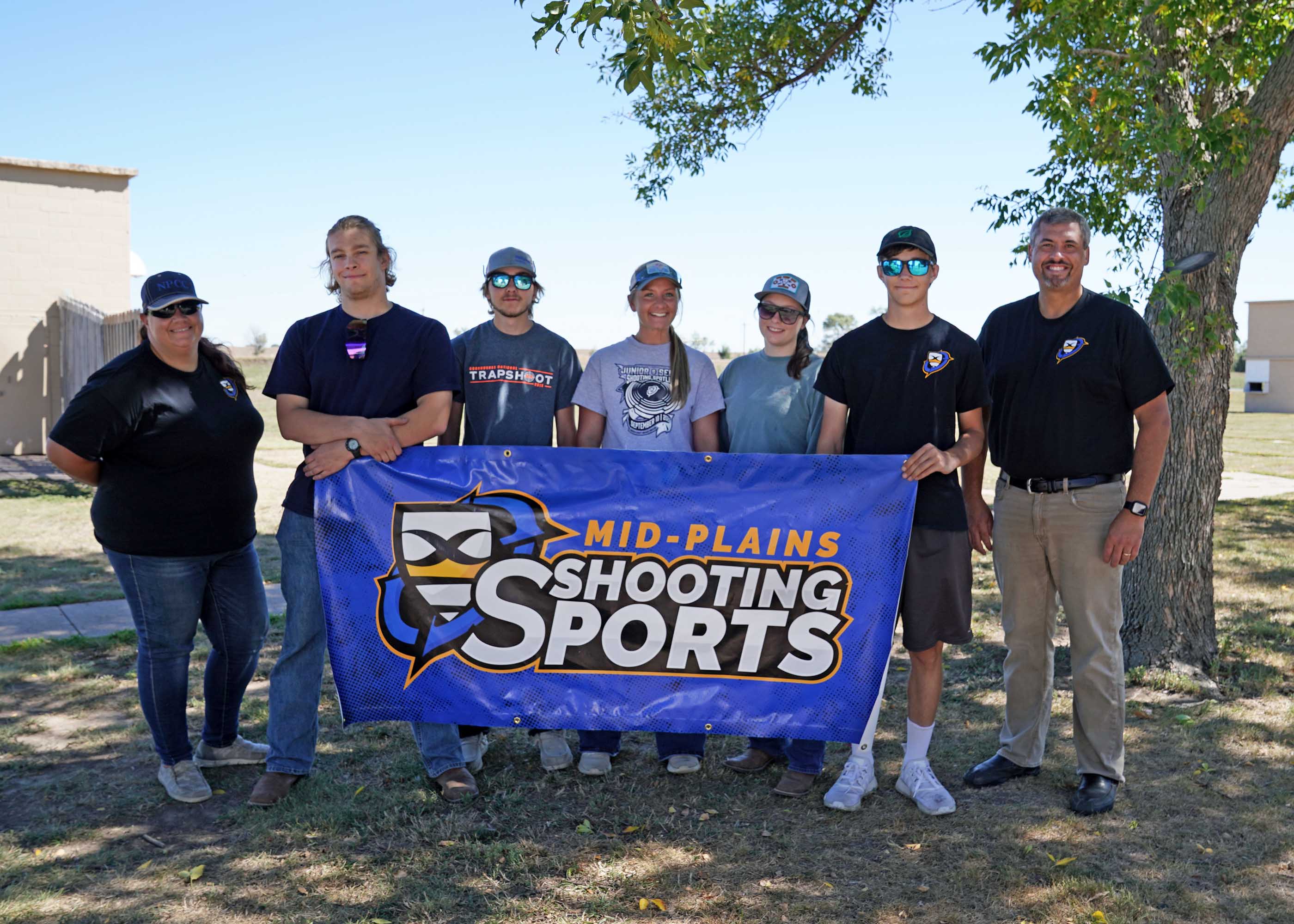 Monday, September 26, 2022
Mid-Plains Community College Shooting Club Head Coach Heather Wright, shooting club members Dan Start, Johnny Gustafson, Nevayah Jones, Haley Yonker, Kohltyn Majer and MPCC President Ryan Purdy hold up a banner during the Prairie Circuit Classic. Not pictured was shooting club member Luke Maris.
A total of 13 teams and clubs competed in the shoot, which was hosted by the Nebraska College of Technical Agriculture at the Lincoln County Wildlife Gun Club south of North Platte on Friday. The Prairie Circuit Classic drew in 174 competitors from five states.
The disciplines shot were trap, double trap, skeet, double skeet and sporting clays, with a total of 400 targets per shooter. MPCC's score was 1,388 out of 2,000 possible targets.
"I am incredibly impressed at how well our club represented MPCC," said Wright. "This was the first collegiate competition for four of our six shooters. Johnny and Luke shot last spring and at one competition this fall prior to the Prairie Circuit Classic. The support they have for each other shows me what an amazing group of young men and women we have this season. I think we have a lot of fun and will see growth among them both as individuals and as a club."
Mid-Plains will head east for the next competition. The club will compete at the Hastings Shoot at Heartland Shooting Park in Grand Island Oct. 8-9 before traveling to Lincoln for the Wayne State College Shoot Oct. 22-23.
At the end of the month, MPCC Shooting Club members will attend the Upper Midwest Conference Championship in Grand Island Oct. 28-29.
---