Performances for MCC's swashbuckling sequel Saturday and Sunday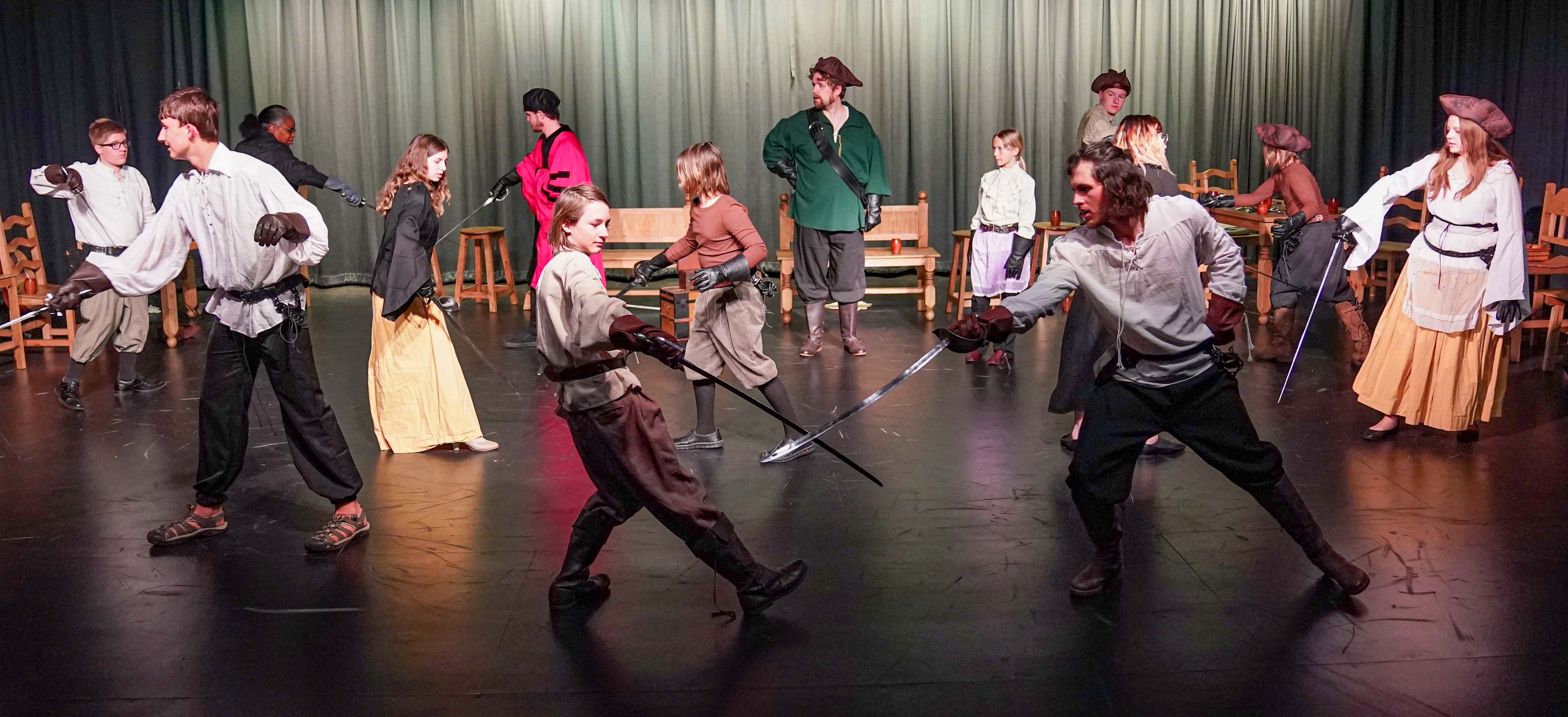 Wednesday, April 26, 2023
The McCook Community College Theater Department presents "Swashbuckling Scallywags at the Bilgewater Inn & Groggery" Saturday and Sunday at the Weeth Theater in Tipton Hall. Performances are set for Saturday at 7 p.m. and Sunday performances at 2 and 6 p.m. A freewill donation will be taken in support of MCC's Phi Beta Lambda.
Written and directed by MCC Theater Instructor Mark Hardiman, this presentation is a sequel of sorts to last spring's swashbuckler, "Swashbuckling Scallywags and Sweethearts."
"As has been the case with other plays I have authored, some characters aren't done when a particular play has finished its run," said Hardiman. "That was the case with many characters in last year's play."
This year's production picks up some time later from last spring. Some characters moved on. Some lost at sea, some live on in legend and others are adventuring in distant lands.
"So we are left to follow-up with some of our favorite characters and introduce some new ones from France and Italy," said Hardiman.
He said this production was written with the cast in mind and after auditions were held, a working script was developed with the specific actors in mind.
This production is a story about how the groggery and inn became famous throughout the land. Since the Duke (The Dread Pirate Roger) was excited to tell the story of the saving of the Bilgewater Inn and Groggery from financial ruin, he has asked his loyal patrons to tell the story by reenacting the steps that lead to its current success – all with a few sea shanties along the way.
Here are members of the cast (listed alphabetically):
Erin Herron- Erinne, Business manager of the Groggery
Matthew Herron - Dotorre, the Italian academic
Patrick Herron - Pat, The speedy server in the Groggery
Marcus Ingels - Marco, servant of Dottorre
Milva McGhee - Duchess of Bridgewater
Anna Miller - Fern, sister of Picea, wife of Leaf
Brandon Molcyk - Leaf, son of Duke of Brocolby, husband of Fern
Ruth Malcom - R, the Dread Pirate
Beckett Moser - Bek, servant to Moser and an actual pirate for hire
Easton Moser - Eastono, servant of Leaf from Italy
Everett Moser - Everett, pirate crew of the Dread Pirate R
Tate Moser - Moser, aspiring Dashing Pirate, who is dreadfully shy of women
Bryce Osterman - Duke of Brocolby and the Dread Pirate Roger, proprietor of the Bilgewater Inn and Groggery
Liam Smith - Lee, a helpful server at the Bilgewater Inn and Groggery and a Pirate in Training
Kelli Spike - Picea, adopted daughter of The Duchess of Bridgewater, widow of Giles
Audrey Wilson - Audrey, cook and crew of the Dread Pirate R
Here are the crew members:
Director/Author/Fight Designer - Mark Hardiman
Dialect Designer - August G. Roy
Shanty Man (Music) - Tate Moser
Lighthouse Crew - Brandon Molcyk, Tate Moser, Liam Smith
Pirate Garb - Beckett Moser, Erin Herron
---