More than 300 high school students earn MPCC honor cords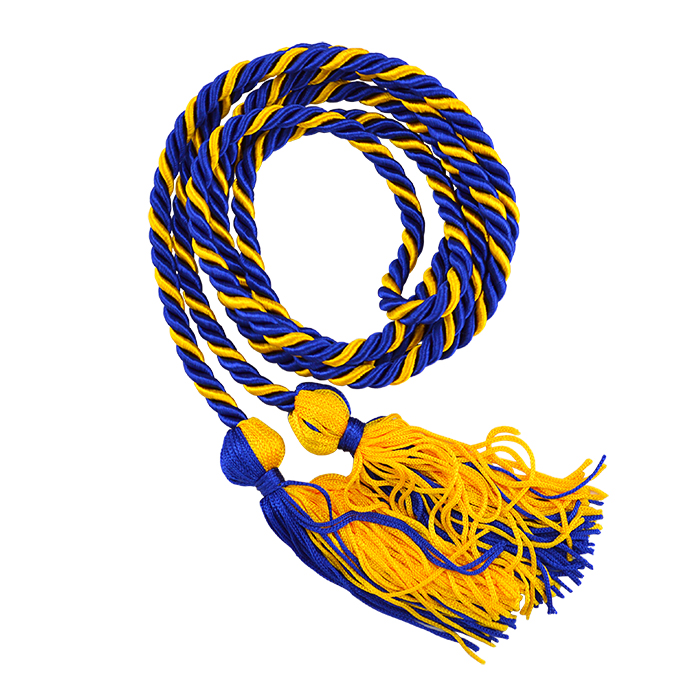 Thursday, April 8, 2021
Mid-Plains Community College will award 318 honor cords to area high school seniors to wear at their graduation ceremonies this spring.
The cords are used to recognize students who have taken the initiative to pursue college credit while still in high school. To earn one, a student must have successfully completed 12 or more credit hours of college classes through MPCC.
"The high number of students taking 12 or more credit hours is a testament to how well area high schools and MPCC have partnered to provide opportunities for high school students," said Paul Knopick, area director of early entry and program development. "It also shows how area families have seen the importance of dual credit and the benefits that it provides. These 300-plus students were able to experience higher education classes in a setting they are already familiar with – helping to alleviate any concerns they might have regarding their next steps after high school and putting them one step closer to a college degree."
The following students will receive honor cords this year. Those who choose to continue their education at MPCC will also be eligible for increased financial assistance in the form of scholarships.
Anselmo-Merna High School – Claire Cooksley, Kaitlyn Jacquot
Arnold High School – Jadeyn Bubak, Landyn Cole, Samuel Cool, Kacee Dvorak, Bailey Schwarz, Eli Taylor
Arthur County High School – Payton Gorwill, Faith Storer, Gracie Wenzel, Sheridan Wilson, Alexander Worthing, Kaden Wykert
Brady High School – Sofia Atkins, Gabbrielle Christner, Kyler Horn, Abigail Jurjens, Kyla Most, Teagan Rossma
Broken Bow High School – Brianna Arguello, Isak Chancellor, Emery Custer, Kassidy Cyboron, Blake Denson, Ryley Dickau, Lathan Duda, Roy Eberle, Tia Epley, Abigail Flint, Boden Gajewski, Trey Garey, Minji Haynes, Katherine Holcomb, Madison Jackson, Halle Jacobsen, Nolan Johnson, Emily Jonas, Frazier Kaelin, Gabrielle Kissell, Elizabeth Nielsen, Graycee Oeltjen, Christopher Osmond, McKenna Palmer, Nikki Peters, Emma Schall, Cami Schweitzer, Kailyn Scott, Delaney Sherbeck, Gillian Sherbeck, Kali Staples, Isela Tercero, Alexander Wenquist
Callaway High School – Laney Badgley, Brandi Coons, Dalton Kunkee, Calyn Liable
Chase County High School – Charles Barnes, Ashlie Benge, Hope Brosius, Kamrie Dillan, Halle Fiedler, Brit Gockley, Morayah Martinez, Cedric Maxwell, Kambree Meeske, Lindsey Mendenhall, Mason Nordhausen, Courtney Odens, Nathan Owens, Mercedes Peterson, Alexis Richmond, Sydney Schilke, Chloe Soltis, Ryley Vrbas, Kora Weiss
Cody-Kilgore High School – Tatym Jespersen
Creek Valley High School – Nolan Ortgies
Dundy County-Stratton High School – Lauren Bailey, McKinzie Baney, Kaylin Brown, Kirstin Cawthra, Chloe Latta, Maggie Lutz
Gothenburg Public School – Maeve McCoy
Hayes Center High School – Guadalupe Marquez Rascon
Hemingford High School – Alex Neefe, Kenneth Wyland
Hershey High School – Anna Berntson, Brooke Bode, Reagan Hudson, Eli McConnell, Carly Sexson, Chloe Van Den Hemel, Tayten Wilson
Keya Paha County High School – Koby Franklin
Maywood High School – Jaycee Widener
McCook Senior High School – Madelyn Bird, Harley Cribbs, Abigail Degnan, Savannah Donovan, Bryce Dutton, Tucker Gillespie, Sage Graves, Lexi Hauxwell, Megan Hodgson, Tanner Jacobs, Bree Janousek, Cale Johnson, Hayden Johnson, Emma Kehler, Kora Keslin, Emily Kjendal, Alec Langan, Charity Malleck, Luke Maris, Mason Michaelis, Ashley Miller, Richa Patel, Kaylie Puckett, Maria Schaben, Liviya Wier, Elsa Wilcox, Shayli Wilkinson, Baylor Winters
McPherson County High School – Shyanne Lambert
Mullen High School – Hayden Jennings
North Platte High School – Brianna Ady, Zach Alexander, Carson Arpan, MJay Avis, Blake Barner, Kaylee Beachy-Frosh, Landon Blank, Delaney Bocott, Tahjzha Botts, Jonathan Brouillette, Claudia Cobos, Tanner Collins, Kaitlyn Connelly, Brooklyn Douglas, Baylee Evarts, Molly Fitzpatrick, Haeley Folk, Joslyn Freeze, Meleah Friedrich, Trenton Golter, Regan Gutschenritter, Gracie Haneborg, Kaden Hanner, Madison Harwager, Caedmon Hoaglund, Kyrie Jenny, Kristopher Kautz, Maylah Langemeier, Maya Lashley, Chase Leibhart, Taylor Lowe, Keisha McCartney, Cooper McIntosh, Ethan Mercer, Gage Miller, Mattie Morrell, Kasch Morrison, Thomas Moss, Peyton Neff, Aspen Nelson, Treyton Nichols, Madeline Ochsner, Abby Orr, Daniel Phillips, Victoria Randolph, Miah Rhoades, Jaylan Ruffin, Jonah San Miguel, Kilee Sauer, Hallie Sexson, Jaylee Sheets, Haley Smith, Iszabella Smith, Jasmine Smith, Trevor Snyder, Daniel Start, Malery States, Baylee Steele, Benjamin Steele, Joshua Stoner, Skyler Sudbeck, Claire Tegtmeier, Hayden Thatcher, Tyler Tobey, Lilli Tobiasson, Ariana VanMeter-Petrackis, Blake Vaughn, Annetta von Kampen, Breanna Wade, Gabriella Wagner, Bryson Walker, Kinley Weigel, David Wellnitz, Mikaiah Wiezorek, Elizabeth Winkler, Micheala Wright, Shelby Yoshida, Peyton Zeller, Lucas Zimbelman, Callen Zurn
North Platte St. Patrick High School – Genna Blakely, Logan O'Malley, Samuel Dekleva, Joseph Heirigs, Rachel Heiss, Sophia Krondak, Jackson Lake, Nathan Moats, Ashley Tolstedt
Ogallala High School – Courtney Berol, Josie Coggins, Milan Coggins, Jenna Curtis, Makenna Eisenzimmer, Destiny Holthusen, Miah Hoppens, Jordan Hughes, Sierra Knaub, Truman Knudsen, Kadance McDonnell, Jordan McPeak, Gage Stokey, Madisen Thraen, Kameryn Trumbull, Kinsy Tuma, Blake Wyatt
Paxton High School – Adrian Eakins, Jared Fox, Ashleigh Jay, Aspen Riesberg, Remington Schimonitz, Keegan Schow, Dane Storer
Perkins County High School – Danielle Burge, Rylee Huff, Hannah Kempf, Brandon Knoles, Carter Krajewski, Kayla Shada Wid, Keegan Sims, Ethan Terry
Sandhills High School – Matthew Dailey
Sargent High School – Daniel Folkers, Emma Hart, Karina Kitt, Andrea Maldonado, Shaylee Oxford
Southwest High School – Kaylee Guerrero, Julia Holdcroft, Rachel Moore, Lanie Overton, Allison Rippe, Elaine Roggenkamp, Alyssa Springer, Matthew Van Pelt
Stapleton Public School – Trisha Bernt, Hope Gustason, Trinity Hansen, Kimbal Sanchez, Conner Simants-Phillips, Blaze Walker
Sutherland High School – Skylar Evans, Vivveanne Fischer, Taarna Gray, Luke Martinez, Trinity Turner, Paige VanSkiver, Taylor Weber
Thedford High School – Rhiannon Painter
Valentine High School – Faith Buer, Xandra Conroy, Jared Ellis, Kane Fowler, Haley Hesse, Michaela Keller, Hank Lancaster, Fletcher Larsen, Brysen Limbach, Josiah Maunu, Ryan O'Kief, Jonah Perrett, Samantha Phillips, Shauna Radant, Haylee Richards, Delaney Robison, Hadley Rodgers, Isabelle Salters, Sean Shepler, Jennifer Sinnett, Elliana Springer, Calvin Stoeger, Shyanne Urbin, Christopher Williams
Wallace High School – Aidan Anderson-McClintock, Ethan Bowlin, Arianna Davie, Tanner Finley, Ashlyn Robinson
Wauneta-Palisade High School – Olivia Behrends, Kendra Bley, Faith Burton, Lilith Miner, Haylee Sandman, Haley Walker, Payton Yearous
The following homeschooled students will also receive honor cords:
Culbertson – Galayna Erickson
Curtis – Aretta Brennemann
Lemoyne – Alexandra Thomas, Gabriella Thomas
McCook – Anna Miller
More information about MPCC's Early Entry program is available online at http://www.mpcc.edu/student-resources/credit-systems.
---