Motivational speaker Amberley Snyder to visit Ogallala/North Platte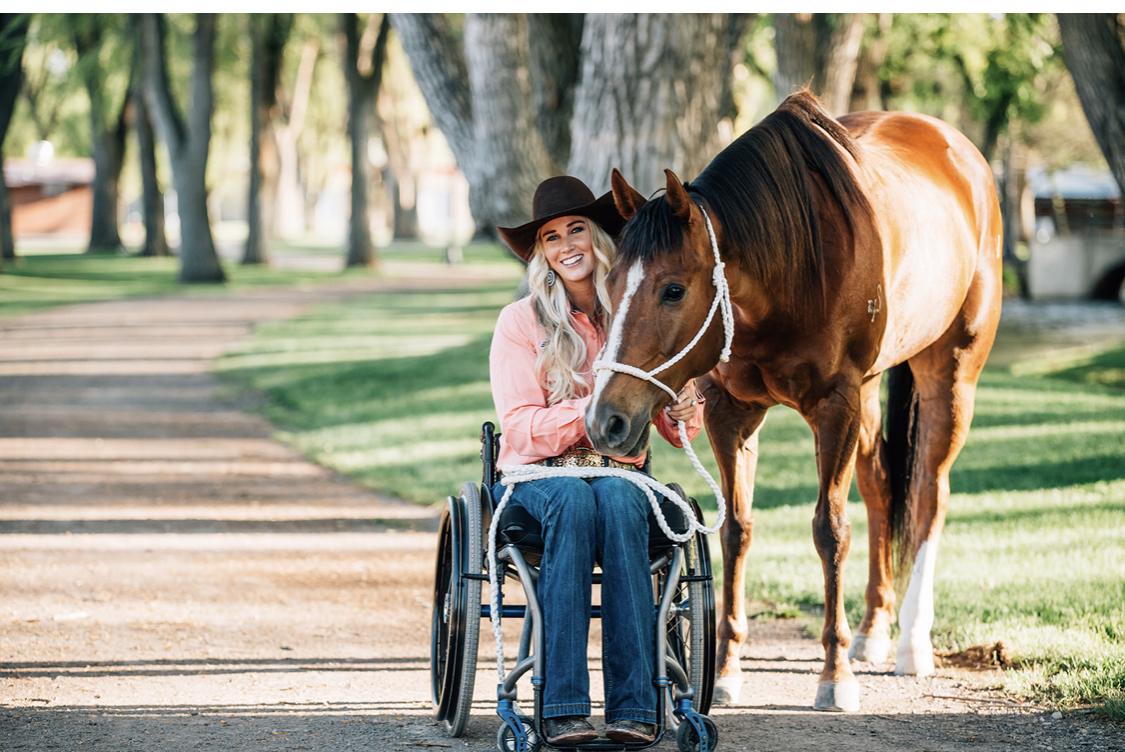 Monday, September 11, 2023
Professional barrel racer and motivational speaker Amberley Snyder will speak in Ogallala and North Platte in October.
Snyder is the subject of the Netflix movie, "Walk. Ride. Rodeo," released in 2019. The biopic focuses on her journey leading up to and following a vehicle accident that left her paralyzed from the waist down.
The Mid-Plains Community College Student Life Department is organizing her visit to local communities.
The first presentation will be at 10 a.m. (MDT) Oct. 23 at Ogallala High School, followed by a meet-and-greet with Snyder.
She will then speak at 1 p.m. (CDT) Oct. 24 in the McDonald-Belton Theater on the North Platte Community College South Campus, 601 W. State Farm Rd, in North Platte. There is no meet-and-greet with the North Platte presentation.
About Snyder
Snyder fell in love with horses early in life and was barrel racing by the age of 7. She subsequently competed in junior and high school rodeos, winning multiple titles and awards.
Snyder qualified for the National High School Finals Rodeo in pole bending in 2009, her senior year of high school, and won the National Little Britches Rodeo Association All-Around Cowgirl World Championship.
She was on top of the world at that point but came crashing down in January of 2010. Snyder was on her way to the Denver Stock Show and Rodeo, driving through Sinclair, Wyo., when she looked down at her map and crossed the centerline.
Snyder attempted to get back into her lane but overcorrected and rolled her truck. She was ejected and slammed into a fence post, breaking her back.
She underwent five hours of emergency surgery and was told by her doctor that she would never regain use of or feeling in her legs.
Snyder set out to prove him wrong.
Back in the saddle
Four months later, she was back on her horse. Eighteen months after her accident, Snyder returned to competing in rodeo.
In 2015, she was voted the fan exemption contestant at the world's richest one day rodeo, RFD-TV's The American. Snyder competed with the best in the industry and was just 0.6 seconds short of the winning time. She received a standing ovation from over 40,000 fans in the AT&T Stadium in Arlington, Texas.
When "Walk. Ride. Rodeo." came along, Snyder served as co-producer and her own stunt double. She also co-wrote the song, "Ride," for the soundtrack and published a book by the same name, "Walk Ride Rodeo: A Story About Amberley Snyder."
Today, Snyder continues to barrel race as part of the Women's Professional Rodeo Association. She qualified for the Wilderness Circuit Finals in 2021 and 2022.
Snyder also travels the country sharing her story of triumph over tragedy and has become one of the most sought-after social influencers and motivational speakers in western sports.
Her story in her words
Snyder's presentations in Ogallala and North Platte are open to the public. Seating will be available on a first-come, first-served basis in both locations.
Tickets are required and nonrefundable. They must be purchased in advance as they will not be available at the events. Tickets are $10 each with the exception of those for MPCC students and employees who will be admitted free. FFA and other school organizations will also be admitted free with pre-registration.
Tickets are available by calling the MPCC Business and Community Education department at (308) 535-3678 and asking for Jeff Smeltzer or Mandy Brandes.
---