Ambulance simulator will provide MPCC students with real-world training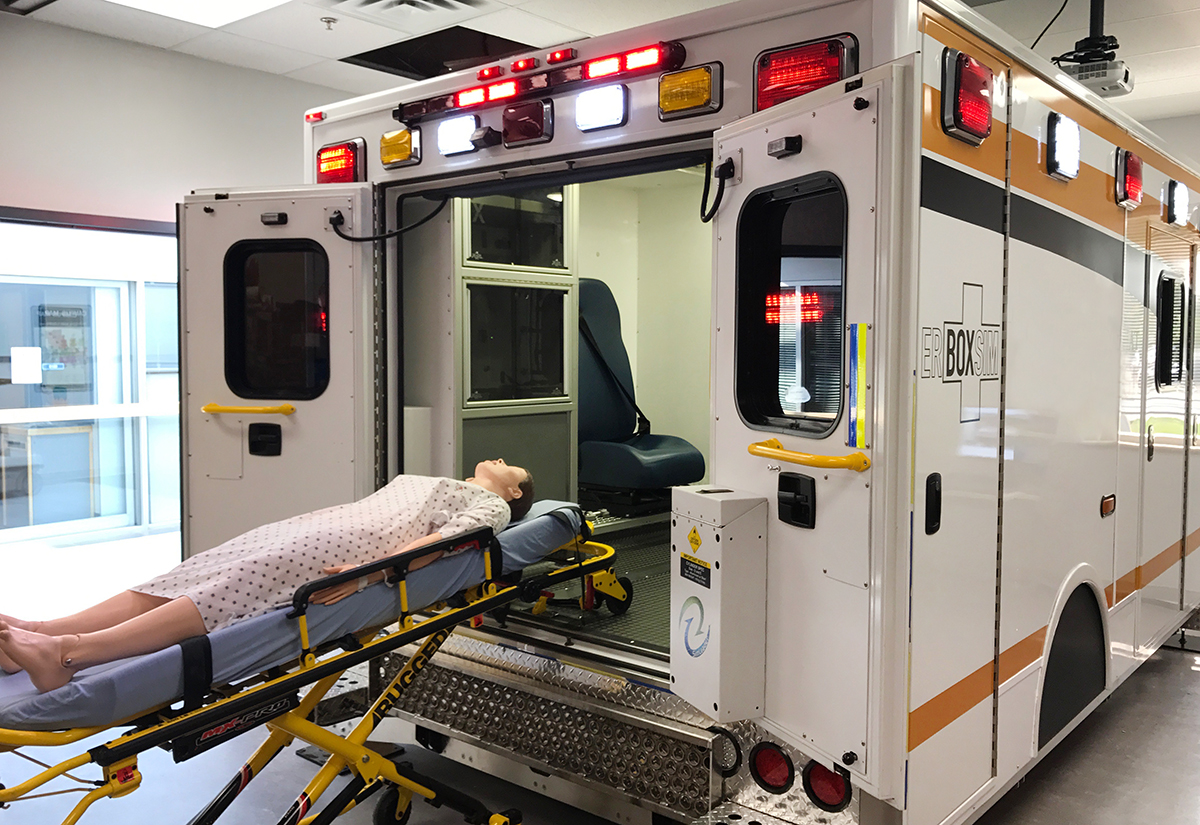 Thursday, August 17, 2023
(Photo courtesy of Echo Healthcare.)
Students studying Emergency Medical Services at Mid-Plains Community College will soon be able to practice treating patients in an ambulance – long before they ever set out on the road.
A SimLeader ambulance box has arrived at the college's South Campus in North Platte. Purchased from Echo Healthcare, the simulator will allow students to train in a safe and controlled environment prior to experiencing an on-the-job emergency.
"The ambulance simulator is one of a kind," said Alex McConnell, EMS and CPR coordinator. "Students will be able to familiarize themselves with the feel and equipment of a life-size ambulance all while getting the benefit of road noise and movement."
Some of the simulator's many features include:
Full aluminum ambulance construction
Full hydraulic system with motion
Real-time driving simulator
Three monitor screens
Driving scenarios using local streets
Instructor-led, software-driven scenarios
Full temperature control
Programmable LED lights and surround sound
Fully functioning electrical outlets
Oxygen outlets
50 PSI oxygen regulator
"The ambulance box is fully functioning, so instead of simulating suction or oxygen application, students will be flipping switches and equipment will turn on so that they know it is working and how that feels," said McConnell.
Monitors covering the windows can depict familiar scenes.
"We can take a camera, record a drive from the college to the hospital and then play that footage on the monitors," McConnell said. "The students will then see all of the local scenery as if they were actually driving past it."
The ambulance box also doubles as a driving simulator, allowing students to feel turns, bumps and speed changes in real time and prepare for radical weather, poor road conditions and an array of traffic scenarios.
Those "driving" the simulator will gain a better understanding of how certain actions affect EMS providers in the back.
"The scenarios we can run are endless," said McConnell. "It is our hope that we can not only train new students but also encourage departments to come in, train with us and utilize the driving simulator for a portion of their EVOC training. Anytime we can give our students and providers real-life experience and put them in stressful situations where we can teach and debrief without having a real patient's life in the balance is of huge benefit. The more they can practice, the better they will perform, and hopefully the calmer and more collected they will feel during actual emergencies."
The ambulance box will be housed in the newly expanded area of MPCC's Health and Science Center. EMS students will be tasked with cleaning it so they can be prepared to keep themselves and others safe on calls.
The total cost of the simulator was $290,000. Of that, $25,000 was donated by Priority Medical and $64,000 came from a grant from the Nebraska Department of Health and Human Services Emergency Medical Services Program.
That funding was part of a $1 million grant awarded to Nebraska to be used for EMS training agencies across the state. MPCC was selected as one of the recipients because of its central location and ability to serve a large population of students.
Training on the simulator is expected to begin this fall.
Information about the Emergency Medical Services program offerings at MPCC can be found on the college's website, mpcc.edu.
---