Area women discover love of Auto Body through NPCC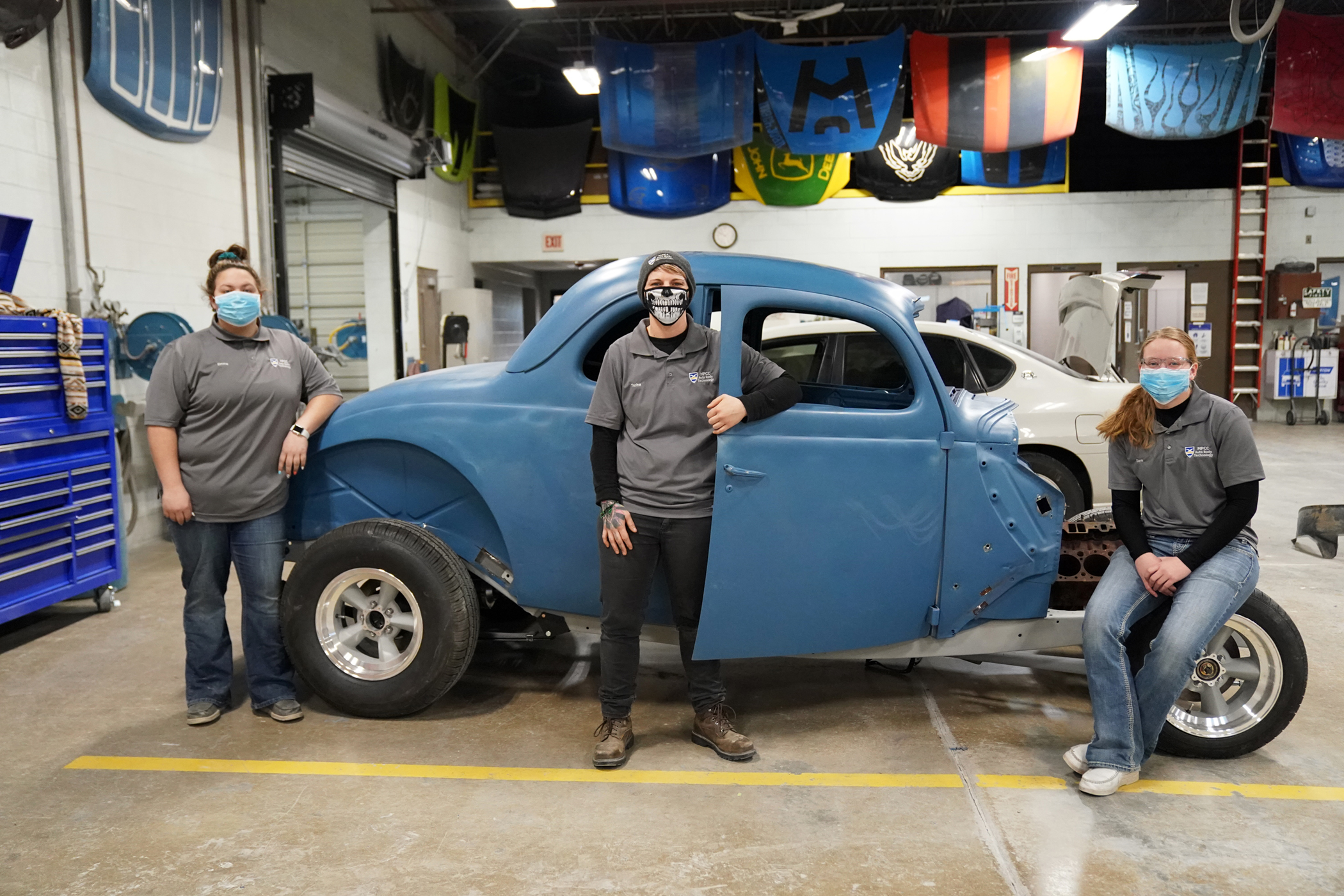 Tuesday, March 9, 2021
Emma Schanou, Tarina Beenblossom and Sara Ford are part of the Auto Body Technology program at North Platte Community College. The three are loving a field that is traditionally occupied by men.
A record number of women are enrolled in North Platte Community College's Auto Body Technology program this year.
While three might not seem like a lot, it's a substantial increase from what the college has seen in previous years. Some are hopeful it's an indication of a shift in the industry as a whole.
"If they can do the job, it shouldn't matter what their gender is," said Mark Harwood, Auto Body Technology instructor for NPCC. "I'm happy to have women in our program. They bring a lot of strengths to the table. They tend to be more detail-oriented than men, they're not as apt to be colorblind and, frankly, they motivate the guys to work harder."
According to the U.S. Bureau of Labor Statistics, women make up just one percent of the workforce in auto body-related jobs nationwide.
Harwood has taught at NPCC for three decades and during that time, female students have only enrolled in the auto body program every five years or so – and then, only one at a time.
"I don't think it's a profession that's marketed very well to women," Harwood said. "It's also a physically demanding job with all the lifting and sanding and other elements that go into it, so I think that's why there's been a bit of a social stigma surrounding the occupation."
Tarina Beenblossom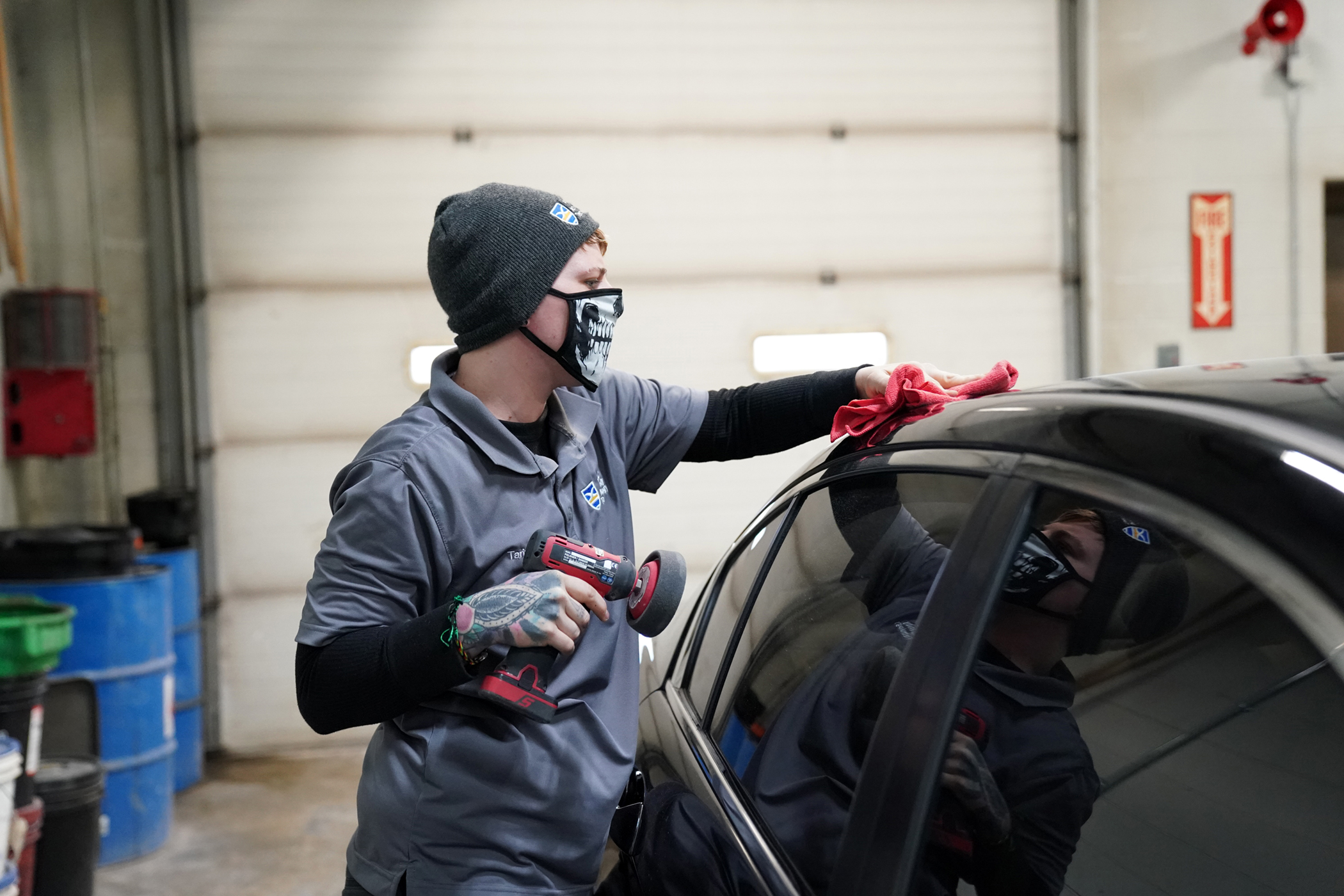 Tarina Beenblossom wipes down a car in the Auto Body Technology department at North Platte Community College.
The physical aspects were part of why Tarina Beenblossom's father tried to talk her out of pursuing a career in the field. She initially heeded the advice and, after graduating from Gothenburg High School in 2010, enrolled in graphic design classes at NPCC instead.
"My mom has a graphic design business, and she wanted me to come work for her," said Beenblossom. "So, I got my certificates at NPCC and worked for my mom for a while, but it was a bit too slow-paced for my liking."
Seeking a change, Beenblossom moved to Las Vegas and took a job wrapping cars and setting up for conventions such as the Specialty Equipment Market Association (SEMA) Show. Beenblossom also had the opportunity to work with Fresh Wata creating logos for the Life Is Beautiful Music and Art Festival.
"The experiences in Vegas definitely boosted my confidence," Beenblossom said. "I realized I like variety and challenges, and I'm content when I'm on the go. Auto body plays into that really well because every day there's something new to work on."
Work slowed when the pandemic hit last year, prompting Beenblossom to move back to Gothenburg in June.
"That's when I started thinking about returning to NPCC for auto body," Beenblossom said. "I had always wanted to do it, and it seemed like the perfect time. My dad still didn't think auto body was a good idea. He didn't think I would enjoy it. That just kind of lit a fire inside of me, and I decided to try it anyway. He's really proud of me now."
Beenblossom has always been a "fix it herself" kind of person, and auto body has allowed her to develop those hands-on skills while also giving her the opportunity to express herself artistically.
"Auto body has been very therapeutic for me," Beenblossom said. "I'm the most content when I'm out of my head and just focusing on sanding or painting. I want to be a jack of all trades and to feel good about what I did at the end of the day. Auto body lets me do that."
Beenblossom is the first to admit she's not physically as strong as some of the guys in her class, however, she's also aware that she has a lot of other attributes to offer the industry - such as her ability to multitask. It helps that Harwood and her classmates recognize that, too. They have made her feel welcome from day one.
"No one looks at me like I can't do something just because I'm a woman," Beenblossom said. "Mark treats all of his students the same, and the guys in my class are all really nice. If anything, they try to be the gentlemen and lift the heavy stuff for me, which isn't a bad thing. I think overall we complement each other's skills and make the department stronger."
Sara Ford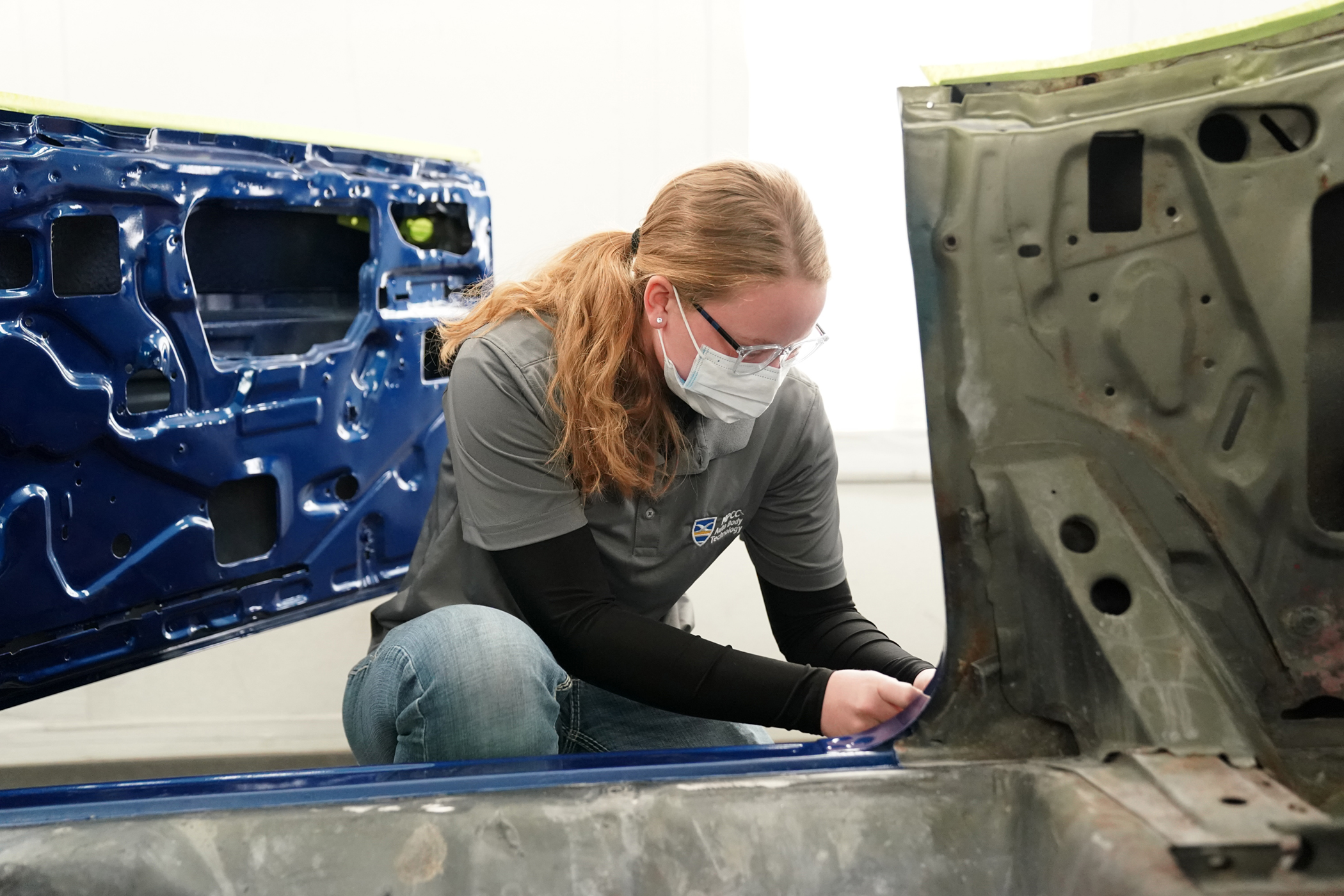 Sara Ford preps a car for painting in the Auto Body Technology department at North Platte Community College.
Like Beenblossom, Sara Ford, of Cody, Neb., took the long way around before ending up in NPCC's auto body program.
She graduated from Cody-Kilgore High School in 2019 then spent a semester at Chadron State College.
"I wasn't happy in Chadron, so I transferred to NPCC to finish my gen eds," Ford said. "After that, I was looking for something a little more hands-on and toured the applied technology offerings on NPCC's North Campus. My dad went to school to be a mechanic, so I had that influence already. I have always enjoyed working with my dad in the shop and have gained a love for classic cars from him, which made auto body seem like a good fit."
Ford was worried she wouldn't have enough experience when she entered the auto body program to be successful, but Harwood put her fears to rest.
"Mark teaches us at whatever stage we're in," Ford said. "I really appreciate that. I've gained a lot from the experience."
In addition to honing her auto body skills, Ford has acquired an appreciation for detail and a better understanding of prioritization, timeliness, customer service, billing and other office responsibilities. Those are all skills that will serve her well no matter what occupation she chooses to pursue.
"Most of all, I gained a sense of accomplishment from going into a field that women don't usually go into," Ford said. "Social stigmas shouldn't deter your goals. Whether you're male or female, if you have an interest in auto body, you should pursue it. I'm proud of myself. I had nothing to lose, so I took a chance and would encourage others to do the same. You can't change and grow if you never leave the environment you're used to."
Emma Schanou
Emma Schanou applies tape to a car in a paint booth at North Platte Community College.
NPCC was the first choice for Emma Schanou, of North Platte, after she graduated from Wallace High School in 2019. Her father took auto body classes at NPCC when he was in college, and it was important to her to stick with tradition.
"I've known Mark basically my whole life," Schanou said. "I was raised on hot rods. My family builds them as a hobby and takes them to car shows, so we travel the same circles Mark does. The fact that I knew him and was already familiar with the college made coming to NPCC an easy decision."
Schanou changed majors three times before she actually entered the auto body program. She was planning to earn an associate degree in business then transfer on, until she took an auto body night class and fell in love with it.
"I was hooked at that point," Schanou said. "I never really liked classroom work. I was always more of a hands-on person, and I've always had an eye for vintage things. I like restoring them to their original condition. I love the 'American Restoration' TV show. If I could open a shop like that, it would be a dream come true."
Schanou has also tossed around the idea of one day owning a hot rod and classic car body shop.
"That would be cool," she said. "You don't see many of those."
She has wondered, however, if she might be overlooked with a shop like that because of her gender.
"I haven't noticed it at the college, but in the workforce, it seems that women in auto body aren't always taken seriously," Schanou said. "I suppose it's similar to having a guy paint your nails instead of a woman. There's nothing wrong with it, auto body is just a male-dominated field. I get a lot of attention from being a part of it."
That attention won't be stopping her any time soon.
"Even if I tried to get away from cars, they would always come back to me in some form," said Schanou. "That's what I was raised on. It's all I know. I'm just going to do what I want – whatever makes me happy. Right now, that's auto body."
Beenblossom couldn't agree more.
"My advice to young girls would be 'Go for it – no matter your dream'," Beenblossom said. "You can't let others' opinions affect what you're going to do with your life. No one knows what you're going to like except you, and you don't even know until you try it."
More information about NPCC and its Auto Body Technology program can be found online at mpcc.edu.
---