Marsland woman named MPCC Nursing Student of the Month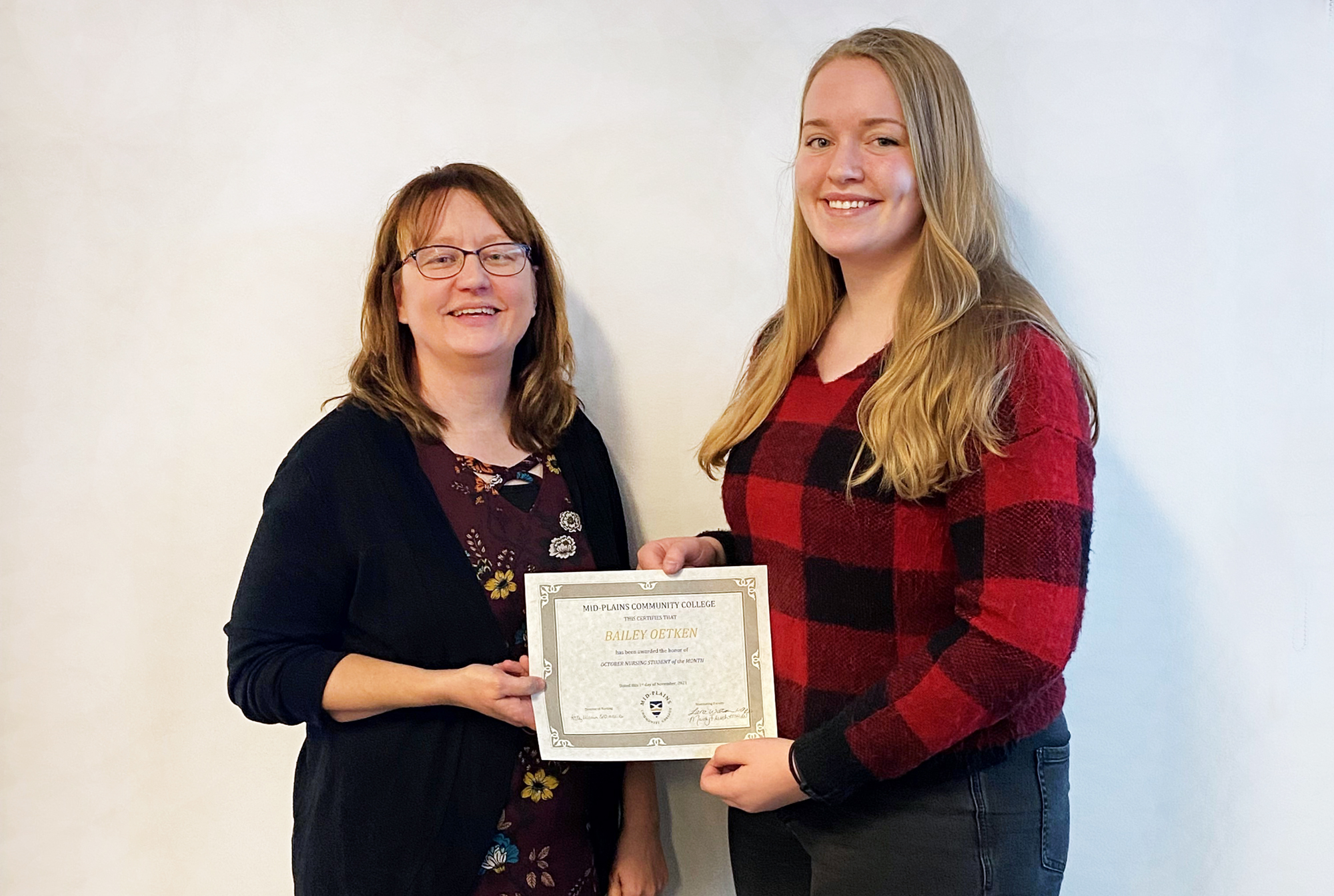 Tuesday, November 2, 2021
Bailey Oetken, of Marsland, has been selected as Mid-Plains Community College's Nursing Student of the Month for October.
Oetken graduated from Sioux County High School in Harrison in 2019. She is on track to obtain a degree from MPCC in 2023.
"I chose MPCC because it's not too far away from home, has a good nursing program and is cost-friendly," Oetken said. "The college has provided me with a good education and has introduced me to some of my closest friends. The instructors have pushed me to be my best and have supported me throughout the entire process."
Students of the month are nominated by faculty in MPCC's nursing department. Their academic performance as well as their drive, organizational skills, bedside manner, dependability and ability to work on their own as well as part of a team are among the attributes considered.
"Bailey works hard to do well in school, excels in her academics and is consistently kind, caring and a team player," said Lana Albrecht-Watson, associate degree nursing instructor. "Bailey has a positive attitude and is often seen building others up."
Mandy Flesch, nursing instructor, said she nominated Oetken because Oetken's light shines bright as a student.
"Bailey is a very hard-working student who spends countless hours studying in the success center with her fellow peers," said Flesch. "She is always willing to answer questions and ask questions if something is unfamiliar to her. Bailey thoroughly completes all her work and seeks to learn all she can about the topic at hand. During our clinical time, she is more than willing to help assist not only her fellow students with their needs but also any of the other nurses that are working on the floor."
Oetken's future plans include becoming a registered nurse then, while working as a RN, pursuing a Bachelor of Science in Nursing degree.
"I am interested in travel nursing and pediatric nursing," said Oetken. "I am mainly focused on the now, but I am excited to see where the future takes me."
Oetken volunteers her time to help with the blood drives on campus. Outside of college she enjoys music, drawing, painting and playing sports.
Her parents are Greg Oetken, of Marsland, and Janet Victory, of Stapleton.
---