Sheri Hink-Wagner named Budig Outstanding Instructor at MCC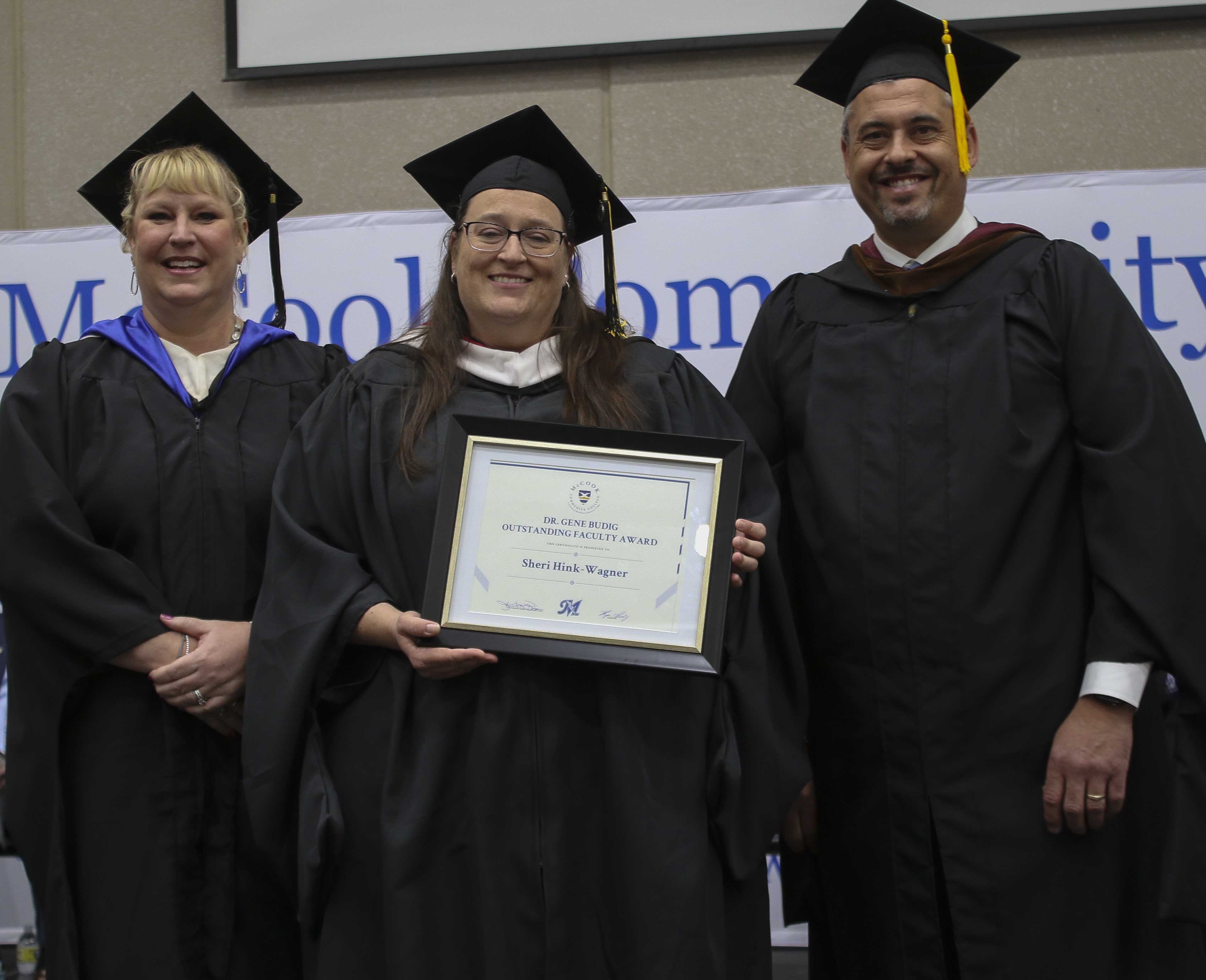 Friday, May 13, 2022
Sheri Hink-Wagner has been named McCook Community College's winner of the Gene Budig Outstanding Faculty Award. The announcement came Friday during MCC's Commencement Ceremony at the Peter and Dolores Graff Events Center.
Hink-Wagner was selected by the college's Gene Budig Award selection committee and submitted to the Mid-Plains Community College Cabinet. Budig who was an MCC graduate, provides a $1,000 award each year to recognize and honor outstanding educators.
Hink-Wagner teaches sociology and criminal justice.
"Even before Sheri was my Division Chair, I regularly went to her for advice on teaching," said one fellow teacher. "From our discussions and also from teaching next to her for several years, I can say with confidence that Sheri is an excellent teacher."
One letter nominating her for the Buding award said, "Sheri's discipline can cover materials that are often challenging or uncomfortable for students, but she always finds a way to make it engaging and relatable for them." The letter went on to say that many of her courses focus around classroom discussion, and that if you're near, you can often hear her encouraging students to express and expand on their opinions. "Everyone has a voice in Sheri's classes."
MPCC staff say that Hink-Wagner works hard to keep her classes current and up to date. She utilizes many of the resources the library offers to find new videos, articles, etc. to engage students.
When walking past Sheri's office in Barnett Hall, you will almost always see students meeting with her. She has an open-door policy that students frequently use to discuss their progress in her courses, the curriculum, or other struggles or issues they may be having as a college student.
"I have heard several students say they have taken every class that Sheri offers because they enjoy the student/teacher relationship that she fosters," said one staff member. "It is very clear that her students' success is a top priority for her."
One nomination letter said that Hink-Wagner is also an incredible asset to the college community.
"I can think of several committees that she has served on that have made instrumental changes and decisions for the college. She was key in forming our college's Academic Honesty policy, which is so critical for the academic well-being of our institution," said the nomination letter. She was also influential in helping the college make the switch in online learning management systems and continues to be a great resource for faculty in the use of Canvas.
"This is all in addition to her many duties as a Division Chair. I cannot express adequately how supportive and encouraging she has been in this role. She balances empathy and practicality perfectly," said that nomination.
Hink-Wagner finds time for professional development and just finished her second master's degree to accomplish this. She regularly attends conferences including the Higher Learning Commission's annual conference.
"On more than one occasion Sheri has told me that teaching at MCC is her dream job," said one faculty member. "And I feel like in return MCC is so very lucky to have her. Sheri Hink-Wanger is the definition of an outstanding teacher."
Another nomination letter called Hink-Wagner "a team player" and seems to always be up for any challenge. She is a go-to person for honest, sincere, and knowledgeable advice. She always seems to have a positive disposition, even in times of stress.
"She makes us all better, students, colleagues, and a better college. We are lucky to have her," said that nomination letter.
Gene Budig
Award Winners
2008 – Loretta Hauxwell
2009 – Sue Watts
2010 – (No winner)
2011 – Megan Friesen
2012 – Janet Stalder
2013 – Becky Meyers
2014 – Rob Bogardus
2015 – Jim Hall
2016 – Lorrie Mowry
2017 – Tyler Esch
2018 – Susi Curl
2019 – Clay Grizzle
2020 – Rick Johnson
2021 – Lisa Beans
2022 – Sheri Hink-Wagner
---