Calibraska Summer Arts Program returns to NPCC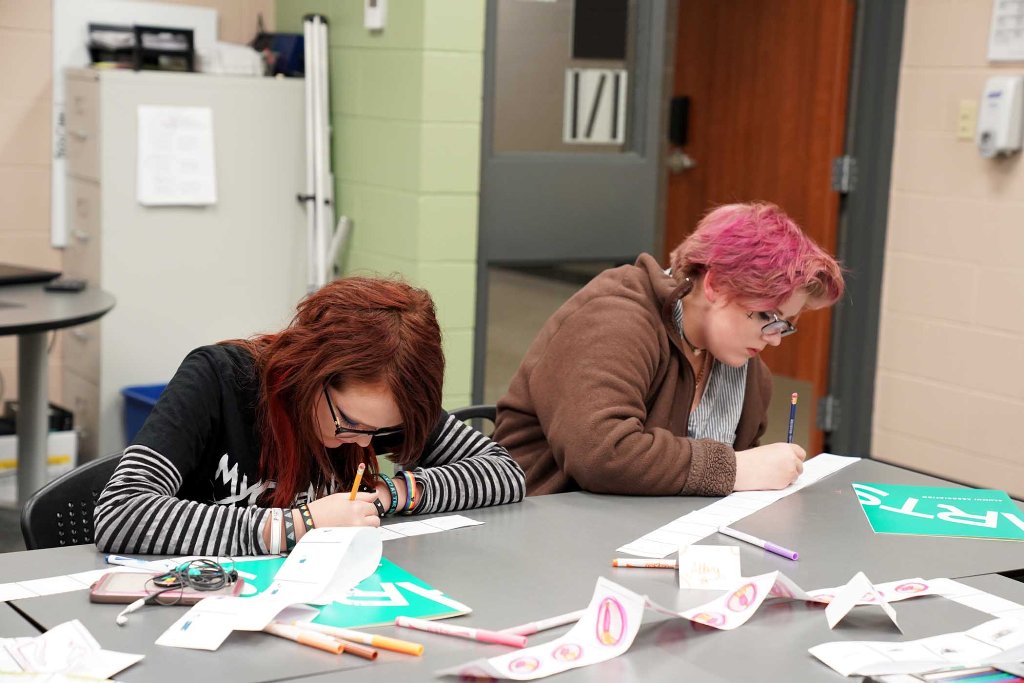 Wednesday, March 31, 2021
Students participate in the Calibraska Summer Arts Program at North Platte Community College in 2019. Calibraska is returning to NPCC this summer.
The Calibraska Summer Arts Program will return to North Platte Community College after being cancelled last year due to COVID.
The program allows individuals from throughout NPCC's service area to take classes from Los Angeles – based artists.
Classes will begin June 21 and continue through July 2 at NPCC. They are open to all ages. Both in-person and online formats are available, however those taking online classes may have to supply some of their own materials.
Those who sign up before April 15 will receive a 20 percent discount.
The following classes will be offered:
Animation 1.0 – Students in this entry level course, will animate paper, clay and more to learn principles of animation and other techniques to make an object come to life.
Taught by Erica Larsen-Dockray, Calibraska founder, the class is open to anyone age 7 or older. No previous animation or drawing experience is necessary. Those who want to take Animation 3.0 will need to take this class first.
Sessions are from 10 a.m. to noon June 21-25. The early bird fee is $80. Registration after April 15 is $100.
Special Topics: Effects Animation – Open to ages 6 and older, this class has limited space. It will be offered from 1-3 p.m. June 21-25.
The course will be taught by Zekkereya El-magharbel, an animator, graphic designer and illustrator.
He will demonstrate how to create stunning and mesmerizing special effects using primarily 2-D hand-drawn techniques. Students will have the tools to create any effect needed for their animated films by the end of the course.
The cost is $80 for early registration and $100 for regular registration.
Animation 3.0 – Filmmaker's Studio – This free class is open to returning students who are 12 or older and by application only. Preference will go to students who have attended previous years of Calibraska classes.
Students can participate as individuals or in teams of no more than three members. Applications will be available until May 1 and can be requested by emailing info@calibraska.org.
Animation 1.0 and Animation 2.0 are prerequisites for the course, which will be taught by both Larsen-Dockray and El-margharbel.
Students will be able to focus on any project they want with the benefits of access to specialized equipment and one-on-one instruction. Story development, animatic design and development, visual design, dialogue, script writing, storyboarding and editing are common selections.
Sessions will be from 1-4 p.m. June 28 through July 2.
How to sign up
Registration for all the classes can be done online at calibraska.org. Financial aid is available on a first-come, first-served basis by emailing info@calibraska.org.
About Calibraska
The Calibraska Arts Initiative uses the arts to build community, culture and educational exchanges between Nebraskans and primarily California/Los Angeles-based experts in the creative industries.
The partnership provides individuals within NPCC's service area access to opportunities, mentorship, training and exposure to the arts that they may not otherwise receive. It also exposes LA artists to small-town Nebraska culture and hospitality.
---