Ceremonies planned for nursing/med lab tech students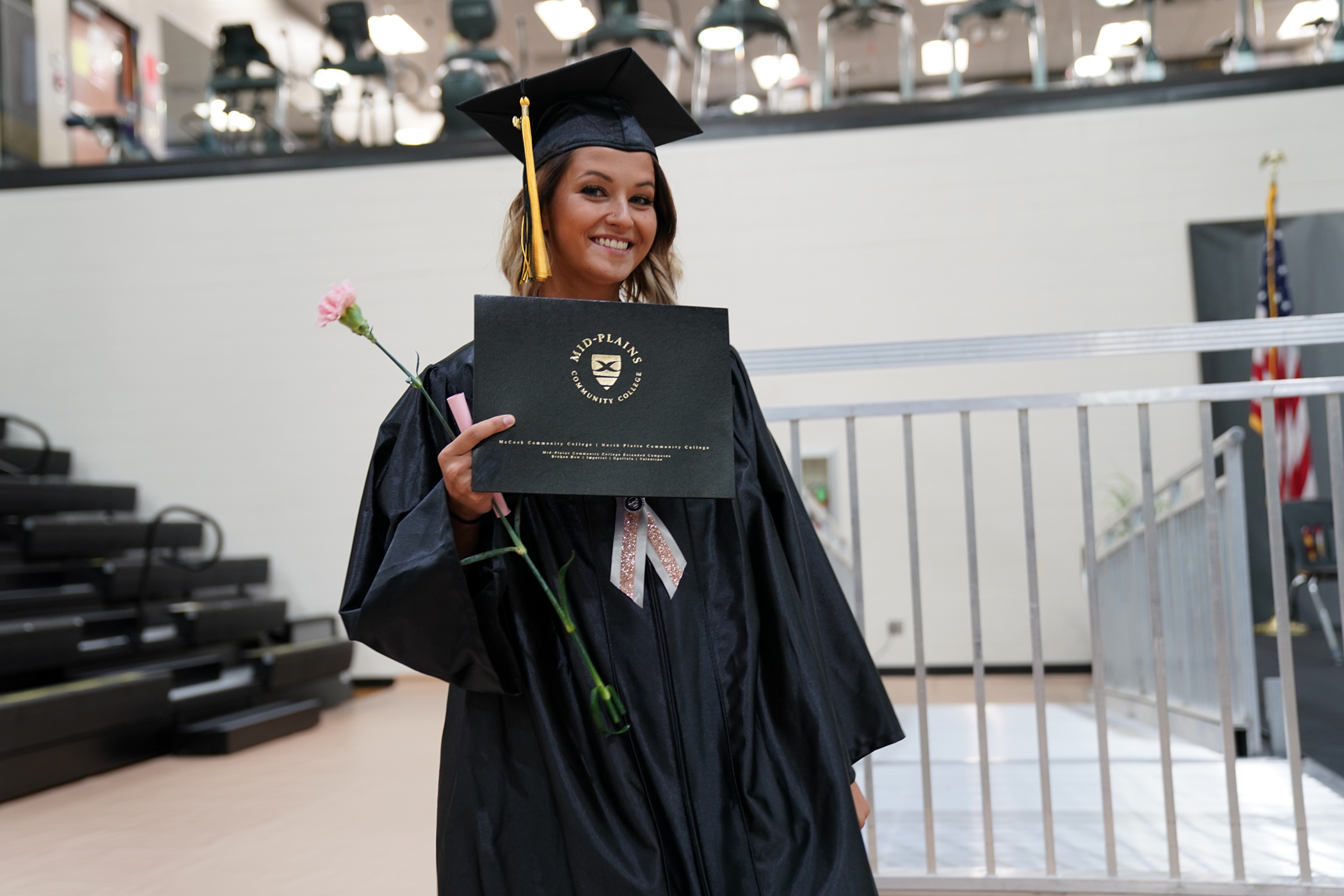 Wednesday, April 21, 2021
Brooke Sheets, of Hershey, smiles after a nurse pinning ceremony at North Platte Community College last year. This year's Associate Degree Nursing ceremony is scheduled for May 7.
Mid-Plains Community College will honor students in its Associate Degree Nursing and Medical Laboratory Technician programs May 7.
Activities will begin with an ADN pinning/commencement ceremony at 12:30 p.m. in the McDonald-Belton Gymnasium on the North Platte Community College South Campus, 601 W. State Farm Rd., in North Platte.
Those unable to attend in person can view a livestream at: https://www.youtube.com/user/MPCCedu.
At 1 p.m., MLT will host a certificate presentation across campus in Room 108 of the Health and Science Center.
Both ceremonies will be open to the public. Guests will be required to wear masks and adhere to current social distancing protocols.
The following students will be recognized.
Associate Degree Nursing
Bassett – Jessica Hollenbeck
Brady – Madison Christophersen
Broken Bow – Nichole Powers
Callaway – Angela Ortiz
Cozad – Kalynn Fleharty
Culbertson – Jennifer Oltman
Curtis – Angeline Marie
Elyria - Jurnee Saner
Gothenburg – Ashley Garza
Grant - Taylor York
McCook – Valisha Raile
Mullen – Randii Byrd, Lindsey Fay
North Platte – Keri Allen, Bryar Anthony, Brittany Davis, Katherine Donohoe, Shalee Fillmer, RaeLynn Foster, Jordan Goodell, Samantha Gutherless, Elisha Keim, Misti McEntire, Kendal Naranjo, Paul Njora, Brooke Rosales, Lexi Sandoz, Sydney Stroh, Alexandra Varney, Courtney Viter
Ogallala – Kourtnie Gardner, Nathaniel Smith
Stapleton – Kaylie Beierman, Stephenie Nelson
Wauneta – Roseanna Vapenik
Colorado
Frederick – Antonia Villani
Medical Laboratory Technician
Arnold – Jessi Swopes
Big Springs – Alicia Brown
Hershey – Raychel Banks
Keystone – Debra Cleveland
McCook – Michaela Holdcroft
North Platte – Jessica Rivera
Ogallala – Kimberly Bassett, Kyle Podowski
Ord – Brittany Pollard
---