Brewster woman reinvents herself through Mid-Plains Community College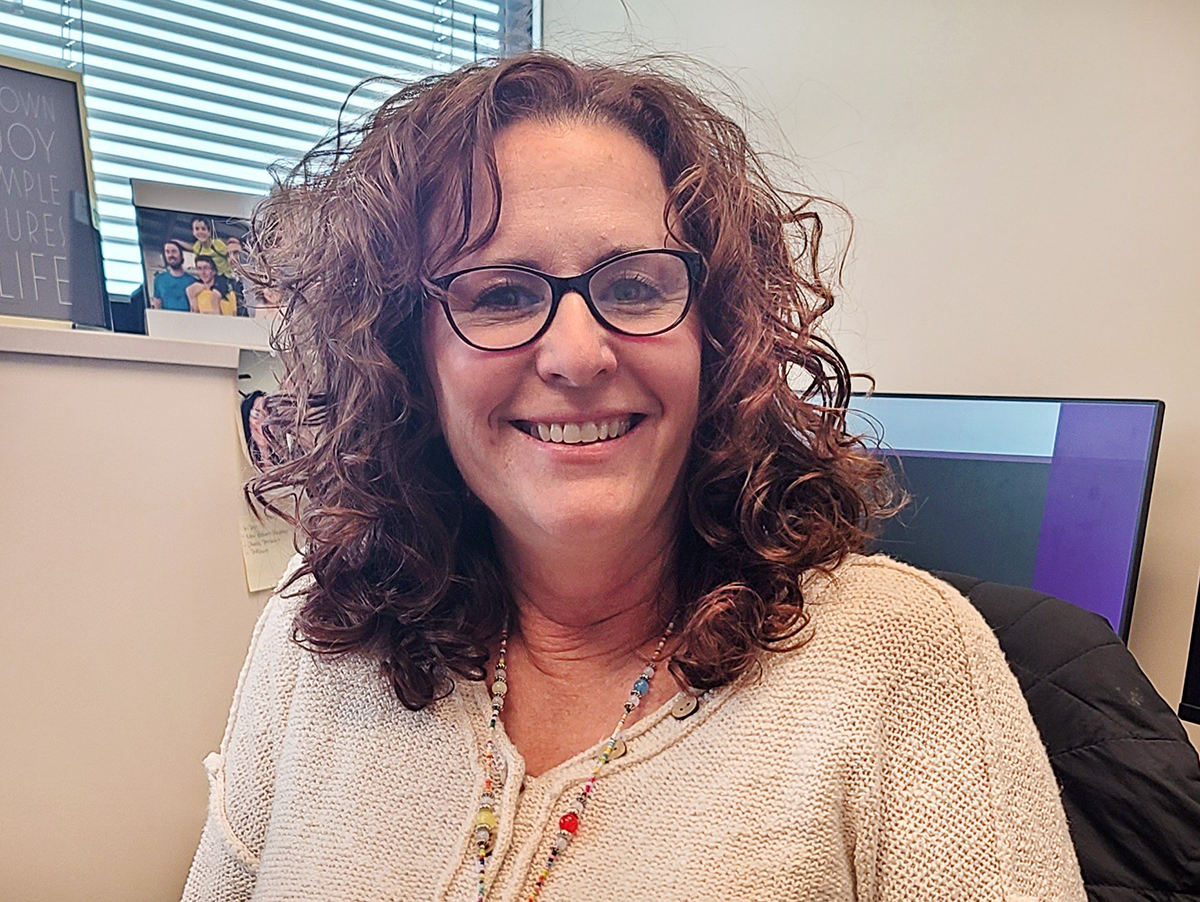 Wednesday, November 16, 2022
It's never too late to start over.
That's the lesson Cindy Guggenmos has learned over the years, and it's one she hopes others will take to heart.
Guggenmos has spent over 30 years on a ranch at Brewster with her husband Roger and currently works as an advanced practice registered nurse at Great Plains Health in North Platte.
She started out as a cosmetologist – going straight into the field after graduating from Nordhoff High School, in Ojai, Calif. in 1984.
"I chose cosmetology initially because of a strong desire to help others feel good about themselves," Cindy said. "That, in return, made me feel better too."
She ended up in Nebraska permanently following a road trip.
"I was invited to Nebraska with my best friend Tracy and her mother for their family reunion," Cindy said. "I met her cousin Roger there, eventually married him and joined his family's ranch where we raised four children together."
In the beginning, Cindy's mother-in-law helped watch the kids so Cindy could work a few hours twice a week in a beauty shop in Taylor. Cindy launched her own cosmetology business in 1996, allowing her more freedom to work and stay at home with her children.
Years of complying with others' demands, however, ultimately led to burn out. Cindy decided to pursue a new career in nursing when her youngest son was old enough to start preschool.
"I still wanted to do something that allowed me to help people," Cindy said. "So, I thought about being a nutritionist or a registered dietician. I talked to my husband, and he suggested I would be an amazing nurse because I took care of everyone. I had come from a family of 14 and took care of nieces, nephews, my grandmother and my own children. I never really considered nursing because I thought nurses were so intelligent, and I didn't know if I had what it took."
Cindy was also in her early 40s, which seemed like a daunting time to go back to school. It was the encouragement of her family and friends that convinced her to begin the journey.
Cindy started the prerequisites for nursing classes online through Mid-Plains Community College in 2009. The following year, she entered the Licensed Practical Nursing program through MPCC's extended campus in Broken Bow.
Classroom instruction was provided via distance learning, and clinicals were conducted at both the Broken Bow nursing home and the hospital in North Platte.
"If I wouldn't have had the opportunity to take those classes in Broken Bow, I probably wouldn't have gone into nursing," Cindy said. "I would have said, 'I'm not going to be able to attend college because I have nowhere to go.' As it was, it only took an hour to drive to campus. It is a true blessing that the Broken Bow campus exists. So many rural people would never have the opportunities they do without the community campuses provided by MPCC."
Cindy soon found that returning to school as a non-traditional student was a benefit instead of a drawback.
"I had so much experience with people already," Cindy said. "I knew how to interact with different types of people, and when I applied myself, it was at an experienced adult level."
After completing the LPN program, Cindy took a job at the Valley County Health System in Ord.
"As I worked alongside colleagues, both expert nurses and doctors, I realized I wasn't satisfied with the baseline knowledge I possessed as an LPN," Cindy said. "I had a strong desire to learn more. So, in 2013, I bridged into the RN program that Mid-Plains offers."
She traveled to North Platte for that – usually staying in a motel two nights a week. Although challenging at the time, Cindy would draw on the foundation she gained from MPCC throughout the rest of her educational and professional careers.
"I've worked in facilities with many novice nurses who were just learning how to place an intravenous line or nasogastric tube," Cindy said. "It surprised me because I thought students from larger schools would have more opportunities than me. That wasn't the case. I was given multiple opportunities through MPCC to access intravenous lines, ports, nasogastric tubs and all kinds of other hands-on procedures. MPCC's program is thorough. If students are willing to take the opportunities and apply themselves, the knowledge and skills they graduate with is vast."
Cindy earned an Associate Degree in Nursing from MPCC in 2014 but still yearned for more.
"The desire for a higher education continued to flood my mind," Cindy said. "I wasn't sure how I would progress until I visited with my husband's niece, who was a nurse practitioner. Her advice followed me throughout the rest of my schooling. When I asked her how she did it, she said, 'I could do anything. It's just one class at a time.' I would frequently remind myself when things got tough that it was one step at a time - one class at a time."
With a newfound confidence, Cindy applied and was accepted into the RN to Bachelor of Science in Nursing track through Clarkson College, in Omaha.
"One of my first classes of the first semester, a professor asked me if I had any interest in the master's program," Cindy said. "That was more than my 'one step' approach, but he said he saw a lot of potential in my work and that if I would consider it, he would personally write me a letter of recommendation so I could enter the RN to Master of Science in Nursing track the following semester. I had never spoken to the professor in person. His offer was solely based on papers I had written. After much thought and consideration, I took him up on it, and by the second semester, I was in the MSN program with a family nurse practitioner emphasis."
One of the requirements was that Cindy had to be videotaped doing a full body assessment on a real person. Her son, a student doctor at the time, allowed her to use his assessment tools, making the process of learning and understanding much easier.
"The day we checked off our assessment skills, we were each given our own room and patient," Cindy said. "After the assessment, we were to walk to a room across the hall. I was doing that when I was redirected to a different room. It was there that I met the professor who wrote the letter of recommendation. He told me I did the assessment without error. I almost fainted but knew at that moment that I was indeed on the right career path with nursing."
The affirmation couldn't have come at a better time.
"I had my fair share of personal struggles during those years," Cindy said. "I had to maintain my life as a wife and mother as we still had three children left at home and one in college. My second child ended up getting married at a young age, had two children and divorced, putting me in the position of helping raise a 10-month-old granddaughter."
Her second granddaughter succumbed to cancer at 16 months. Shortly after that, in January of 2019, Cindy was diagnosed with skin cancer. Her mother died two months later.
"With all the trauma and drama in my life, school gave me a purpose to keep going," Cindy said. "Amid all the loss, my education was something no one could take away from me."
Cindy earned her master's degree from Clarkson College in April of 2019, but radiation treatments delayed her job search.
"I did have ample time to study, though," Cindy said. "I had to decide whether I wanted to specialize or do primary care. I really enjoyed my women's health rotation so decided to apply for an additional certification in women's health."
During that time, Cindy received two offers – an opportunity to interview for a residency program to better improve her knowledge and skills as a primary care provider and her current position at Great Plains Health Neurosciences.
"After meeting the neurologist and staff at GPH, it was an easy decision to make," Cindy said. "I love my position. The ongoing learning, opportunities, autonomy and co-workers made it an easy transition. I now work in both inpatient care and clinic to provide the best of both worlds in critical care, preventative medicine and ongoing monitoring and treatment of neurological disorders."
When not seeing patients, Cindy returns home to the ranch to be with her husband and granddaughters. Sometimes, she still has a hard time believing she's come as far as she has.
"I didn't think I could do what I did," Cindy said. "Not only did I become a nurse, I went almost to the top. Looking back, I have to say the benefits definitely outweigh any struggles. I'm proof that if you don't limit your own possibilities, you will soar. Sometimes, you just have to step out of that comfort zone and remind yourself what you're capable of - knowing that it's 'one class at a time.' If I can do it, others can too."
---