MCC East Campus receives boost from Community Hospital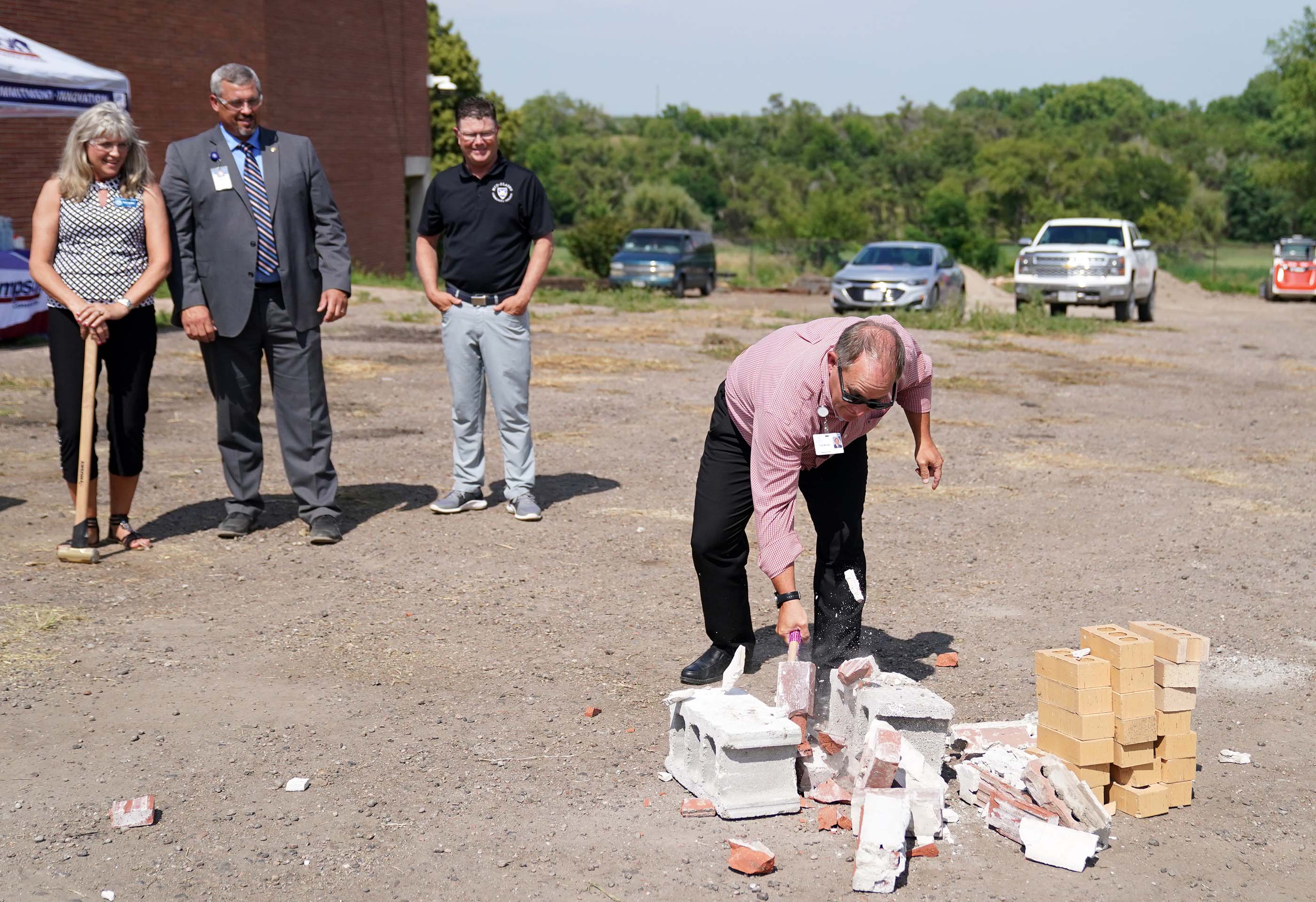 Thursday, July 27, 2023
Community Hospital in McCook has pledged $250,000 toward the construction of McCook Community College's East Campus.
The project, which officially launched with a brick breaking ceremony July 19, will allow the college to expand beyond its formerly landlocked borders and offer increased and enhanced training for students, businesses and industries.
"We are extremely excited to be a part of this project by supporting it financially," said Community Hospital President and CEO Troy Bruntz. "We have a dual interest in East Campus. The new facility will provide state-of-the-art training for health science students, preparing them as best we can for the roles our community so desperately needs them to fill. The flex space creates an opportunity to provide the community with more access to trade workers which is also desperately needed today."
The open-concept flex space referenced by Bruntz will be located in the upper level of the building, along with the college's Business and Community Education department, a 250-person event space, a catering kitchen and general purpose and distance learning classrooms among other amenities.
The lower level of the building will be dedicated primarily to health occupations, including the nursing, emergency medical services, nurse aide and medication aide programs.
In return for its donation, Community Hospital will have the opportunity to name the nursing area.
"Community Hospital is a significant provider of health care services for Southwest Nebraska," said MPCC President Ryan Purdy. "Their gift is an investment to provide educational training for prospective and current employees not only for Community Hospital but also other businesses and residents of the McCook area. We appreciate their support in bringing the East Campus facility back online to provide these new opportunities to Southwest Nebraska."
The goal is to open the East Campus in January of 2025.
The total cost of the project including renovation, equipment and furnishing is estimated at $11.3 million. Those interested in supporting the project can contact Jake Rissler, director of Institutional Advancement, at risslerj@mpcc.edu or (308) 535-3754. Additional naming opportunities are still available.
---