MCC East Campus construction to launch with brick breaking ceremony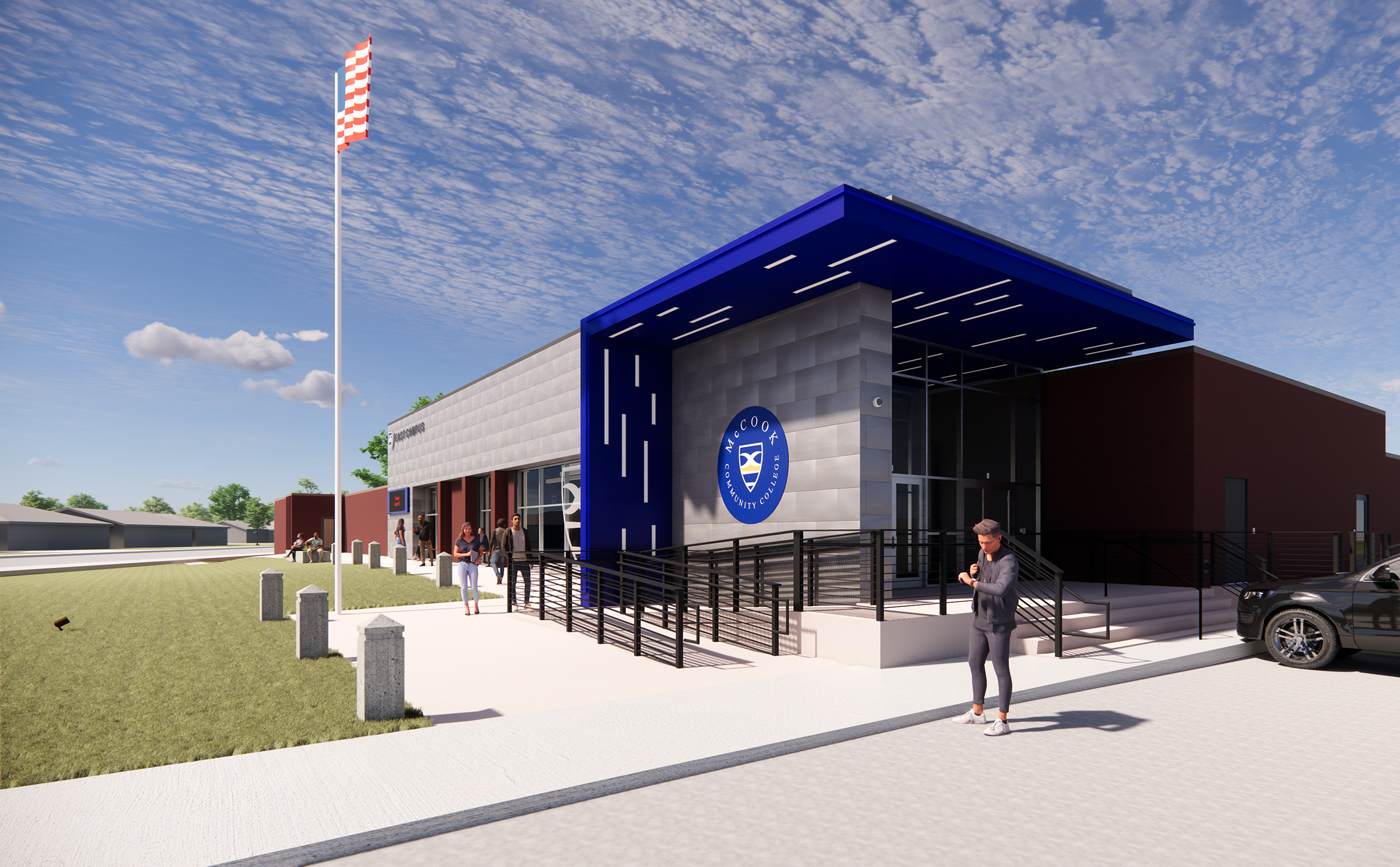 Friday, July 7, 2023
The public is invited to attend a brick breaking ceremony for the new McCook Community College East Campus at 4 p.m. July 19.
The campus, at 905 E. Seventh St. in McCook, was formerly the Elks Club. Owners Perry and Vicky Case donated the building and surrounding property to the college in 2015 in the hopes that it could be used for educational purposes.
The generous donation will allow the college to expand and enhance its nursing, emergency medical services and business and community education program offerings – a challenge on the original MCC campus because of its landlocked location.
"We are so grateful for the donation of the building and the patience during the planning process," said Kelly Rippen, vice president of Student Affairs and MCC. "This is a huge project. The feedback we received from community stakeholders allowed us to make informed decisions that will benefit not only students, but also business and industry in our region."
Renovation preparations
The East Campus was constructed in the mid-1950s. It is a two-level, 29,000-square-foot building on about 14.5 acres.
Since the college took possession of the property, approximately $600,000 worth of work has been put into preparing it for renovations. That included asbestos removal and stripping the interior down to concrete, brick and steel.
"The entire building was gutted," said Mike Steele, the college's vice president of Administrative Services. "Ninety-seven percent of everything was removed down to the base structure over the course of about 120 days.
What's next
Sampson Construction, the contractor for the project, plans to mobilize July 10. The first project tackled will be relocating the main entrance, currently on the west side of the building, to the southwest corner. It will include ADA accessible ramps and stairs that lead to the basement.
Most of the existing brick on the outside of facility will remain. It will be cleaned and tuckpointed so that it is weather sound.
All of the utilities will have to be reestablished and a new heating, ventilation and air conditioning system installed. Because of the number of HVAC penetrations, half the roof will be replaced as well.
The patio on the east will be removed and replaced. It will be constructed with the option of adding a pergola at a later date.
The old asphalt parking lot on the south side of the campus will also be torn out and repaved, and outside lighting will be added.
The goal is to have exterior work done before winter hits.
A look inside
New lighting will be added throughout the interior of the building, too.
The upper level will feature an open-concept flex space on the north end that can be converted into any kind of training setup needed.
"Someone could use it for a makerspace, small engine class, carpentry, you name it," said Steele. "The idea is that it could accommodate hands-on training."
Three general purpose classrooms, two of which will seat about 25 occupants and a third that will allow for about 50, will also be constructed on the first floor.
There will be a distance learning classroom, new restrooms, a new elevator and a large, 250-person event space that can be divided with a removable wall and that is attached to a catering kitchen.
"The upper floor will allow us to bring in regional business and industry training opportunities that we don't currently have the space for," Steele said.
The college's Business and Community Education department, consisting of a classroom, conference room, offices and storage, will also be housed on the first floor.
"With the addition of the flex space, the Business and Community Education department can provide vocational training as well as allow businesses to bring in simulators to train their staff," said Sharon Kircher, BCE director. "With more classroom space and an added distance learning room, we can offer a variety of classes and delivery methods to the public and businesses as well as space for businesses to use for meetings and conferences."
The lower level
The lower level of the building will be dedicated primarily to health occupations and will feature state-of-the-art technology throughout.
"The basement will bring greatly improved modern spaces to nursing and EMT service training," Steele said.
Up to this point, licensed practical nursing students have shared distance learning classrooms and technology with other programs. Their new space will consist of two classrooms, one set up for distance learning, a simulation lab, a mock bathroom for staging various training scenarios and a storage area.
Nurse aide and medication aide students will also benefit from rejuvenated instructional areas and advanced equipment that adheres to Nebraska Department of Health and Human Services requirements. That includes DHHS-approved classrooms for Nurse Aide State Registry testing.
"The updated classroom for nurse aide and med aide will have a resident room and bathroom setup," said Brett Niemeth, nursing support coordinator. "This will provide for a much more realistic learning environment to better prepare our students for the reality of resident and patient care. Having our own nursing classroom with distance learning capability and modern lab technology will enhance the quality of learning and hands-on practice that our LPN students receive."
Future paramedics and EMTs will train on a virtual ambulance box, designed to emulate the patient transport experience. Through mimicked routes to the hospital and replicated bumps in the road, students will be able to refine lifesaving techniques before being faced with real-life situations.
EMS students will have their own lab and classroom, while paramedic students will occupy a lab/classroom combination.
Both groups will have access to a mock apartment consisting of a living room, kitchen, bedroom and bathroom, where they can practice responding to staged emergencies.
The lower level will also include a 27-occupant general purpose classroom, offices for faculty and staff, a lounge, a vending area, multiple storage areas and new restrooms.
"We've had to be very creative with our current building and the limited space available to us," said Joy Molcyk, director of the college's EMS and Paramedic Program. "This new facility will be a huge improvement and will provide each class adequate classroom space and lab availability. We'll also have the ability to offer additional classes and to host conferences and EMS testing on site. Staff and students alike are excited for the opportunity to teach and train in an updated, professional facility."
Timeline and budget
The goal is to open the East Campus in January of 2025.
The total cost of the project including renovation, equipment and furnishing is estimated at $11.3 million, $9 million of which came from American Rescue Plan Act (ARPA) funds, $1 million of which is from MPCC's tax levy capital dollars and the remainder to be privately raised.
Those interested in supporting the project can contact Jake Rissler, director of Institutional Advancement, at risslerj@mpcc.edu or (308) 535-3754. Naming opportunities are available.
---