Great Plains Health donates half a million to NPCC Health and Science Center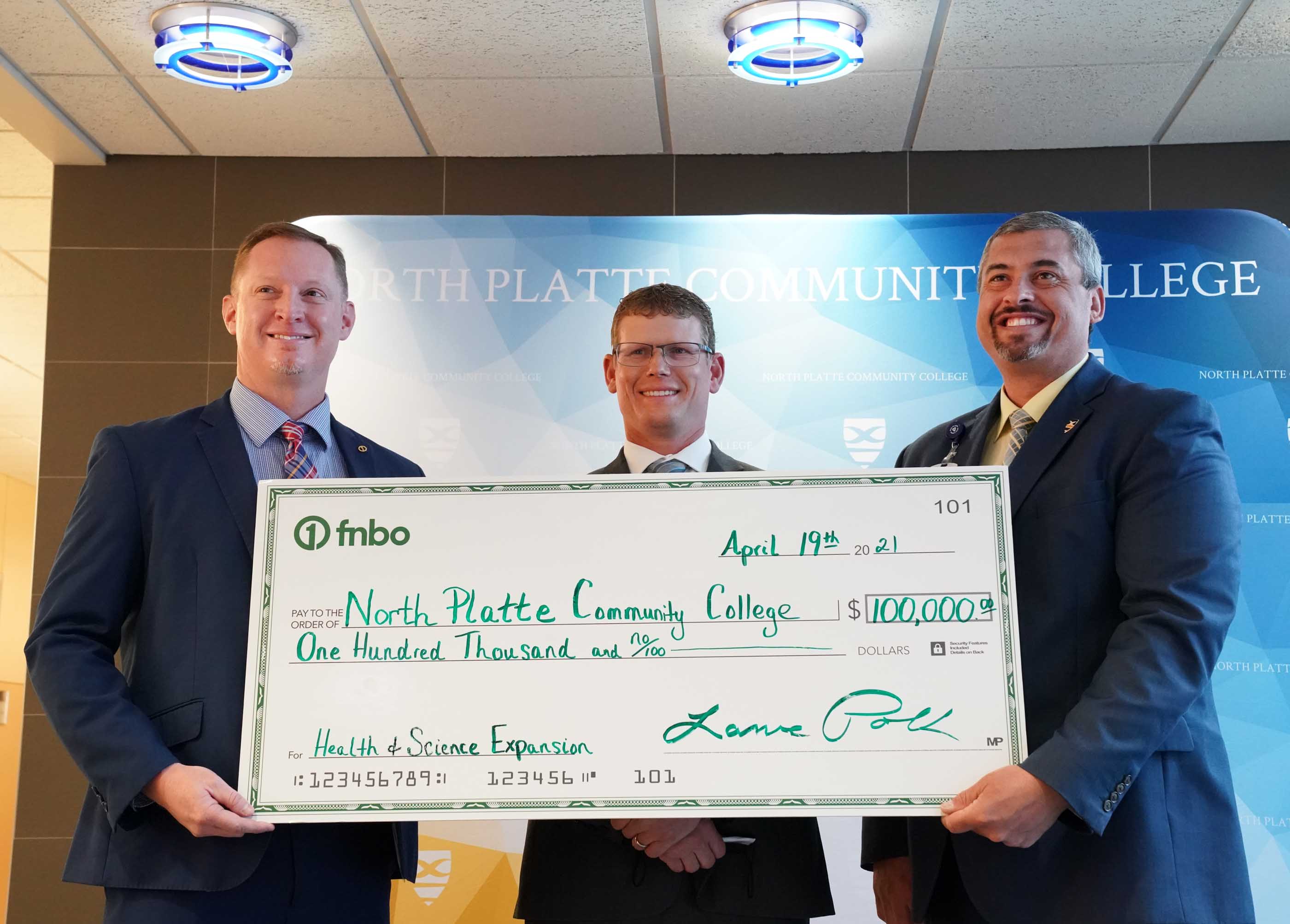 Wednesday, February 24, 2021
Mel McNea, Great Plains Health chief executive officer, presents a check for $500,000 to MPCC President Ryan Purdy on Wednesday. The commitment from GPH will be used to expand the college's Health and Science Center.
A large donation from Great Plains Health will provide a major boost in expanding North Platte Community College's Health and Science Center. Representatives from GPH presented a $500,000 check to NPCC officials Wednesday in support of the project.
"We are very proud to partner with North Platte Community College on the expansion of its Health and Science Center," said Mel McNea, Great Plains Health chief executive officer. "Our nation already faced a shortage of healthcare workers and the pandemic only deepened the demand. It is crucial that we continue to support education and training programs for students interested in health sciences. Timing is critical, and we are excited about the opportunity this expansion brings to our community. Our investment in this project is one way for us to show our commitment to continuing to provide access to quality care in our region."
Ryan Purdy, Mid-Plains Community College president, said the college is grateful for the support.
"The continued support of our health occupations programs from Great Plains Health has allowed for the continuous improvement and expansion of educational opportunities in our region," Purdy said. "This latest investment will assist MPCC in creating space for the North Platte Community College South Campus Health and Science Center to expand the number of graduates to fill the shortage of nurses and other health occupations in our area and further improve the learning opportunities for our students in these health occupation programs."
Meeting a need
The Health and Science Center is located on NPCC's South Campus. Constructed in 2012, it is home to the college's nursing, medical laboratory technician, emergency medical services, paramedic, dental assisting, math, biology, physics and engineering programs.
As the demand for more nurses and health care professionals has increased throughout the college's 18-county service area and beyond, so has the need for more space to train those professionals.
The planned expansion of the building will include additional classrooms to accommodate increased enrollment in nursing courses, lab space for nursing and emergency services and an office area for new faculty.
Conference rooms, a classroom with flexible table and chair arrangements, private workspaces for students and a virtual innovation lab will also be constructed to complement existing programming and enhance learning experiences.
Construction could start as early as this fall.
The total cost of the project is expected to be nearly $4 million.
"The support of this project from our local communities has been outstanding," said Bonnie Kruse, area director of Institutional Advancement. "We will continue to reach out to our partners locally and throughout the state to secure additional funding."
Those interested in contributing to the project can contact Kruse at kruseb@mpcc.edu or (308) 535-3754.
---