NPCC teaching installation/maintenance/troubleshooting of grain bin electrical systems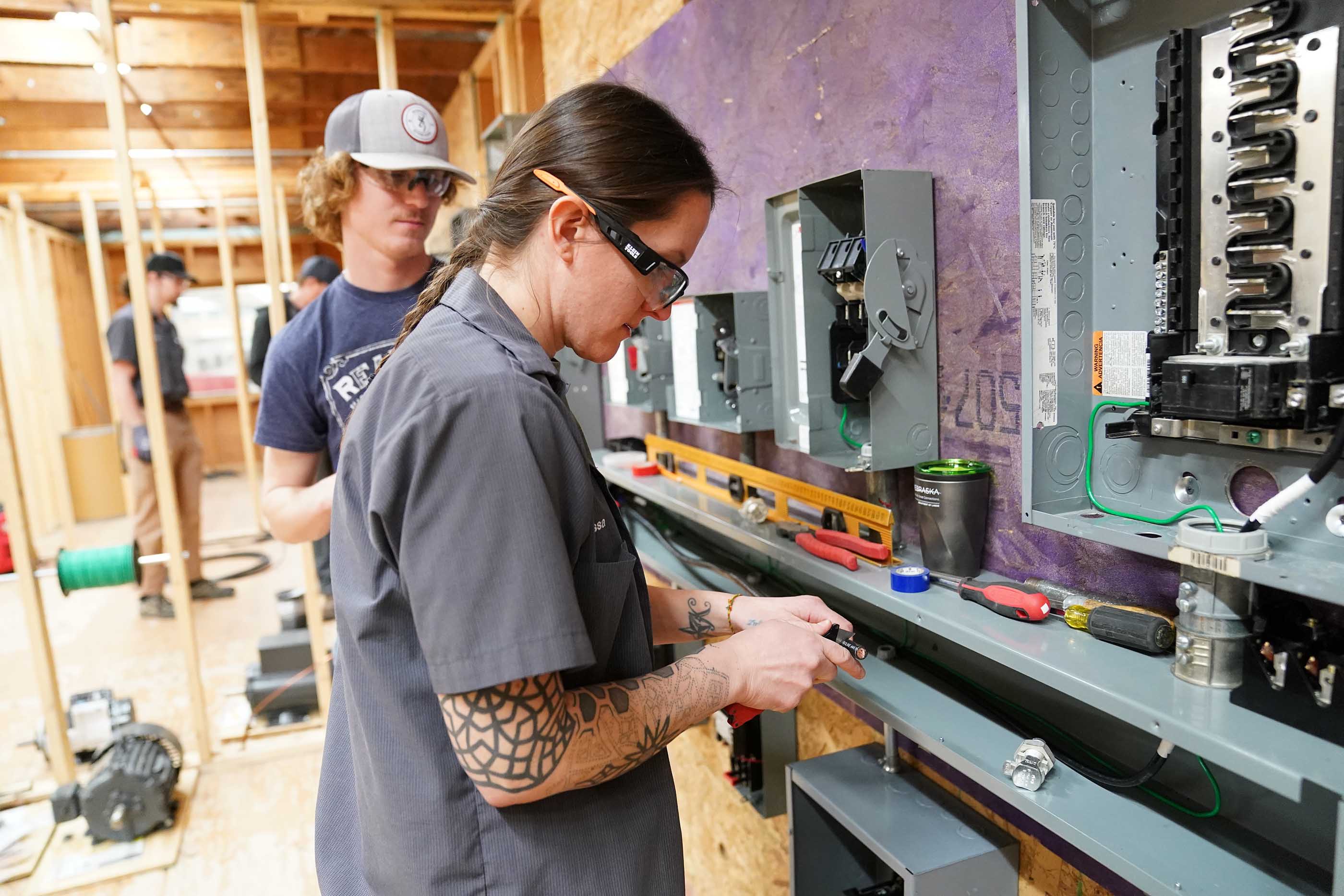 Friday, March 24, 2023
Students at North Platte Community College are getting real-world experience working with the electrical components needed to operate grain bins.
The electrical department recently purchased a custom grain bin mock-up trainer to teach students about the safe installation, maintenance and troubleshooting of grain bin electrical systems.
The trainer is providing the students with first-hand experience that will make them more employable in the future.
"Electricians are after employees with this type of training," said Jake Elmshaeuser, electrical instructor. "The equipment these students are learning on can be found at any farm anywhere -we're using transformers and all kinds of stuff. It's a pretty advanced set up, and it just makes more sense when you can actually put your hands on it. It's not just about teaching and moving on. It's about teaching and applying it."
Previously, students in the electrical technology program learned the skills in the classroom.
"The past couple of years it has been strictly a test," said Scott Mustion, electrical program lab assistant. "We would give students a sheet of paper with the design, and we would make them size it according to code. It was all paper. This is the first year we've been able to incorporate the hands-on feature."
The students were responsible for designing, laying out and then mounting the training equipment onto a wall for practice and study purposes.
"We modified an existing class to fit this aspect in," Elmshaeuser said. "They had to learn about wire, fuse and disconnect sizing. We spent a lot of time on that, and now they are making all the connections and splices and doing what we call 'tapping' the conductors. When it's all said and done, we're going to energize and run everything."
The work is just one more skill students can put on a résumé. Making them marketable is one of the primary goals of the electrical department.
"It's general training for what we are trying to put out," said Elmshaeuser. "No matter what, if they see this – which they will in our area and a lot of areas – at least they'll have a clue. They're not going to be blindsided going into it."
Mustion said many contractors in the area are ag-affiliated, and the grain bin training plays into almost any ag scenario the students could come across on the job.
"This is really big," Mustion said. "So just the fact that they're understanding this and applying it – when they get hired, it's really going to help them. It's going to make them more valuable to the employer, and hopefully, it will allow them to move up."
Word about the training has spread quickly among businesses in the area, and excitement is already building.
"One employer called to inquire about a student, and I told him what the student was studying currently," Mustion said. "He said, 'Oh my gosh, I need that so bad. I do that every day.' He was just ecstatic that one, he was going to be able to get one of our students, and two, that the student was going to be trained on these motor controls."
Elmshaeuser believes the grain bin trainer will also serve as an increased draw for the electrical program.
"We're just trying to lead at the college here," said Elmshaeuser. "I don't want to play second fiddle to any college around, I want to have them all follow us, and this is how you do that. You have to keep finding new innovative ways to teach. The college has been very generous with the funding to make that happen."
The trainer was paid for with a combination of a $16,800 Perkins Grant and $7,000 in three-year instructional equipment funds from the college.
---