Wrightstone Gallery showcasing MCC grad, Hana Brock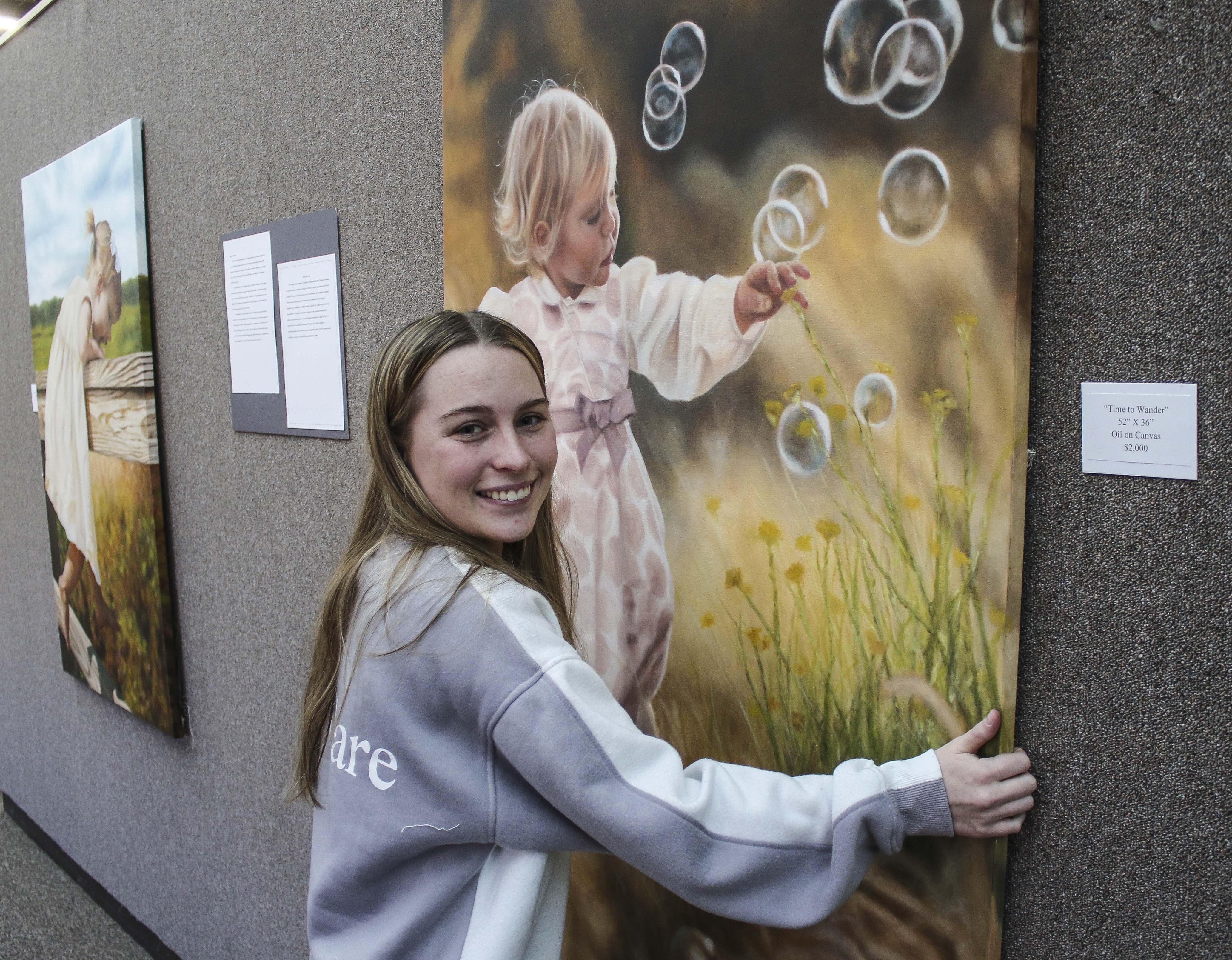 Tuesday, February 8, 2022
The art of McCook Community College graduate Hana Brock is on display at the Wrightstone Fine Arts Gallery on campus.
Brock is a 2020 graduate of MCC and is in her senior year at the University of Nebraska-Omaha where she is pursuing her bachelor's degree in Studio Art and then looking to study at an art institute and get her master's degree.
"I thoroughly enjoy expressing my creativity through oil," she said, adding that her vary, in part because she has had the opportunity to do multiple commissions including those done while attending MCC.
"I personally enjoy portraiture because of the expression and emotions that can be portrayed through the application of paint," she said, and describes her style as a direct reflection of the traditional technique of "Trompe l'oeil" (an object to fool the eye due to its attention to detail.)
She hopes to take this style and turn it into a profession.
"I am interested in recreating scenes that are usually bypassed by people because of their mundanity," she said. "Making paintings that capture fleeting moments in time, I find to be interesting."
Brock, who attended Lexington High School, begins by photographing an image which she often manipulates in Photoshop.
"I explore further through the drawing process to solidify my idea," she said, an approach she said she refined at MCC starting with underpainting and proceeding by layering using the fat-over-lean process.
Her influences include George Shaw and Darren Reid, who she said create realistic subject matter with a curious and ruminative feel.
"I am also influenced by the chiaroscuro approaches of Caravaggio and Vermeer," she said. "Vermeer creates settings in a manner that is not unlike what I want to achieve, with mundane and mood settings.
Edward Hopper is another influence in her current paintings, in the way he portrays the slow and quiet scenes of life.
Her work will be in the gallery for the next month.
MCC's annual Paint-in and Art Competition and Exhibition begins March 28 and goes through April 8 at the Wrightstone Gallery with the annual paint-in competition set for April 8 from 9 a.m.-2 p.m. at the Peter and Dolores Graff Events Center.
---