NPCC students give back through Helping Hands program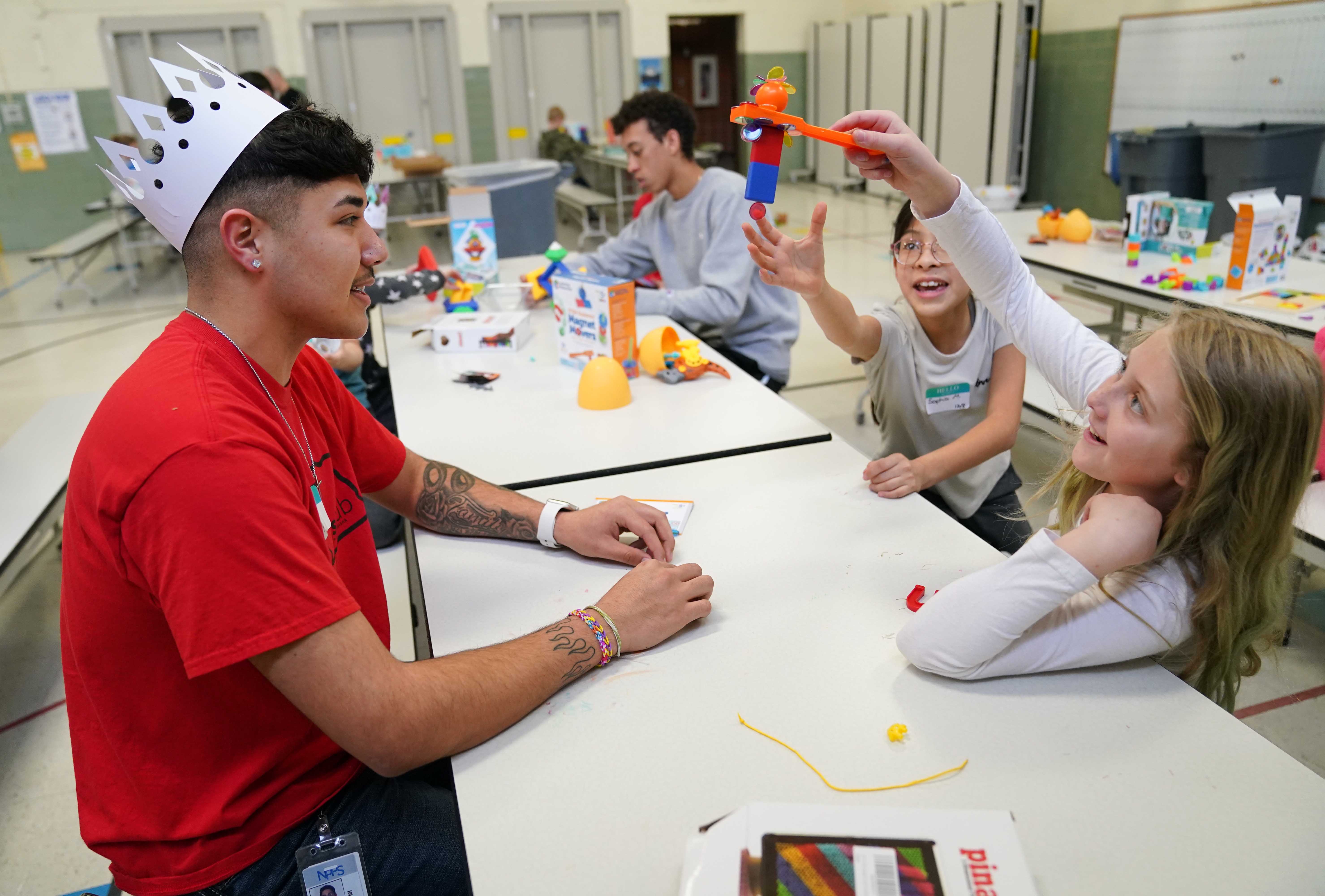 Friday, March 17, 2023
North Platte Community College students are getting as much out of a local mentoring program as the youth they are serving.
A group of NPCC students have been working with the North Platte Public Schools' Helping Hands program since last fall.
Through the part-time, paid positions they are responsible for serving as positive role models for elementary students identified through NPPS as having behavioral health needs.
They provide support in the classroom, keep the students on task, assist with coping skills and follow and implement behavior improvement plans. The mentorship is done in the classroom as well as at lunch, recess, physical education periods and after school.
Brandy Buscher, NPPS student services director, and Maggie Butler, NPPS student services coordinator, came up with the idea for Helping Hands after seeing data released by the University of Nebraska Medical Center regarding the shortage of mental health professionals in rural Nebraska.
According to a UNMC report, 88 of Nebraska's 93 counties are designated as federal mental health professional shortage areas (HPSAs). Eighty counties have a ratio of psychiatrist-to-population that is below the federal HPSA ration of one per 30,000, and 78 counties have no practicing psychiatrists.
"With Helping Hands, we are really trying to 'grow our own'," Buscher said. "The thought was that if we could recruit students from the college and make them fall in love with our NPPS family, that hopefully they would keep working with youth and behavioral health needs. We understand that they will probably go on and pursue a higher degree, but hopefully someday they will consider coming back and working for us or at least within the community."
NPCC psychology instructor Courtney Johnston is in charge of referring college students for Helping Hands. All referrals have to go through a formal hiring process with NPPS that includes submitting an application, an interview and a background check.
Johnston said she's noticed a huge difference in those selected to be mentors.
"Helping Hands is a great program," Johnston said. "The college students I have spoken with say being a mentor has been life-changing for them. Not only have they been able to gain work experience that will look great for future employment, but the opportunity has shaped the direction of their lives – from educational interests to career goals."
Matthew Wright, of North Platte, is an example of that. After graduating from Sutherland High School in 2021, he joined the Army National Guard with intentions of pursuing a career in the military. His plans changed when an illness deferred his deployment.
"I had always heard great things about NPCC, so I decided to enroll there," Wright said. "I started out studying criminal justice and had made up my mind to transfer to the University of Nebraska Omaha for pre-med when I started taking psychology classes with Courtney. She suggested I apply for the Helping Hands program, and I'm so glad I did."
He now spends every weekday from 8 a.m. to 5:30 p.m. working for NPPS – both through Helping Hands and as part of the Kids Klub after-school program.
"With Helping Hands, I help high-risk students develop coping skills," Wright said. "Some students are very high energy, so that often means I walk with them in the hallways or do activities to use up some of that energy so they can focus when reimplemented into the classroom. Other times, I sit with them in the classroom to keep them on task."
Wright serves as a mentor to 12 students. Some he sees multiple times a week, and others, who don't need as much support, he works with a couple times per week.
"Because I assist children with behavioral issues, the best part has been seeing them graduate out of the program and succeed in everyday life," Wright said. "It's such a wonderful feeling. I can't even explain it."
It has made a huge difference in what he wants to do with his own life.
"Helping Hands has definitely changed my perspective," said Wright. "I know it's a cliché, but the program made me realize that kids are 100 percent of our future. You never meet the same one twice, and when you see them in such different conditions – you want to love them all and support them in every way possible."
Since joining Helping Hands, Wright has decided to change his focus to developmental psychology and social work. His goal is to obtain bachelor's and master's degrees in those fields.
"My ultimate goal is to earn a doctorate then come back and work for North Platte Public Schools," Wright said. "Hopefully, one day I can achieve a professorship."
More information about Helping Hands and the opportunities it offers can be found online at nppsd.org.
---