Heritage Ventures wins 2021 Hormel Business Competition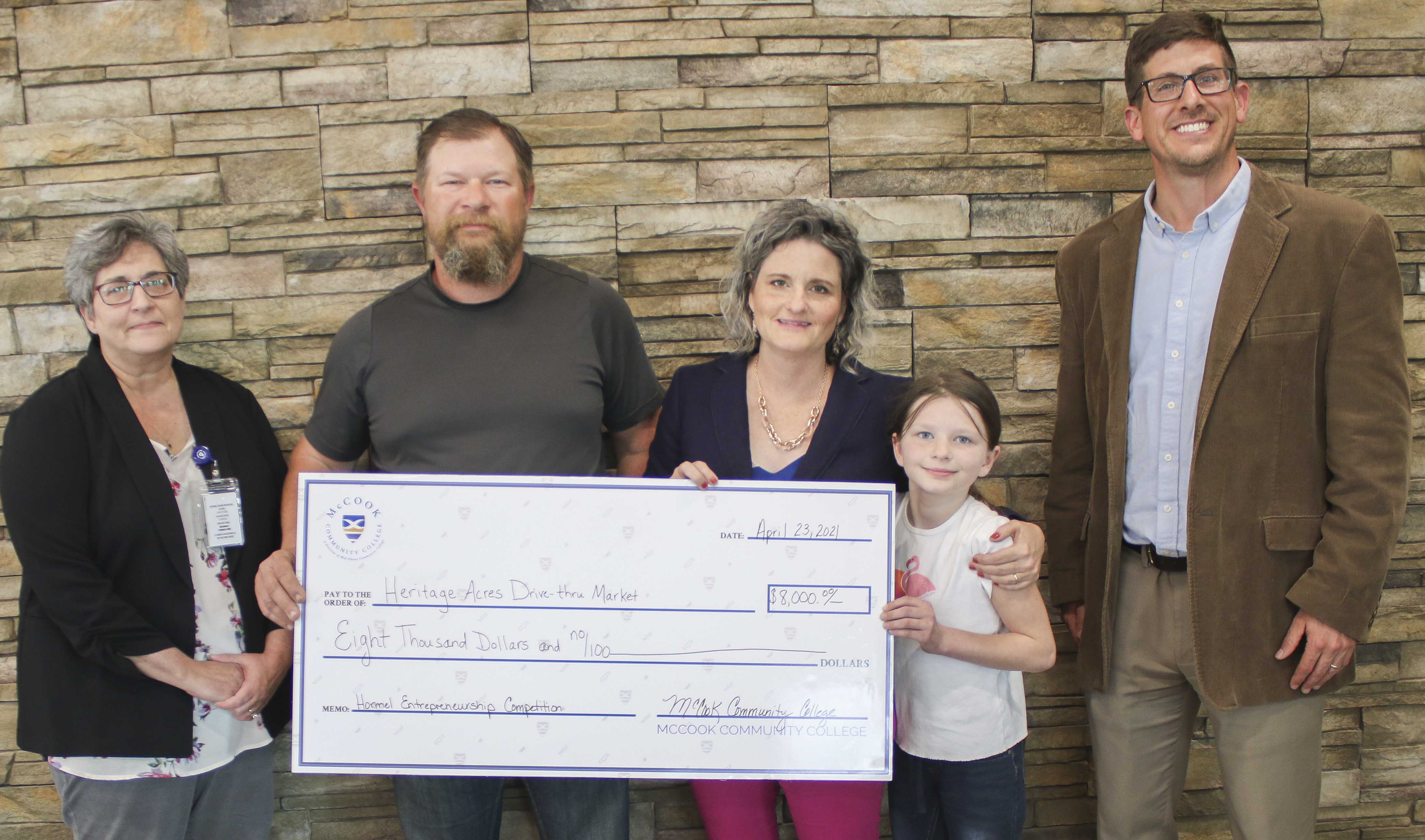 Monday, April 26, 2021
Heritage Ventures, LLC, of Stratton won the 2021 Hormel Entrepreneurship Competition and an $8,000 first prize award. The announcement came at McCook Community College Friday after judges considered the business plans of six local entrepreneurs – all of which received at least $2,000.
Impact Closet Boutique LLC, Culbertson, received second place and $7,000 and Happy's Feed Store and Fuel Center, Wauneta received third place, $4,000. Three other businesses received $2,000 including: Katie Farrell Yoga & Pilates, McCook; Travis Henne Repair, McCook; and Becky Wallen Videography, McCook.
In presenting the awards at McCook Community College and the combined $25,000 in prize money, Andy Long, McCook Economic Development Corp. Executive Director, said this year's competition was one of the closest competitions ever.
"When the judges considered all six of the presentations I think it was a consensus of the judges that this year's six finalists was the best group ever, with a very slim margin in the scoring between them all," he said.
In their business plan for Heritage Acres Drive-thru Market, Chris and Paul Sandberg of Stratton said they will use the money to expand their farmer's market established in July of last year from their website heritageacres.net
They sell their own products as well as food items from other local producers. They specialize in foods grown sustainably by small producers and "put emphasis on high-quality, nutrient-dense foods." Their website with no-contact delivery methods makes it easy for consumers to buy local foods. They employ one full-time employee and four part time.
The second place presentation of Impact Closet Boutique LLC, (Casha and Dan O'Byrne, Culbertson) included plans to expand their mobile women's clothing boutique based from their driveway, taking their 30-foot, enclosed mobile shop throughout the area. The boutique, structured as a sole proprietorship of the couple, was established to create a space that guests would "feel like they were shopping from a brick and mortar storefront." They opened Sept. 1, traveling to their first "pop up" and have held more than 35 popup events. Their goal is to return to communities on a more regular basis, while building social media, and creation of an app.
In their business proposal, Happy's Feed Store and Fuel Center -- Camie Cox, Wauneta, presented plans to start a 24-hour fuel station with food, drinks, snacks and a full inventory of bagged animal feed, mineral and supplements. They would have two employees.
With the $2,000 awarded the other three finalists' plans include: Katie Farrell Yoga & Pilates, McCook plans to expand her one-on-one reformer pilates personal training, private yoga and mat pilates sessions, in-person and online/virtually, group yoga and mat pilates; Travis Henne Repair, McCook (Frontier County), plans to expand his ATV/UTV repair shop specializing in repairing Polaris, Suzuki and Kawasaki repairs and other brands; and Becky Wallen Videography, McCook, who plans to start up a full-service video and film business for weddings and events, and for businesses needing video for websites, social media, workshops or other presentations.
The year-long competition concluded with the six finalists making 30-minute presentations Friday at the college. The competition opened Nov. 1 with judges selecting semifinalists who received scholarships (valued at about $336) to attend a mandatory eight-week online Entrepreneurship Business Plan writing class offered through Mid-Plains Community College this spring.
The main objective of the Hormel Entrepreneurship Competition at McCook Community College is to stimulate entrepreneurship and support business expansion in southwest Nebraska.
The Hormel Family Foundation was founded in 1999 by the late Ben F. Hormel, a McCook entrepreneur, to support McCook Community College. Among his many business ventures, Hormel operated the Chevrolet dealership in McCook. When he died in 2002, he passed on the torch to his children and grandchildren, who operate the foundation today. Their foundation is committed to education, entrepreneurship and business development in the McCook and southwestern Nebraska economic region. They believe that education and entrepreneurship are the strongest weapons against the population loss.
This year's sponsors are: McCook Economic Development, MNB, McCook Community Foundation Fund, Community Hospital, McCook Community College Foundation, McCook Community College, a Division of Mid-Plains Community College, and the Hormel Family Foundation.
PHOTO CAPTION: Sharon Kircher, Mid-Plains Community College Business & Community Education Coordinator (left) and Andy Long, McCook Economic Development Corp. Executive Director (right) present a check for $8,000 to Chris, Paula (and Olivia) Sandberg, to help expand a farmer's market.
---