North Platte Home Builders Association donates $44,000 to NPCC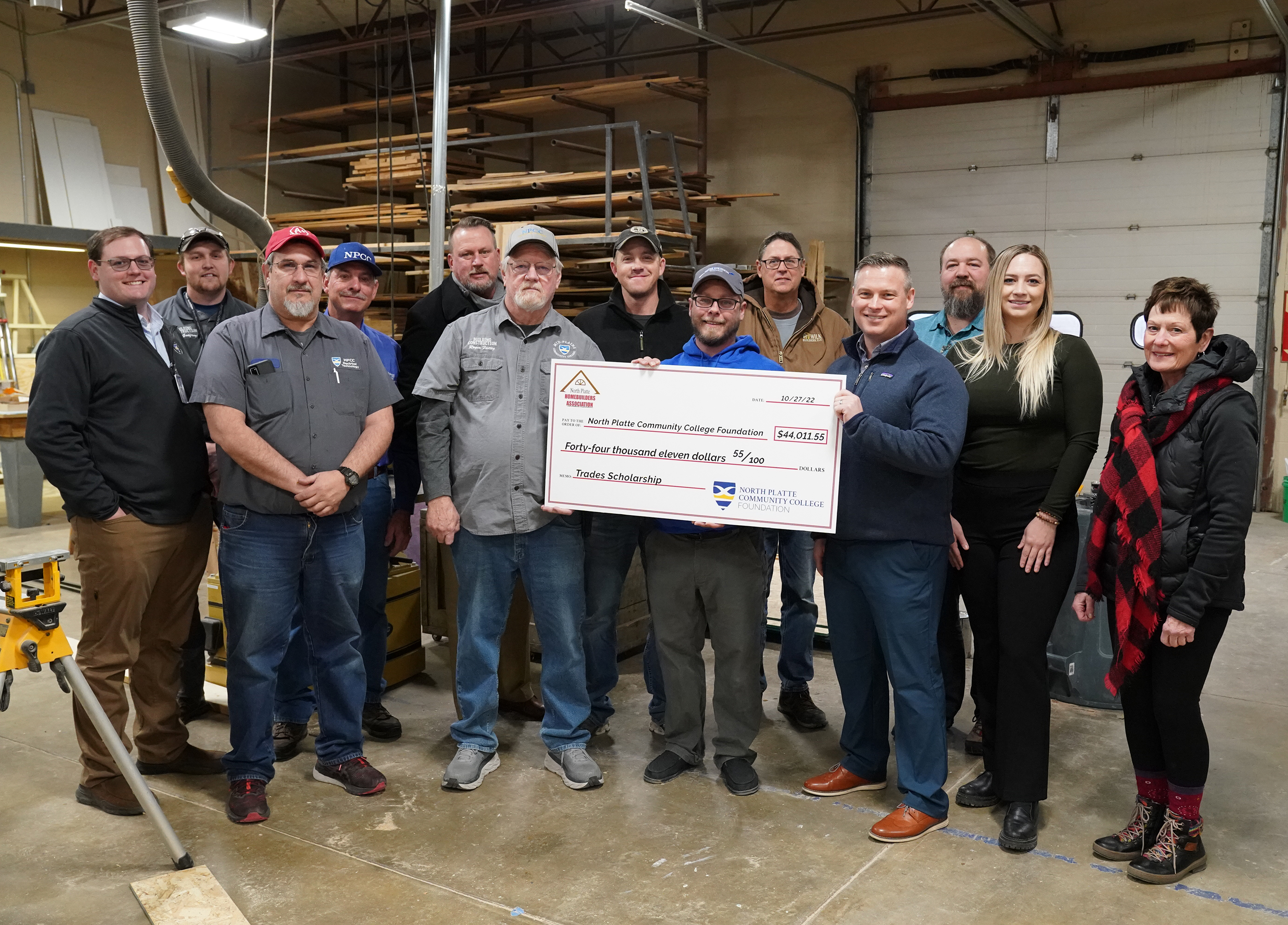 Wednesday, February 22, 2023
Students in the building construction, electrical, welding and heating, ventilation and air conditioning technology programs at North Platte Community College will benefit from one final donation from the North Platte Home Builders Association.
The Home Builders presented a check for $44,011.55 to the North Platte Community College Foundation Wednesday morning. The funds will also support the college's dual credit/early entry career exploration program in years that endowment funding allows.
The Home Builders Association, started in 1965, was a local, non-profit organization made up of professionals in the building industry.
They were known for their generosity and for years donated a portion of the proceeds from their Home and Outdoor Expo to NPCC in the form of applied technology scholarships.
The Home Builders dissolved in October of 2022, and the check presented to the college this week represented the last of the association's funds after expenses had been paid.
"This donation continues what we tried to do before, which was to provide some funds for students who might be struggling financially and to encourage more people to look at the trades for a career," said Josh Powell, former executive officer for the Home Builders. "All trades related to construction are low on employees and have been for some time now."
Jake Rissler, director of Institutional Advancement, said the college is extremely grateful for the Home Builders' support of NPCC's applied technology programs.
"This scholarship will ensure the association's mission, will impact lives through current and future students and will ultimately guide the future success of the industry," Rissler said. "Our region needs dedicated professionals in the trades, and this gift will ensure students receive the training they need. Students, their families and the entire community will feel the impact of this donation. On behalf of Mid-Plains staff, students and the NPCC Foundation, I sincerely thank Josh, Mike and all the board of the Home Builders Association for making this possible."
More information about the applied technology programs offered through the college can be found at mpcc.edu.
Those interested in making a donation to the NPCC Foundation can do so by emailing Jake Rissler, director of Institutional Advancement, at risslerj@mpcc.edu or calling (308) 535-3754.
---