Area students win prizes/scholarships at Inter-High Day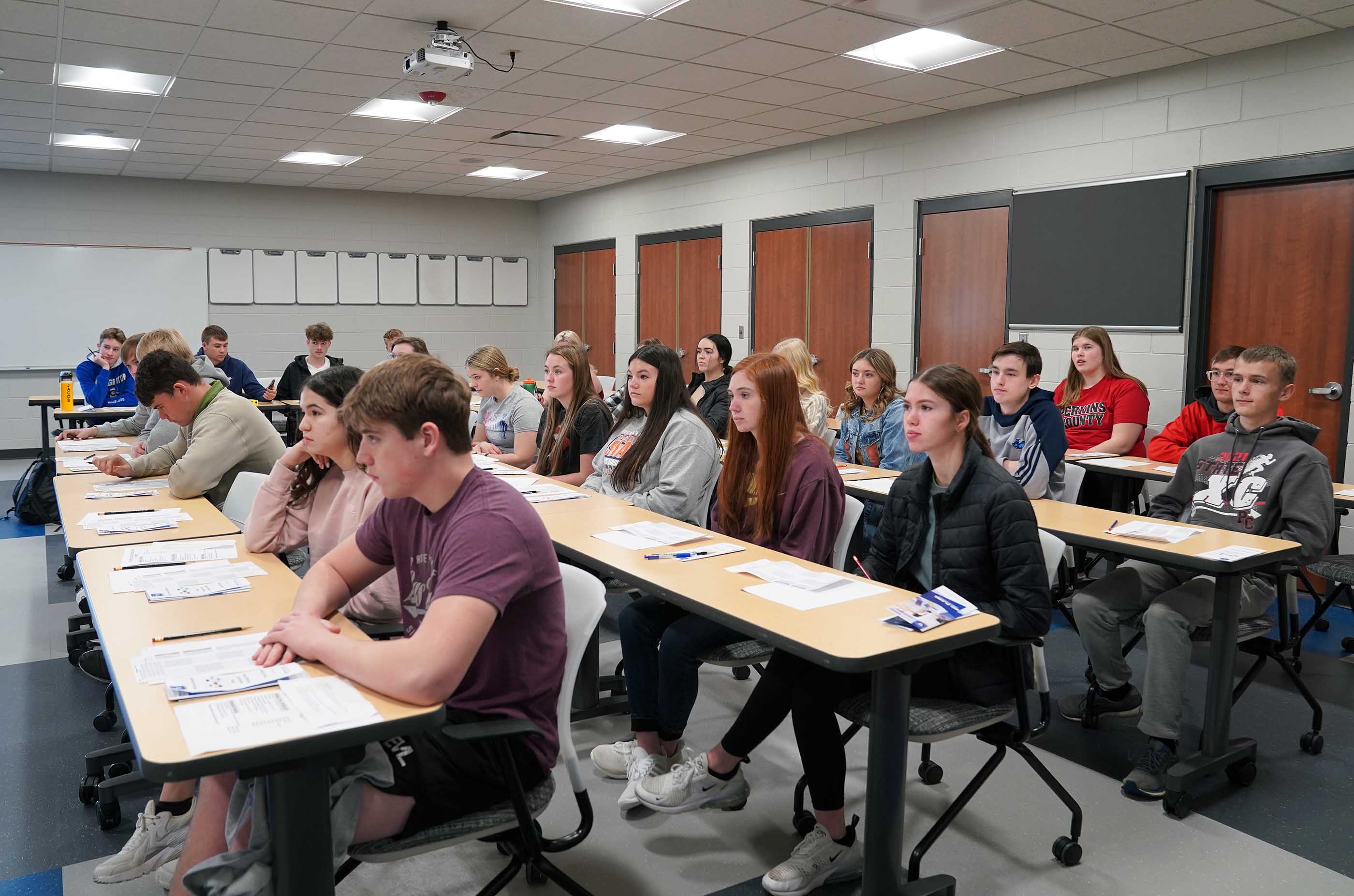 Wednesday, March 29, 2023
About 440 students from 23 area high schools competed for scholarships and other prizes during the 54th annual Inter-High Day at North Platte Community College Wednesday.
The scholastic contest was spread across NPCC's north and south campuses. The students' knowledge and skills were tested in everything from auto body, diesel mechanics and electrical technology to accounting, chemistry, poetry writing, music and health occupations.
Schools earned points based on how well their students placed in the academic divisions. The top three point earning schools received a plaque and a $500 scholarship to award to a student of their choice.
Winners in each category received a medal and a $500 scholarship to the college. Additionally, those placing first through third earned certificates for up to three credit hours of summer tuition.
Winners in the applied technology competitions also received industry-based prizes related to their particular test areas.
Results were as follows:
Division Results:
Top School Division I
First – Hershey
Second – North Platte St. Pat's
Third – Perkins County
Top School Division II
First – Stapleton
Second – Southwest
Third – Paxton
Top School Division III
First – Arnold
Second – Maywood
Third – McPherson County
Academic categories:
Accounting
First – Jacob Holzfaster, Paxton
Second – Kaitlin Meyer, Perkins County
Third – Cole Kramer, Stapleton
Art
First – Kellan Copeland, Sutherland
Second – Jordan Nelson, North Platte High School
Third – Ariana Sutter, Sutherland
Biological Science
First – Trevor Carlson, Hitchcock County
Second – Ryder Potts, Perkins County
Third – Bryce Bode, Hershey
Business Communications
First – Emmy Oldham, Maywood
Second – Maggie Haesler, Mullen
Third – Will Krondak, North Platte St. Pat's
Chemistry
First – Will Moats, North Platte St. Pat's
Second – Nathan Kollmorgen, Hitchcock County
Third – Colin Rooney, Stapleton
Criminal Justice
First – Jacob Knox, Cody-Kilgore
Second – Jeffery Forsen, Mullen
Third – Kaitlyn Goodrich, Stapleton
Dramatic Arts/Theater (11th-12th grades)
First – Ashley Williams, Eustis-Farnam
Second – Ana Cerenil, Southwest
Third – Pryce Johnston, Maywood
Dramatic Arts/Theater (9th-10th grades)
First – Emma Balden, Dundy County Stratton
Second – Ivy Tullis, Arnold
Third – Graci Peterka, Maywood
Health Occupations
First – Dakota Guthrie, North Platte St. Pat's
Second – Avery Broomfield, Southwest
Third – Madison Guernsey, Hershey
Information Technology
First – Cole Barnett, Southwest
Second – Caleb Walters, Eustis-Farnam
Third – Ryun Sheets, Wallace
Introduction to Business
First – Lance Jones, Arnold
Second – Mike Ekdahl, North Platte St. Pat's
Third – Jacob Holzfaster, Paxton
Mathematics
First – Joshua San Miguel, North Platte High School
Second – Andrew Brosius, North Platte St. Pat's
Third – Joseph Ledbetter, Wallace
Medical Terminology
First – Tonja Heirigs, North Platte St. Pat's
Second – Dayle Haake, Thedford
Third – Reagan Bender, Hershey
Microsoft Office Suite
First – Tucker Housman, Stapleton
Second – Chloe Schaeffer, Stapleton
Third – Allie Boyer, Mullen
Music/Instrumental
First – Austin Thompson, Southwest
Second – Barbora Bilkova, Cody-Kilgore
Third – Chloe Guo, North Platte St. Pat's
Music/Vocal
First – Mariah Osienger, Thedford
Second – Katherine Anderson, McPherson County
Third – Daelyn Mues, Hitchcock County
Music Theory and Ear Training
First – Cruz Brooks, Hershey
Second – Chloe Guo, North Platte St. Pat's
Third – Jane Fischer, Hershey
NPCC Facts
First – Tallianna Martin, Arnold
Second – Mackayla Wallin, Perkins County
Third – Eryka Anderson, Hershey
Personal Finance
First – Brodey Hund, Hershey
Second – Will Krondak, North Platte St. Pat's
Third – Ben Aldridge, Dundy County Stratton
Poetry Writing
First – Dayami Ruiz, Perkins County
Second – Alvin Russell, Garden County
Third – Rameja Somers-Dehaney, North Platte St. Pat's
Prose Writing
First – Alvin Russell, Garden County
Second – Miah Fox, Paxton
Third – Emmy Oldham, Maywood
Sociology
First – Jax Staton, Hershey
Second – Dakota Guthrie, North Platte St. Pat's
Third – Natalie Malcom, Eustis-Farnam
STEM/Engineering
First – Myles Bishop, Perkins County
Second – Casey Jones, Maxwell
Third – Logan Recoy, Arnold
Applied Technology:
Auto Body
First – William Fisher, Hershey
Second – Quinn Moreno, North Platte High School
Third – Ethan Schmidt, McPherson County
Automotive
First – Dominic Achenbach, Brady
Second – William Anderson, McPherson County
Third – Tyler Cappa, Maywood
Building Construction Team
First – Stapleton High School
Second – Sutherland High School
Third – Eustis-Farnam High School
Diesel Mechanics
First – Koltar Rahn, Hershey
Second – Cameron Car, Brady
Third – Tyler Cappa, Maywood
Electrical
First – Jace Zahl, Hershey
Second – Keltin Vanarsdall, Hershey
Third – Chase Rundbeck, Mullen
Heating, Ventilation and Air Conditioning
First – Ethan Schmidt, McPherson County
Second – Kamryn Tucker, Cody-Kilgore
Third – Jackson Saner, Sutherland
Welding Division I
First – Trinity Zeigler, North Platte High School
Second – Jace Zahl, Hershey
Third – Keltin Vanarsdall, Hershey
Welding Division II
First – Jackon Saner, Sutherland
Second – Wyatt Walker, Paxton
Third – Kellin Nelson, Brady
---