Naval cadet finds direction/purpose through MPCC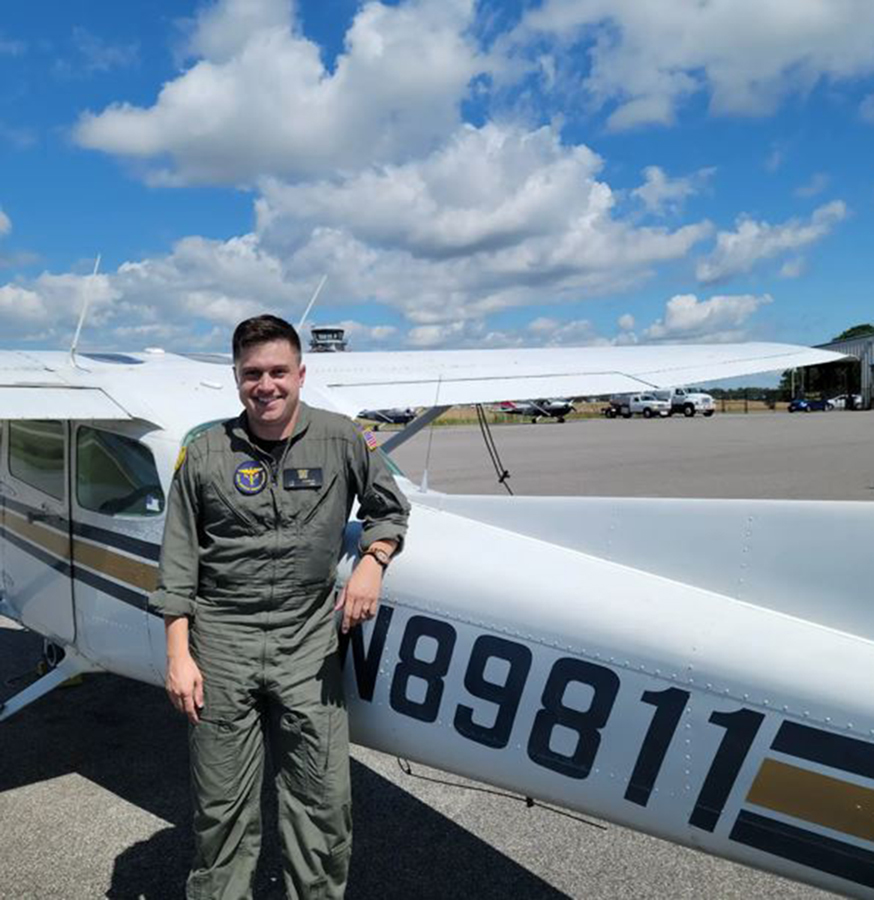 Wednesday, October 20, 2021
Jesse Johnston may be flying high now, but he'll never forget where he came from – or the path that led him to where he is today.
"I've got so much love for Mid-Plains Community College," Johnston said. "The school and the instructors – they did so much for me."
As a child, Johnston never pictured himself at a community college or living in Nebraska for that matter. He wasn't sure where he wanted to be, really, he just knew he wanted to do something with aviation.
Originally from Ely, Nev., Johnston moved to the Hershey area with his family when he was 14, so that his father, Gene Johnston, could start a business. Jesse subsequently attended Hershey High School but dropped out his junior year to go to work.
"Eventually, I wanted to open some doors for myself, and I knew I would need an education for that," Jesse said.
His older brother, Rowdy Johnston, had attended MPCC in North Platte, and he encouraged Jesse to start there as well. Jesse heeded the advice and, in 2011, at the age of 19, earned a GED. By 2012, he was enrolled at Mid-Plains full-time.
"MPCC was affordable, close to home and allowed me to ease into the college environment slowly," Jesse said. "I needed that type of transition at that point in my life. I think if I would have gone directly to the university, it would have been overwhelming."
He also liked the fact that he could explore so many different career options with MPCC.
"At Mid-Plains, because of the affordability, I could dip my toes into an industry, learn the foundation of a skill and see if I liked it," Jesse said. "Even if I would have gone into a program I didn't choose to do for the rest of my life, I would have had something to fall back on. I think there's still a stigma surrounding community colleges – that maybe they don't look as good on paper as a university stamp, but all education starts somewhere. If you're making yourself better and working toward something, it doesn't matter where you start."
Jesse met two of the most influential instructors he ever had during his time at Mid-Plains.
"My brother encouraged me to take classes from physics instructor Jared Daily," Jesse said. "I spent hours one-on-one with him and with [former math instructor] Roger Volentine. Those two taught me more about critical thinking and problem solving than anyone else ever did. I've always been kind of smart, but I wasn't good at school. I didn't really get good at school until I went to Mid-Plains. That's where I learned how to study the right way and how to apply myself."
Jesse shared his dream of becoming a pilot with Daily who encouraged him wholeheartedly.
"He explained the training that goes into a field like that, and the different platforms available," Jesse said. "He helped me get pointed in the right direction and made me realize that although my dream would take a lot of legwork, it was doable. It helped to hear that from him and to know that someone was rooting for me."
Jesse received the Science and Humanities Division Award from MPCC in 2014. That same year, he transferred his credits to the University of Nebraska – Lincoln in pursuit of an engineering degree.
"That was another great thing about starting out at Mid-Plains," Jesse said. "I didn't have to take so many classes at the university, which allowed me to keep working and maintain my lifestyle. It was amazing."
He also joined the U.S. Marine Corps Reserve, where he spent the next six years working as a generator mechanic.
"None of my family has been in the military since World War I, but I'm a die-hard patriot," Jesse said. "That's the closest thing to my heart. I remember 9/11 like it was yesterday. I was young at the time, but we had family friends who went overseas after that, and I remember watching the news about kids getting blown away. I wanted to give my pound of flesh. I felt like I needed to get in there and do my part to help my country."
Joining the Reserve allowed him to serve in the military and continue his education at the same time.
In 2016, he transferred again – that time to the University of Nebraska Omaha where he earned a Bachelor of Science degree in Aviation-Air Transport Administration in 2019. The degree set him up for an entry level position in an airport.
Jesse took a job at Duncan Aviation in Lincoln before latching onto an opportunity with the Navy in January of this year.
"I was originally going to be an officer in the Marines, and I did a full contract with them," Jesse said. "But, I decided to pursue a position as a commissioned officer in the Navy instead because I like the culture in the Navy better. It's easier to get selected as an officer if you serve somewhere else first."
He is currently going through training at Naval Air Station Pensacola in Florida. He will be done with flight school in a little over a year then will be living his dream.
"I will be like 'Goose' from 'Top Gun' – a back seater," Jesse said. "I'll serve as a navigator and weapons officer. It's just crazy because, as a kid, I always thought about being here."
Eventually, he would like to become a naval flight officer for a Growler squadron and fly in a Boeing EA-18G Growler. A specialized version of the two-seat F/A-18F Super Hornet, the Growler is the first newly designed electronic warfare aircraft produced in more than 35 years.
"I now realize that's attainable," Jesse said. "When I look back at how far I've come and the opportunities I've had, I realize it all happened because of Mid-Plains. From helping me get my GED to teaching me networking, critical thinking, time management and general organizational skills – MPCC set me up to launch into something pretty cool. Most importantly, Mid-Plains helped me believe in myself. I'll never forget that."
---