MCC alum pushes the limits of cake decorating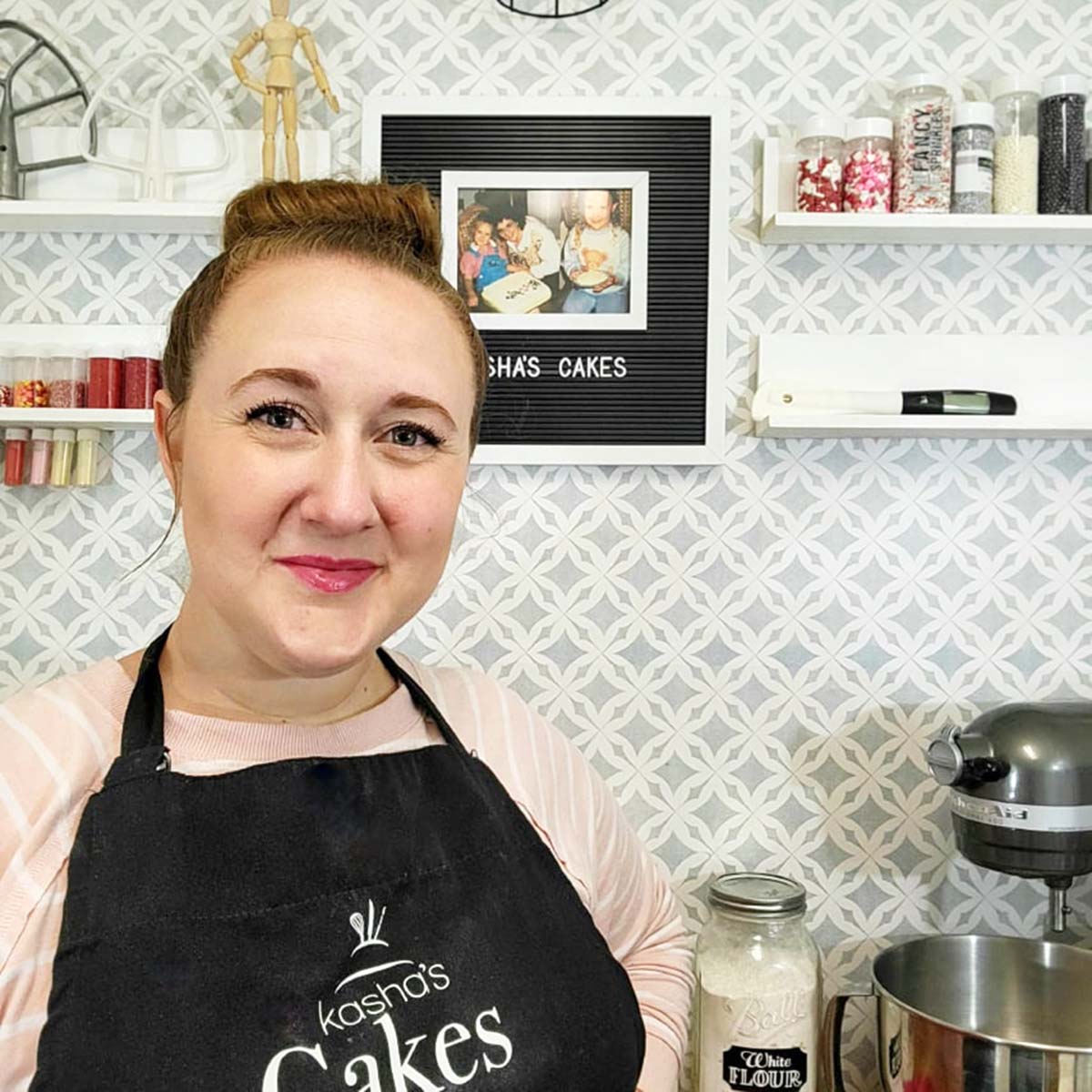 Wednesday, October 6, 2021
Kasha Messersmith can do the unimaginable.
It's a talent she's been perfecting for years – even when she didn't realize it.
"Looking back, I've always been building up to this," said Messersmith. "Every art project, every business plan I had to create for a class, was preparation for what I'm doing now."
Messersmith is a self-taught specialty cake artist and the owner of Kasha's Cakes in Omaha. She is originally from McCook.
"That's really where my interest in decorating cakes began," Messersmith said. "When I was a child, my mom [Rita Messersmith] made sheet cakes as a side gig. I was always trying to help, so she would have me set up with my Easy-Bake Oven – to do my own thing while she worked. I still use her butter cream recipe."
Although she enjoyed cake decorating as a hobby, doing it as a profession wasn't on Kasha's mind when she graduated from McCook High School in 2011.
"I decided to go to McCook Community College for graphic design," Kasha said. "It was close to home, and I had heard good things about the program and about instructor Becky Meyers. I already knew art instructor Rick Johnson from paint-ins and things like that, and I knew he had a great program, too."
Kasha soon fell in love with the small class sizes and quality of education MCC had to offer.
"The programs at MCC were the best out of all my years of schooling," Kasha said. "I went to the University of Nebraska Omaha later on and always felt like I got more out of my two years at MCC. The college does an amazing job."
Kasha graduated from MCC in 2013 with an Associate of Applied Science Degree in Graphic Design then transferred to UNO where she earned a bachelor's degree in graphic design in 2017.
"I freelanced for a bit after that," Kasha said. "The market was highly saturated at that point, and it was hard to find a job. So, I did some graphic design work on my own and picked up a serving job. I didn't really think about cake decorating until a year later."
It was 2018, and Kasha's coworker was about to turn 21. She offered to make a cake for him.
"In the back of my mind, I was thinking that maybe if the cake turned out well, I could start a business," Kasha said. "I decided to go all out and post some pictures on social media. It blew up. Everybody loved the work, so I decided to give cake decorating a shot."
Three years later, Kasha spends her days creating cakes in a two-bedroom apartment in Omaha. She doesn't do any marketing outside of social media and word of mouth, but she doesn't really have to. Business has been insane.
"I try to make the cakes you can't buy just anywhere," Kasha said. "I draw a lot on my art background, which seems strange because most of the classes I took were 2-D. I didn't take any sculpture classes, but I did take art history, color theory, drawing, painting and all the others. Those all help me now with my profession. And, of course, the graphic design background comes in handy when I'm trying to do renderings and scales."
Kasha has never taken a cake decorating class or a culinary class either. That doesn't stop her from pushing the boundaries in 3-D cake sculpting.
"There aren't a lot of other art mediums to base it on, and there aren't many traditional classes for that," Kasha said. "It's a new frontier, so most of my education in that area has been watching videos of other professionals and trial and error."
She thrives on the ideas clients bring to her. Those have included everything from a giant dill pickle, a Victrola record player and sports-themed cakes to a wedding cake featuring a couple's dogs, a pirate ship being attacked by a kraken and a keg with working taps that allowed liquor to be poured out of the cake.
"People come to me with some crazy ideas, which is what I love," Kasha said. "One lady asked me to create a birthday cake for her husband based on his interests, which were the Los Angeles Dodgers, Starbucks coffee, old movies and golf. That's where I used my art degree to come up with a cohesive design."
The result was a Starbucks cup featuring a LA Dodger logo, centered on a golf tee, next to a golf ball and wrapped in 35-millimeter film, which Kasha fashioned out of airbrushed rice paper.
Her favorite cake so far, however, has been the life-like bison she created for her 10-year reunion at McCook High School earlier this fall. The bison is the school's mascot.
"I had been wanting to make a bison for a while," Kasha said. "Really detailed projects like that typically start in the wood shop – again where my art degree comes in handy. I had to build a mold by cutting down plywood and using threaded rods, nuts, bolts and washers."
She then stacked the cake on the mold and used a knife to achieve the desired shape. Most of the time, her cakes are iced with either buttercream frosting or chocolate ganache. In the case of the bison, Kasha applied modeling chocolate for the outer layer.
"It acts very much like clay," Kasha said. "I did all the sculpting using the same carving tools as those for traditional three-dimensional art pieces."
Kasha's bison even had the ability to snort – thanks to a little ingenuity.
"That wasn't in the original plan," Kasha said. "But, while I was working on the project, I looked down and saw tubing on the table and wondered if I could make dry ice come out of the nostrils. I had used a similar technique on a gumbo pot, so I tried it and it worked."
Views of the bison on Facebook have fueled demand for Kasha's cakes even more. She's hoping that one day she can move to a brick-and-mortar store.
"Ideally, I would like to go back to McCook," Kasha said. "That's always been the plan – to return to the area. For now, I'm just playing it by ear."
Kasha is often asked if she wishes she had gone to some sort of formal training for her chosen field. Her answer is always the same.
"I have no regrets," Kasha said. "If I would have gone to culinary school, I would have been more focused on the aspects of making a cake and frosting it. Because I went the art route, I learned a lot of other skills that I can now incorporate into my business. Art school broke me out of a generic mold and allowed me to draw on my creativity. Sometimes, you have to leave behind what you think you should be doing and transition into what you're actually supposed to be doing."
Examples of Kasha's work can be found online at kashascakes.com.
---