Epps named MPCC Nursing Student of the Month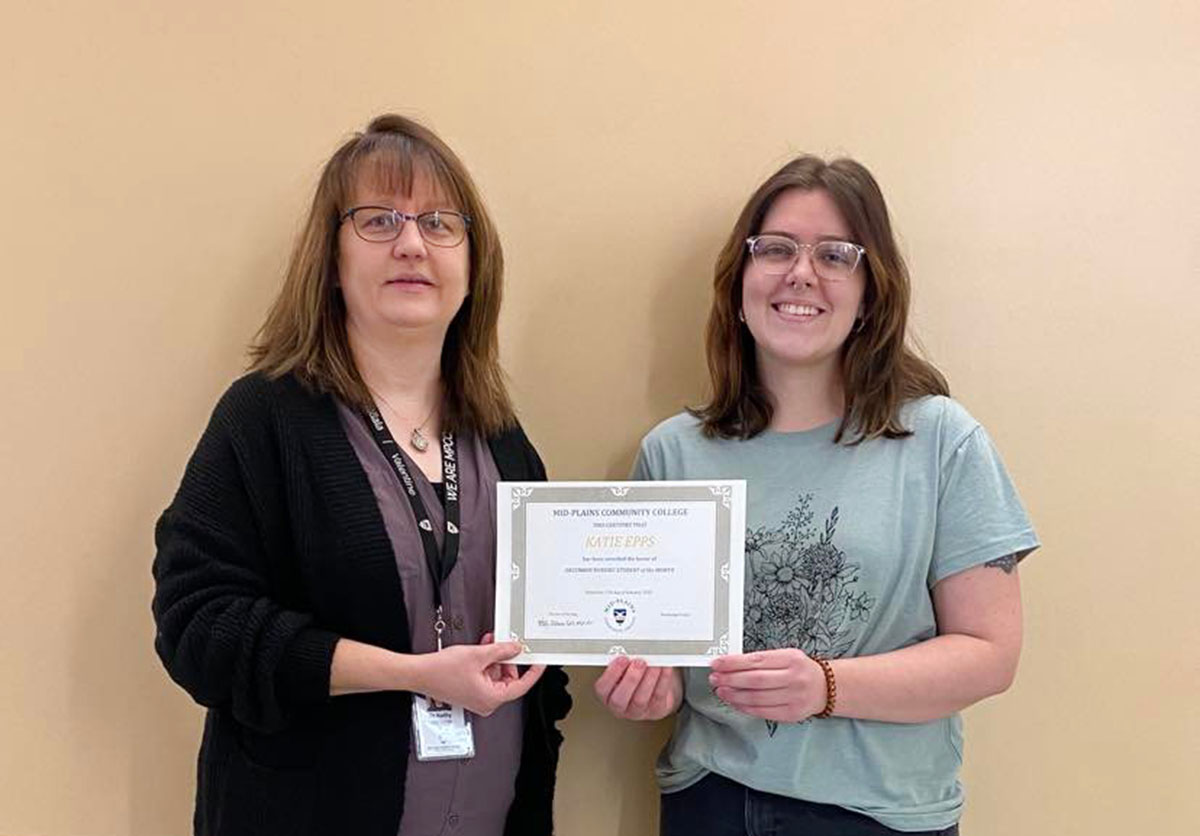 Friday, January 21, 2022
Katie Epps, of North Platte, has been selected as the Nursing Student of the Month for December at Mid-Plains Community College.
Epps graduated from North Platte High School and is a second-year Associate Degree Nursing student at MPCC. She was nominated for the Nursing Student of the Month award by her instructors.
"Katie has demonstrated professionalism, growth in clinical competency and has an amazing attitude toward learning," said Lana Albrecht-Watson, ADN instructor. "She is supportive of her peers and always willing to help others in the classroom and in clinical. Katie is a hard worker, models positively and consistently completes her work on time. In addition, Katie is well-liked by her peers, her patients and the nursing staff. She is kind, caring and respectful."
Nursing instructor Addie Schaeffer also nominated Epps based on her positive attitude.
"The positivity truly has a great impact on the learning atmosphere," said Schaeffer. "Katie has demonstrated commitment to improving her learning and testing ability. I enjoy having Katie in the classroom."
Epps chose to attend MPCC so that she could remain close to friends and family.
"I also wanted an option that was affordable and not going to break the bank," said Epps. "I have enjoyed my experience at Mid-Plains and have made many friends during my time here. The faculty and staff have always been helpful in organizing the classes I need and are always available to answer questions promptly."
Epps is the vice president of the Mid-Plains chapter of the Nebraska State Student Nurses Association.
Outside of school, she enjoys being creative by painting, making clay earrings, drawing and taking photographs.
Epps is on track to graduate from MPCC in May. After that, she would like to work in a clinic or hospital. She also believes she would enjoy working in a same-day surgery setting.
"Katie provides stellar patient care to every patient during clinical," said Lindsay Schwartz, nurse educator. "She engages in the clinical experience and is always eager to learn something new. She is prepared and organized on the clinical floor. Katie is also a team player - giving assistance to her peers when needed. Those are the characteristics that great nurses possess."
Epps is the daughter of Phyllis Knox, of North Platte.
---