MPCC alum honored with Horace Mann Award for Teaching Excellence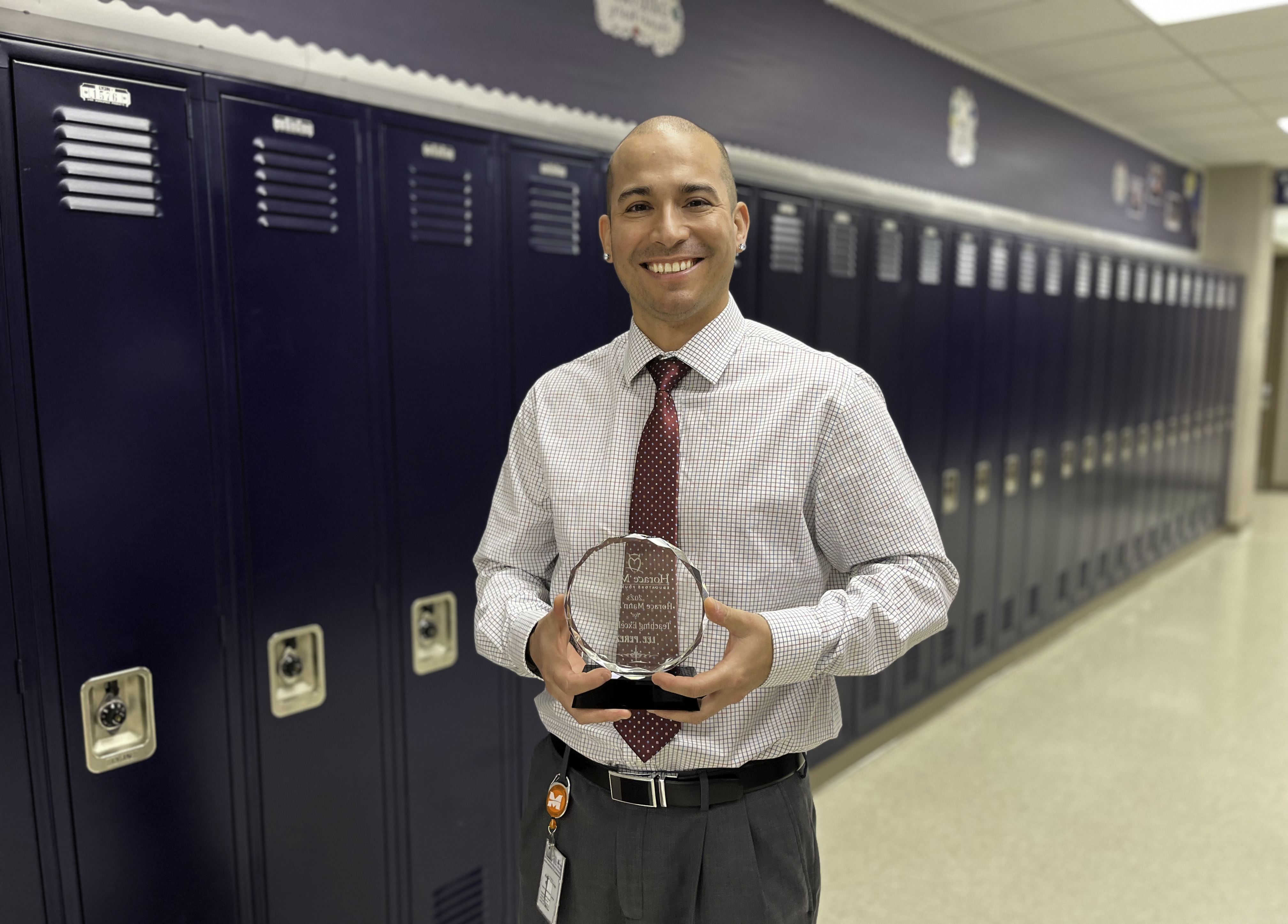 Tuesday, November 15, 2022
Mid-Plains Community College alum Lee Perez has been recognized at the national level for outstanding service to both the field of education and his community.
Perez was honored Monday by the National Education Association Foundation with the 2023 Horace Mann Award for Teaching Excellence, which is sponsored by the Horace Mann Educators Foundation. It is one of public education's highest accolades.
According to the NEA Foundation, the award recognizes educators for their exceptional skill in the classroom, attention to equity and diversity, engagement of families and communities, commitment to ongoing professional development and advocacy for the profession. Perez, a North Platte native who has been teaching ESL classes at Alice Buffett Magnet Middle School in Omaha since 2019, was one of five recipients from across the country.
"It is an honor to be selected for this national recognition as a Horace Mann Award finalist," Perez said. "To be among the top five educators in the nation is truly a humbling experience. I also found out that I'm the first-ever finalist from the state of Nebraska. To receive this type of news makes me proud and honored to represent our state on the national level."
Perez was nominated for the Horace Mann Award by the Nebraska State Education Association after being named as Nebraska's Teacher of the Year a year ago – becoming the first male, Latino and English as a Second Language instructor to receive that title.
A self-described "lazy student" in high school, Perez got his start at MPCC and credits the college for helping to take him from a GPA of 1.88 to where he is today.
"I'm so proud to be an alumnus of MPCC," Perez said. "MPCC gave me the tools and knowledge to pursue my educational passions and dreams. I directly credit all my success today to what MPCC and its faculty and staff did for me when I was a student there. I'm very proud to be a Knight. The value of a community college education is both rewarding and powerful."
Perez graduated from MPCC with an Associate of Arts degree in 2003 then transferred his credits to the University of Nebraska Omaha where he obtained a Bachelor of Science Degree in Secondary Education in 2007.
He has received many other awards over the years for his commitment to education. In 2021, he also received the Award for Teaching Excellence through the Nebraska State Education Association and was named a Cox Education Hero.
He has served on the Nebraska Department of Education Commissioner's Advisory Group, the Nebraska State Education Association Ethnic Minority Affairs Committee and the National Education Association Teachers of Color cohort.
(Photo courtesy of Omaha Public Schools)
---