Nebraska Teacher of the Year got his start at NPCC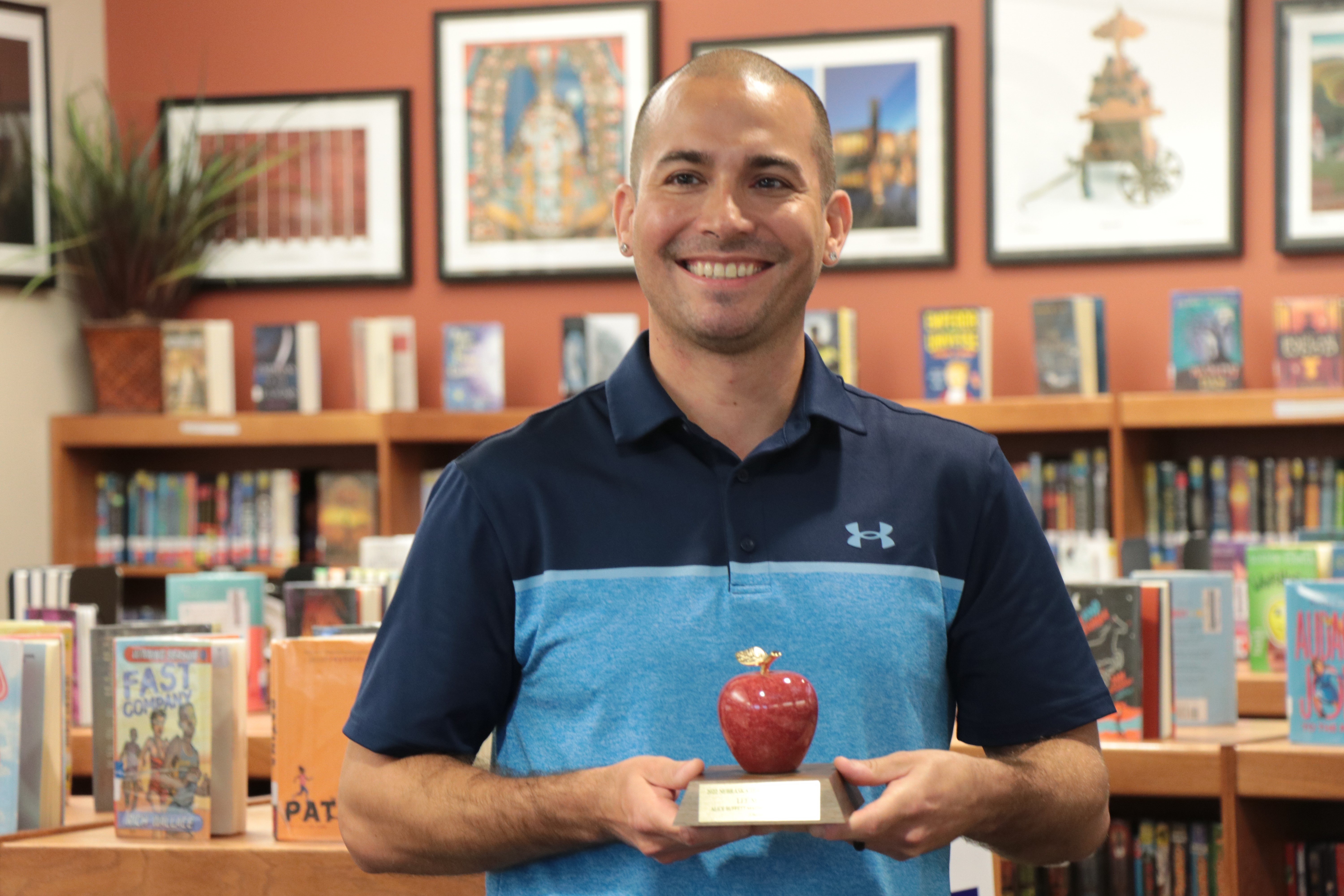 Thursday, January 20, 2022
Of all the things Lee Perez imagined himself becoming – Teacher of the Year was not one of them.
"I didn't really like school when I was growing up," Perez said. "In fact, I would even go so far as to say I hated it. I barely graduated from high school."
In the end, education chose him - whether he wanted it to or not.
Perez was named the Nebraska Department of Education's 2022 Nebraska Teacher of the Year in October – making him the first male, Latino and English as a Second Language instructor to receive the recognition.
"It's an amazing honor," Perez said. "There was a lack of diversity in the Teacher of the Year pool, and now I'm able to change that."
Perez teaches English as a Second Language to fifth through eighth grades at Alice Buffett Magnet Middle School in Omaha. He is relatable to many of the young minds he's trying to influence.
"My philosophy in the classroom is one of resiliency," Perez said. "I share my story. I tell my students I went through a rocky place, too. I know that a lot of things don't make sense now, but they will. The important thing is to not give up. I had mentors who didn't give up on me, who lifted me up and empowered me, and it's their impact that got me to where I am today."
Perez is the first to admit he saw no value in education in his younger days.
"I thought, 'This is so stupid. Why do I have to learn about equations or some dead guy who lived 200 years ago'?" Perez said. "I was lazy. It's not that I couldn't do the work, it's that I chose not to. I did the bare minimum and looked for every reason to not go to school. I graduated from North Platte High School in 2000 with a GPA of 1.88."
Going back to the classroom after that was the last thing he wanted to do, but it was what was expected of him.
"It was the encouragement of some key teachers, former North Platte head basketball coach Dan Moore and my brothers that got me to college," Perez said. "Some of them thought I should go into teaching, and I thought, 'I don't even like education. Why would I want to be a teacher? Finally, I said, 'OK, I will try it so you guys will leave me alone'."
He applied to one school, the University of Nebraska at Kearney, because that's where his brothers had gone, but was denied as a result of his grades. It was a devastating blow, but his family wouldn't let him give up, suggesting instead that he try community college.
"I enrolled in North Platte Community College, which was affordable and close to home," Perez said. "My first semester wasn't very good. In fact, I was on the verge of academic probation."
At that point, he was also second-guessing what he wanted to do with his life as his idea of becoming a kindergarten teacher wasn't turning out quite the way he had planned.
"Kindergarten teachers are amazing," Perez said. "I have so much respect for them. It takes a certain skill to do what they do, but after some job shadowing, I realized that just wasn't my thing."
He was considering dropping out until a conversation with Ruth Wohler, his advisor at the time, changed his mind.
"She basically sat me down and explained the harsh reality of what my life was going to be like if I continued to not put in any effort," Perez said. "I needed that. I needed someone to be honest with me and provide that guidance. I'm not sure it would have happened at a bigger school."
Matthew Blomstedt, Nebraska commissioner of education, presents Lee Perez with the 2022 Nebraska Teacher of the Year award in October in Perez' classroom. Perez teaches English as a Second Language to fifth through eighth grades at Alice Buffett Magnet Middle School in Omaha. He is an alum of North Platte Community College. (Photo courtesy of Omaha Public Schools)
Perez vowed to do better, and from that point on, he did. He made it a point to go to class and focus on his assignments.
"I'm almost glad Kearney rejected me because if I would have gone there, I probably would have quit," Perez said. "It was a blessing to be at NPCC. I wasn't academically or socially ready to go to a university, but NPCC built me up to the point that I was. I will always be grateful to the college for that."
Perez relied a lot on the faculty at NPCC to get him through. In addition to Wohler, he found mentors in former psychology instructor Dr. Pete Johnson, history instructor Dr. Glynn Wolar and Kevin O'Connor, math instructor and head coach for the NPCC men's basketball team.
"All of them were important to my success," Perez said. "The instructors were so personable at NPCC, and I knew I could stop in their offices at any time and talk to them about anything. I wasn't just a number, I was a person, and I'm thankful that they were so persistent with me. They never gave up."
Wolar is the reason Perez decided to become a history teacher. He originally took Wolar's class on a dare. Several guys on the basketball team had bet him that he couldn't get an 'A' in a course Wolar was teaching.
"There was a rumor going around that Wolar was the toughest instructor on campus," Perez said. "I'm a pretty competitive person, and I had to have three credits of history to graduate, so I signed up for a night class with him anyway."
To this day, he's glad he did.
"I already had a love of history, but Wolar fueled that," Perez said. "I got an 'A,' but had to work for it. Wolar was very good. I owe my writing and critical thinking skills to him. I took three or four classes of his after the initial one and wish I could have taken more. They were harder than any class I took thereafter, but they also did the best job of preparing me for life. Wolar was very influential in me going forward, and I can't thank him enough."
Perez was able to remain in school after his first semester and take Wolar's classes because O'Connor offered to make him a student assistant on the basketball team. That came with a scholarship that paid his tuition and books.
"Financially, that helped a lot," Perez said. "Basically, I was able to get my degree for free. I didn't spend anything out of pocket."
Perez graduated from NPCC with an Associate of Arts degree in 2003 then transferred his credits to the University of Nebraska Omaha where he obtained a Bachelor of Science Degree in Secondary Education in 2007.
He has spent the past 15 years since then in the Omaha Public Schools district. Perez started his career at Marrs Magnet Middle School, where he taught seventh grade World Studies for the Dual Language program for 12 years.
"I pursued ESL certification at the urging of my wife," Perez said. "I'm grateful for her. She has always been there to support me and has been a huge part of my success."
In 2019, he accepted his current position as an ESL instructor at Alice Buffett Magnet Middle School where he is also the head coach for the boys cross country team and the assistant girls track and field coach.
The Teacher of the Year award is not the first Perez has received for his passion and commitment to education. In 2021, he also received the Award for Teaching Excellence through the Nebraska State Education Association and was named a Cox Education Hero.
His affiliations include serving on the Nebraska Department of Education Commissioner's Advisory Group, the Nebraska State Education Association Ethnic Minority Affairs Committee and the National Education Association Teachers of Color cohort.
North Platte Community College alum Lee Perez is surrounded by his students as he accepts the award for Nebraska Teacher of the Year from the Nebraska Department of Education. (Photo courtesy of Omaha Public Schools)
He is currently one of 56 finalists in the running for National Teacher of the Year.
"I have a good feeling about it because the last time Nebraska had a finalist in the competition was 1982, and I was born in '82," Perez said with a laugh.
The publicity has brought with it a whirlwind of speaking opportunities across the country, and Perez is more than happy to oblige. He gives a nod to community colleges everywhere he goes.
"I was a product of a community college, and I cherish the time spent there," Perez said. "It put me on this path I'm on, and I enjoy the ride every day. We'll see where the journey takes me."
---