Maywood wins MCC paint-in; Lex's Macey Johnson wins Best of Show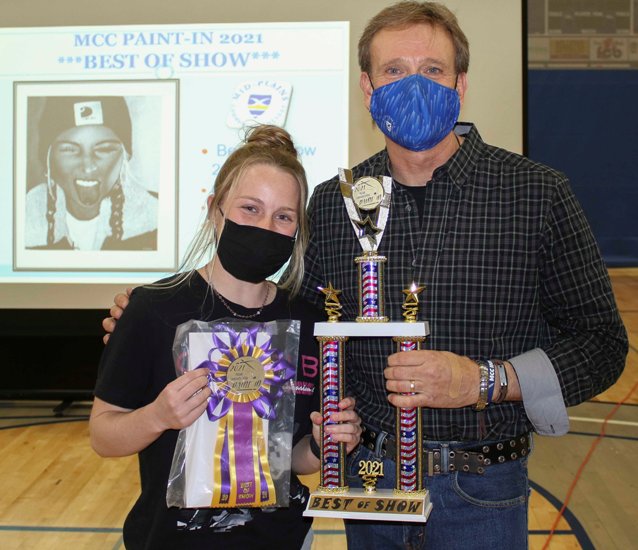 Friday, April 16, 2021
Despite some weather closures Friday, 16 teams of high school artists competed in the annul McCook Community College paint-in competition at the Peter and Dolores Graff Events Center.
A team from Maywood received first place in Friday's paint-in competition. A Wallace team was second, Medicine Valley third and McCook received honorable mention. MCC graduate Danley Walkington, judged this year's paint-in competition with the theme "Hieroglyphics in the Modern Age."
Also Friday the winners of the corresponding high school art show were announced and Macey Johnson, Lexington High School was named Best of Show for her drawing, titled "TTrahrah." More than 200 pieces were entered in this exhibition. Here are other winners who were announced Friday:
PAINTING: Judge's Choice – Deney Pelster, Wallace, "Koi Pond" (watercolor painting); 1. Bailey Hidy, Hitchcock County, "Puma," (acrylic painting); 2. Charles Barnes, Chase County "Dog" (oil painting); 3. Hayden Johnson, McCook, "Daydreaming" (oil on panel).
DRAWING: Judge's Choice – Mayayla Schoen, Southern Valley, "Reflection" (chalk pastel); 1. Macey Johnson, Lexington, "Senioritis" (white charcoal); 2. Pryce Johnston, Maywood, "Brook Trout" (colored pencil); 3. Rebekah Taylor, Southern Valley, "2020 Vision" (graphite).
PRINTS/PRINTMAKING: Judge's Choice – Erika Miller, Norton, "Country Sunflowers" (block print); 1. Alexandra Goad, Gothenburg, "Questioning" (Intaglio print); 2. Ashlynn Latimer, Southwest, "Termal Body" (reduction print); 3. Kassidy Wilcox, Southwest, "Self-Portrait" (block print).
MIXED MEDIA: Judge's Choice – Kassidy Wilcox, Southwest, "Frog" (batik process). 1. Jesse Roland, Southern Valley, "Contrasting Sunflowers" (batik); 2. Candice Lundquist, Southwest, "Horse" (painting on material machine and hand stitched); 3. Isabella Townsend, Southwest, "Morning Drift" (batik process).
POTTERY: Judge's Choice – Kayla Peterson, Gothenburg, ceramic tea cup; 1. Richa Patel, McCook, "Tropicana" (pottery plate); 2. Maddie Doyle, Maywood, "It's a Yolk" (hand-built ceramic); 3. Brianna Jorgenson, Southern Valley, "Finding Diamonds," ceramics.
THREE DIMENSIONAL: Judge's Choice – Wiebke Skupin, Cambridge "Paper Mache'." 1. Schyler Hoberty, Cambridge, "Tidal Wave"; 2. Klair Fagot, Lexington, "Sidewalk Surfer"; 3. Wiebke Skupin, Cambridge, "Papegeno."
DIGITAL/PHOTOGRAPHY: Judge's Choice – Analise Hernadez, McCook, "Angel Baby." 1. Joel Miller, McCook, "Strange"; 2. Jeff Gillen, McCook, "Loki"; 3. Kailynn Rodewald, McCook, "Hawkeye."
---