MCC's annual Purple Out softball event set for March 31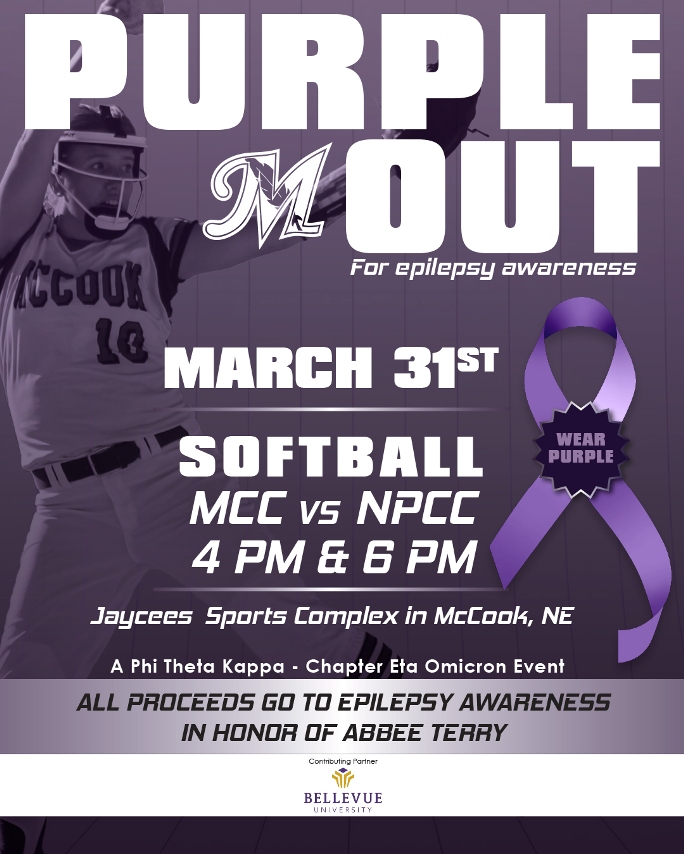 Tuesday, March 23, 2021
The McCook Community College's Phi Theta Kappa and the softball team are once again teaming up to tint the Jaycee Sports Complex purple for epilepsy awareness softball games on Wednesday, March 31 starting at 4 p.m.
The players from MCC along with the North Platte team will wear purple warmup shirts to help raise awareness and funds for epilepsy and a number of fund-raising activities are set to coincide with the Purple Out doubleheader.
Abbee Terry, who recently turned 18, is the inspiration for this event which began in 2015 to help bring awareness to her condition. Abbee has a rare form of epilepsy known as Lennox-Gastraut Syndrome (LGS). Each year her condition regresses, but she is once again scheduled to throw out the ceremonial first pitch.
This year fans can bid on a number of raffle items which include: gift baskets donated by Bellevue University, gift cards donated by area businesses and signed softballs from both McCook and North Platte. PTK members, MCC staff, and softball players and their families are also offering up baked goods for sale. Softball players always chalk the sidewalks around the complex with messages of hope and encouragement.
All proceeds will go to the Nebraska Epilepsy Foundation.
The Terry family has always had close bonds, being part of the MCC family. Abbee's dad Doug drives the busses for many of MCC's out-of-town athletic trips, mom Bonnie worked as preschool teacher at the Child Development Center at MCC for 18 years -- until the epilepsy changed things. As the severity and the number of Abbee's seizures increased, Bonnie ultimately left her teaching position to be more readily available to Abbee's increasing needs.
Brother Justin finished his MCC baseball career about the time Bonnie was unable to continue working for the college. That's about the time MCC began an important part of helping raise awareness for epilepsy as a way to support the Terrys at the first Purple Out games in 2015. Brothers Coy and Quentin have continued to be Abbee's biggest fans.
This year and every year, Abbee's mother Bonnie speaks to MCC groups and other groups around town, about what epilepsy has meant for the Terry family in an effort to increase awareness.
On Monday she brought supper for the softball team and talked to players and coaches about the event, shared her photo album of Abbee's journey, spoke about epilepsy and talked about Abbee.
---