MCC's Blue Out Night expands to embraces rodeo family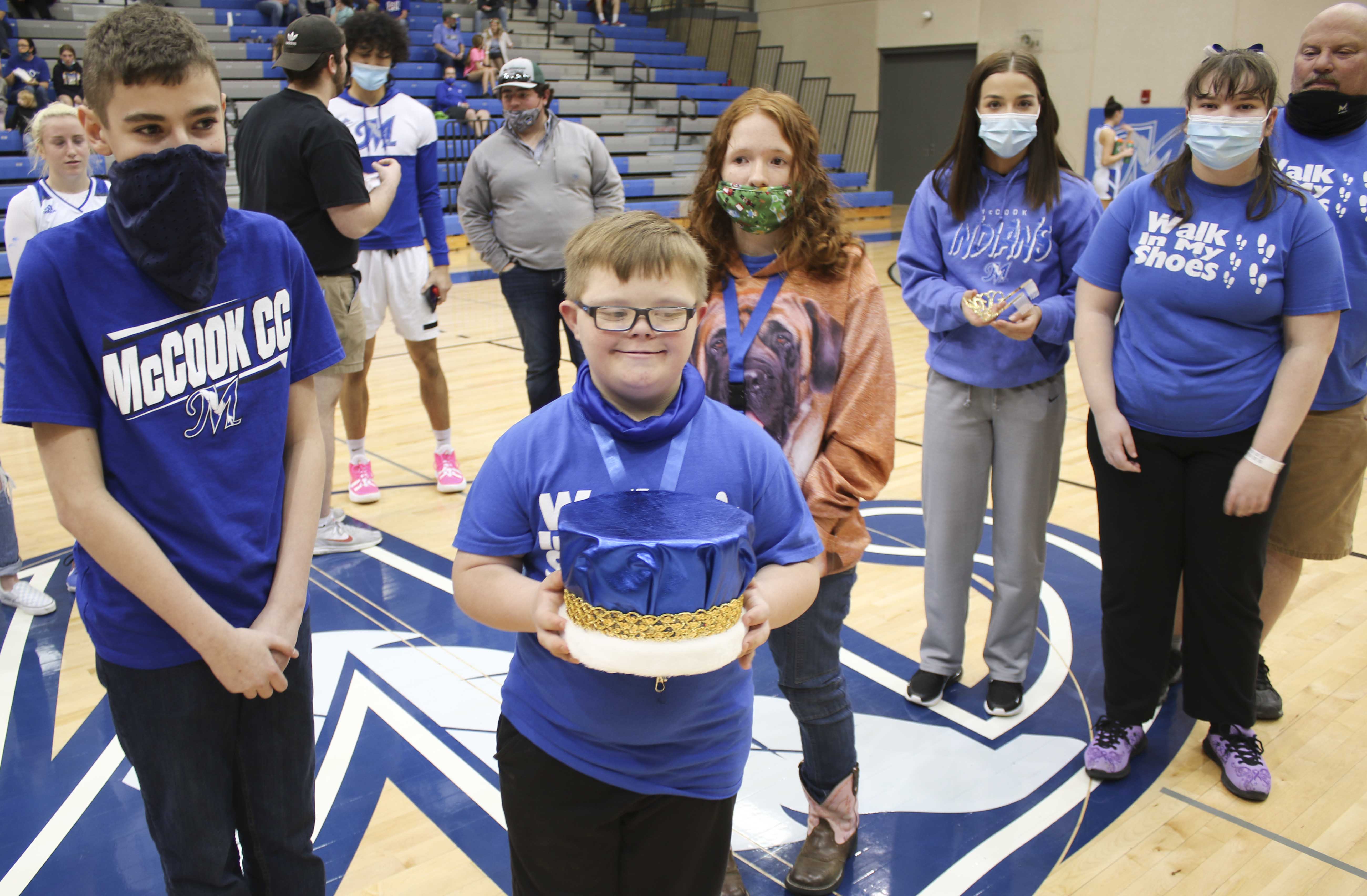 Wednesday, March 3, 2021
McCook Community College's annual Blue Out Night at the Peter and Dolores Graff Events Center, which helps spread the word about disabilities awareness, embraced another topic close to the hearts of the college and the community.
Between the women's and men's basketball games against North Platte, the crowd paused for a moment of silence for the family of Garrett Nokes, Mid-Plains Community College rodeo coach, who died recently. All proceeds from the night's events, concessions, including the sales of miniature basketballs and half-time free-throw shooting contests were donated to the Nokes family.
"Not only was Garrett's blood family special to him, but his rodeo team family was too, so it's important we were there for the moment of silence to honor him with students and faculty in attendance," said rodeo team member, Caitlyn Comfort.
The rodeo team was also represented in the MCC homecoming royalty, announced between the basketball games when MPCC steer wrestler Weston Kunkee, Calloway, was announced as one of three king candidates, along with basketball player Marcus Tobin, Ewa Beach, Hawaii, and Lake Reikofski, Wauneta. Queen candidates were: Emily Barr, Hershey (volleyball), Taryn Jenkins, Aldergrove, British Columbia (softball), and Kelly Snelling (Gering) basketball.
Reikofski and Snelling were named king and queen; Tobin and Barr were named first attendants and Kunkee and Jenkins second attendants.
Crown bearers were MCC fans Abbee Terry, Jax Harris and Derrick Brush.
Phi Theta Kappa Advisor Shannon Corder said while MCC's six previous Blue Out events had always been about bringing awareness to children with disabilities, "it was important this year to come together as a college family to open our hearts to others, and it made sense to include the Nokes family and the rodeo team this year," she said.
PTK and PBL, along with McCook's Walk in My Shoes foundation has helped raise money and awareness for children with disabilities. Last year they began the annual $250 scholarship awarded to a special education major. The first recipient was Bria Simmonds.
Corder said this year, not only will there be funds for this scholarship, but proceeds will be sent to the Nokes family. PTK raised more than $500 selling concessions and with the free-throw contest, PBL raised $140 in split-the-pot tickets – won by Doug Terry – who donated his $70 winnings back to PBL, with that amount going to the March of Dimes.
"What a great night," said Corder.
---