MCC's Wrightstone exhibiting works of 200+ high schoolers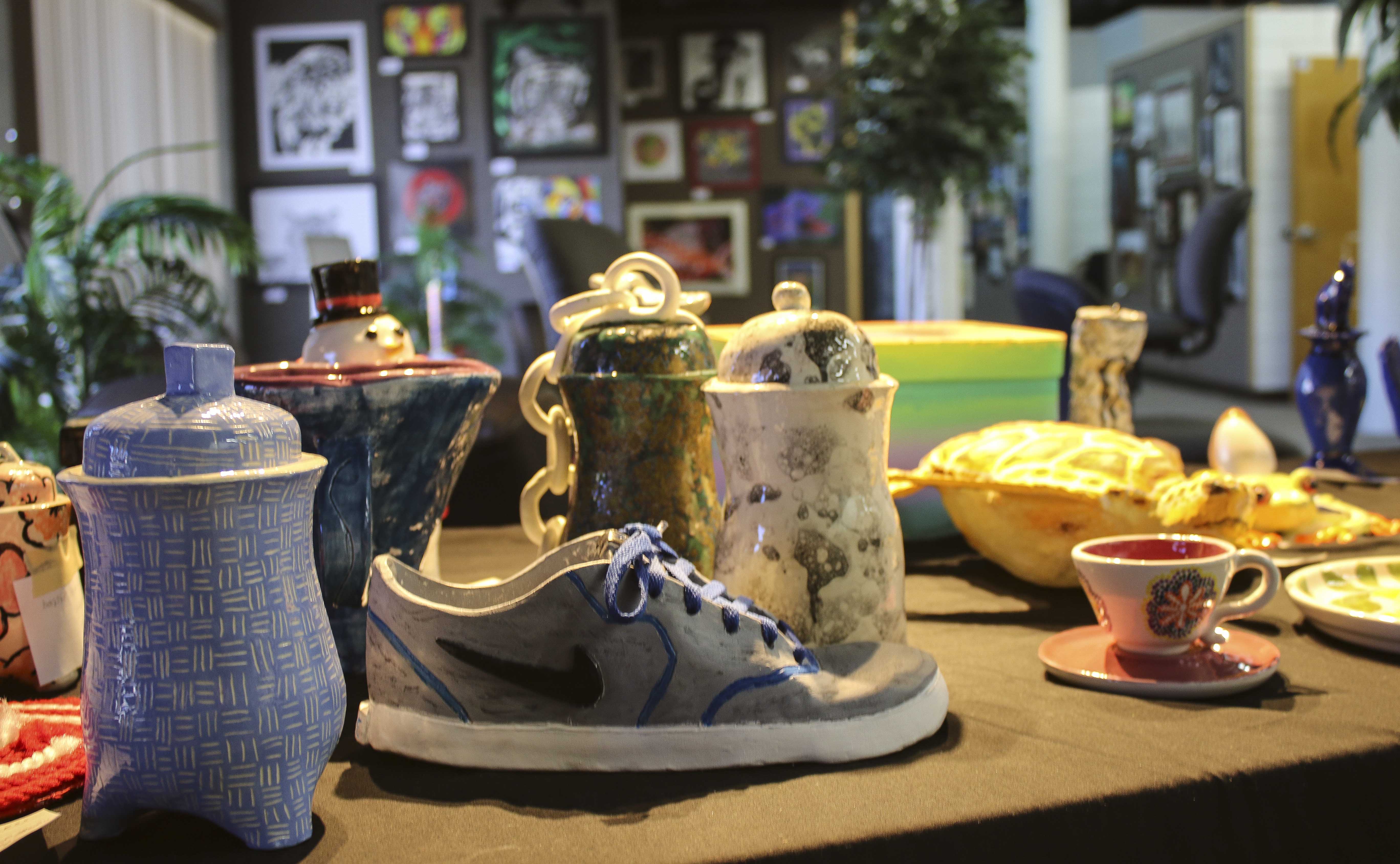 Monday, March 29, 2021
The McCook Community College Art Department's annual high school art exhibition is up and running with more than 200 works from area high school students on display in the Wrightstone Fine Arts Gallery on the MCC campus. This exhibition will be open to the public through the annual paint-in competition Friday, April 16.
Art students from 30 area high schools were invited to this year's event.
MCC Art Instructor Rick Johnson said the show and the paint-in have become an integral part of his spring calendar and over the years it has allowed him to meet, recruit, and teach many talented area high school artists.
Johnson tells students that if they want a comprehensive foundation as an artist or art major during their first two years of college, MCC is fully equipped to meet those needs. He likes to point out the increased benefit to students with MCC's smaller student-teacher ratios and lower tuition per credit hour than four-year institutions.
"We are extremely proud of our art program in McCook and enjoy the reputation that we have earned. Many of our graduates are now working in the art professions of teaching, commercial art, architecture, design, museums, studios, advertising, and fine arts in general," he said.
He said over the years he's met high school students who have some hesitancy toward pursuing a college degree and that can prevent them from pursuing an art-related area or any other degree.
"Often times, all the student needs is a little push – a little encouragement," Johnson said. "Many times, they simply seek the motivation or the opportunity to try."
He believes that his fellow faculty and the MCC staff are committed to giving students that chance in subject they are interested in.
"I have yet to meet a student who could not fit in at MCC, or who was not comfortable here, when given the opportunity to start," Johnson said. "I firmly believe this is the place for new students to 'get their feet wet.'"
For anyone interested in the chance to pursue art, Johnson said one of his favorite aspects of this annual event is the opportunity to award scholarships to qualified seniors – and not just to the exhibition medal-winners.
"I'd love to talk to any student who wants to study art, because we do have scholarships available and the sooner they reach out to me, the better," he said.
For this year's paint-in exhibition, students could enter up to five pieces and each school was limited to 40 works. The works are divided into seven categories: Painting, drawing, prints, mixed media, three-dimensional, pottery and digital work/photography.
The exhibit is open to the public and admission is free. The Wrightstone Gallery is open from 8 a.m.-6 p.m. Monday through Friday, and until 9 p.m. on Tuesday and Thursday.
One best of show trophy will be awarded from the works now on display. Medal winners within each category include one judges choice award, gold, silver and bronze medals. Trophies will be also be awarded for the paint-in competition for each school with as well as ribbons for individual team members.
One format change for this year's paint-in on April 16 is that Mid-Plains Community College will require students, staff, and instructors to observe the social distancing and personal protective equipment (PPE) guidelines set by the college for the competition. This event will take place in the Peter and Dolores Graff Events Center from 9 a.m.-1 p.m.
All artists and observers will be required to remain in designated areas in the Events Center and wear the required masks, face shield, or "gator" at all times. Participants who fail to comply will be dismissed from the scheduled event.
The judge for this year's Paint-In will be Danley Walkington, an MCC Art alum that has just received her BFA and pursuing an MFA. The paint-in theme will be announced at 9 a.m. with the competition going from 9:15 a.m.-noon in the Events Center. The awards ceremony for both the exhibition and the paint-in starts at 1 p.m.
---