Mid-Plains Community College dominates at UNL rodeo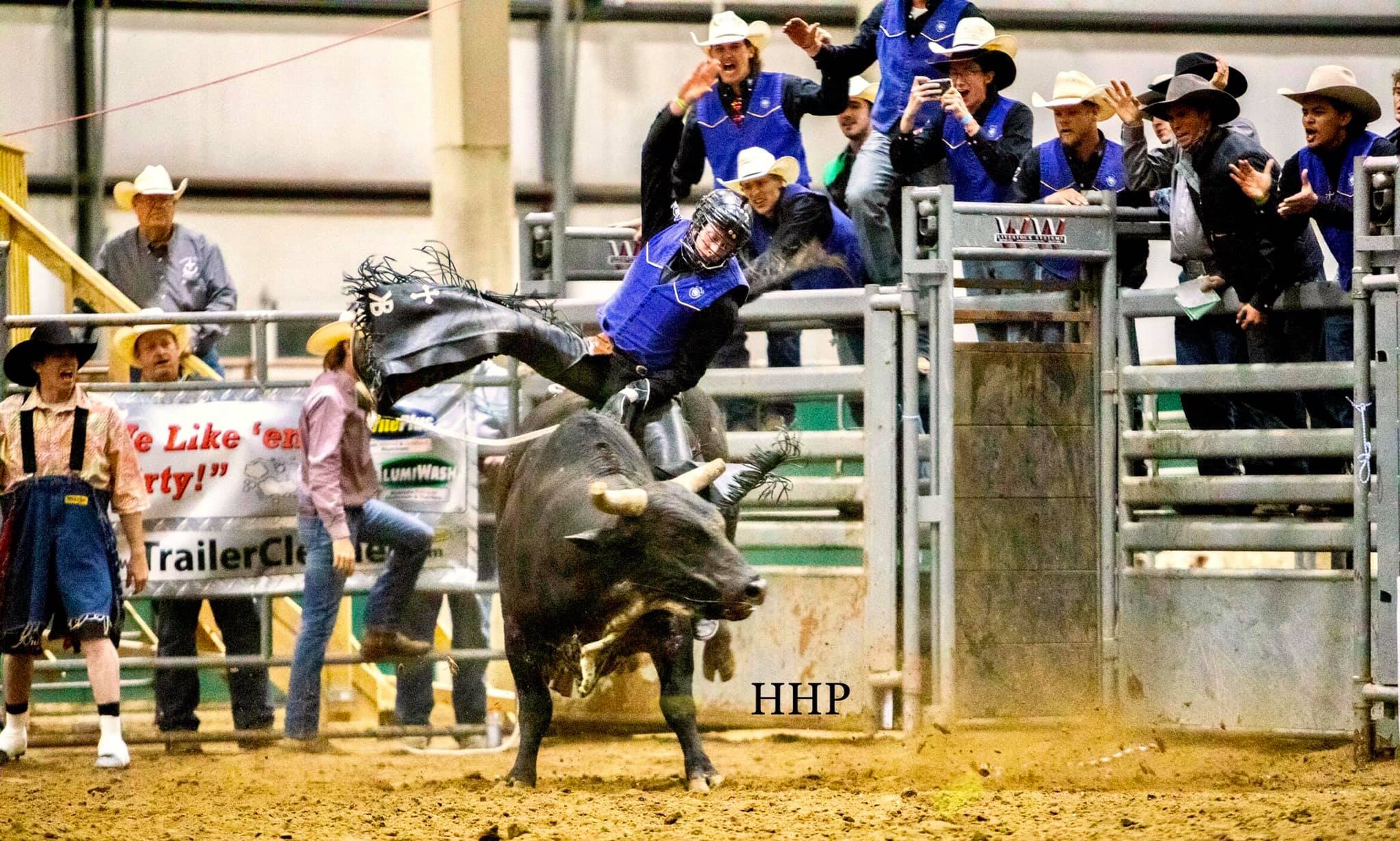 Monday, April 26, 2021
Koby Jacobson, of Hershey, rides a bull to a first-place finish at the Nebraska Cornhusker College Rodeo in Lincoln Saturday.

Lincoln - If there were any spectators who didn't know about the Mid-Plains Community College Rodeo Team prior to last weekend – they do now.
MPCC blew away the competition Friday and Saturday at the Nebraska Cornhusker College Rodeo hosted by the University of Nebraska-Lincoln.
A total of 21 Mid-Plains athletes qualified for the short go.
"It was great to see us, as a team, finally put it all together," said Aukai Kaai, MPCC Rodeo Team coach. "Headed into the short go, we were set up to have a really good rodeo. One run after another, it just seemed like the team fed off of each other's good performances. I was pretty proud of what they put together."
The MPCC men's team won the overall men's team championship, and the women's team finished third.
Wynn Schaack, of Wall, S.D., won the men's all-around title for Mid-Plains after also taking first in the steer wrestling and placing third in the team roping.
Nick Rettinger, of Amidon, N.D., was the reserve all-around cowboy. Rettinger ended up third in the tie-down roping, fourth in the team roping and fifth in the steer wrestling.
Koby Jacobson, of Hershey, won the bull riding, and his teammate, Ben Montero-Malunao, of Waianae, Hawaii, took second.
Danielle Wray, of Ord, and Zane Patrick, of Bartlett, won the team roping. Jentri Hurlburt, of Arcadia, and Barrett Schlieker, of Fort Lupton, Colo., placed second. Ethan Wright, of Sanborn, Iowa, and Brooklyn Spencer, of Ulen, Minn., were fifth, and Jacob Haren, of Erie, Colo., and Sterling Lee, of Rhame, N.D., were seventh.
In the steer wrestling, Patrick was second, Quade Potter, of Stockville, was third, Landon Sivertsen, of Ree Heights, S.D., was sixth and Schlieker was seventh.
Austin Madison, of Whiting, Iowa, finished seventh in the tie-down roping, and Wray was eighth in the breakaway roping.
There's only one college rodeo left for the Great Plains Region this spring. MPCC will round out the season at the Iowa State University Cyclone Stampede Friday and Saturday in Ames, Iowa.
"We put ourselves in a very good position headed into the final rodeo of the season with several individuals pushing further into the top three that qualify for the CNFR," said Kaai. "They practiced hard all winter long and it shows."
---