MPCC Rodeo Team finishes season with multiple wins – sets sights on nationals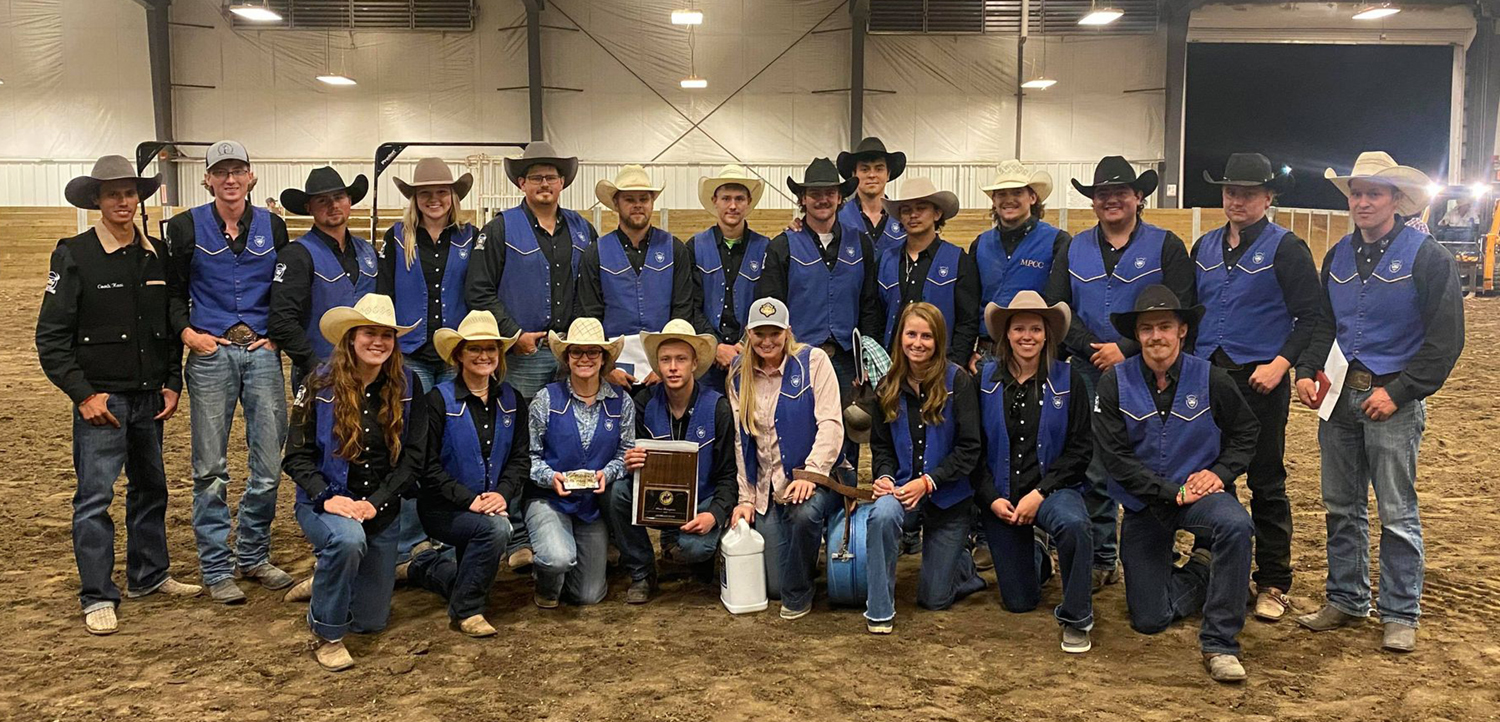 Monday, May 3, 2021
The Mid-Plains Community College Rodeo Team wrapped up its season Saturday in Ames, Iowa. A total of six team members will advance to nationals.
Mid-Plains Community College will head into the College National Finals Rodeo with the number one men's team in the region – the first time since 2017.
That's following a whirlwind final season rodeo in Ames, Iowa over the weekend that saw the MPCC Rodeo Team rise to the top in several areas of competition.
Steer wrestler Sterling Lee, of Rhame, N.D., tie-down roper Austin Madison, of Whiting, Iowa, and Koby Jacobson, of Hershey, all won their respective events at the Iowa State University Cyclone Stampede.
Mid-Plains dominated the steer wrestling in Ames. In addition to Lee's win, Quade Potter, of Stockville placed second; Madison was third; Zane Patrick, of Bartlett, was sixth; Landon Sivertsen, of Ree Heights, S.D., was seventh and Marshall Still, of Oconto, was ninth.
In the tie-down roping, Wynn Schaack, of Wall, S.D., was third; Jacob Haren, of Erie, Colo., was sixth and Nick Rettinger, of Amidon, N.D., finished 10th.
Rettinger also claimed the sixth spot in team roping alongside partner Cole Schmalz, of North Dakota State University. MPCC cowboys Lee and Haren took seventh in the team roping, and Jentri Hurlburt, of Arcadia, and Barrett Schlieker, of Fort Lupton, Colo., ended up ninth.
Schaack also earned the title of reserve all-around champion.
The final results mean MPCC will send a total of six team members to nationals: Schaack and Patrick in steer wrestling and team roping, Jacobson in bull riding, Madison in tie-down roping and steer wrestling, Lee in steer wrestling and Wray in team roping.
Four of them, Schaack, Jacobson, Madison and Wray, would have qualified for nationals last year had the CNFR not been canceled out of COVID concerns.
Jacobson will enter nationals as the number one bull rider and Patrick as the top steer wrestler in the Great Plains Region. Schaack is sitting second in the region in steer wrestling and third in the regional team roping header standings.
Team roping partners Patrick and Wray finished fourth in the region – Patrick in the heeling and Wray in the heading category. Wray was the back-to-back regional champion team roping header in both 2018 and 2019.
Madison is third in the tie-down roping as he advances to the CNFR and fourth in the steer wrestling. Lee came in fifth in the steer wrestling.
MPCC's women's team will round out the year in fourth place regionally.
"What a great finish to the season," said MPCC Rodeo Team Coach Aukai Kaai. "Headed into the short round, we had several athletes that needed to go out and make a run in order to keep their CNFR chances alive, and they did just that. With the wins in Ames from Austin and Sterling, they were able to qualify for the college finals. Koby was able to put the icing on the cake this weekend. He's been exciting to watch all year, and he'll be fun to see at the CNFR. Zane Patrick steer wrestled great all year and capitalized on the opportunities that came up. Zane and Danielle roped outstanding all year long, so I was pretty excited to see them qualify in the team roping as well. Wynn stayed consistent throughout the year and was able to qualify in the top three in two events."
As added highlights, the MPCC Stampede was named Rodeo of the Year during the end of season award ceremony in Iowa, and former MPCC Rodeo Team Coach Garrett Nokes was named Coach of the Year for the second year in a row. Nokes passed away in February following a horse accident.
Both recognitions are tremendous honors - voted on by coaches and captains from every college rodeo team in the region.
"These kids worked hard all year long, and it's awesome to see them rewarded for it," Kaai said. "They were able to bounce back after Garrett and really push on as he would want them to. This is an incredible group of kids, and I know he's extremely proud of their efforts both in and out of the rodeo arena."
---