MPCC Rodeo Team off to a great start in South Dakota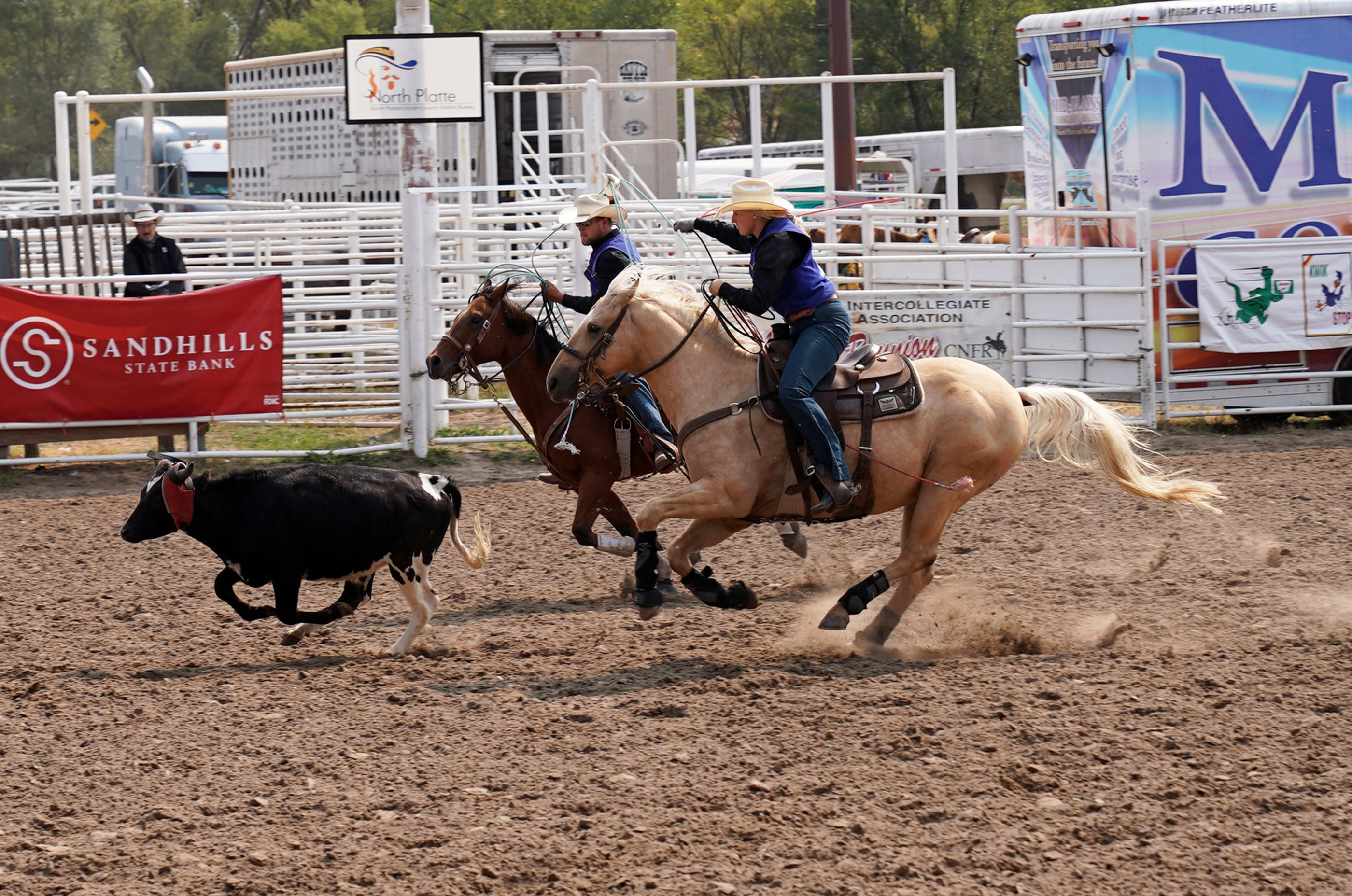 Monday, April 19, 2021
The Mid-Plains Community College Rodeo Team started out strong in its first competitions of the season – taking home two championships.
The team was up in both rodeos that made up the Black Hills State University Will Lantis Yellow Jacket Stampede in Spearfish, S.D. Thursday through Saturday.
Rodeo #1
Danielle Wray, of Ord, scored the women's all-around championship for MPCC in the first rodeo. Wray placed second in the team roping with partner Zane Patrick, of Bartlett. She also split fourth, fifth and sixth alongside teammate Sheyenne Hammond, of Valentine.
Caitlyn Comfort, of Elwood, finished sixth in the team roping for MPCC with partner Wyatt Ohlman, of Gibbon, a sophomore at the Nebraska College of Technical Agriculture.
Representing MPCC in the steer wrestling, Austin Madison, of Whiting, Iowa, placed second. Marshall Still, of Oconto, split fourth, fifth and sixth, and Sterling Lee, of Rhame, N.D., was seventh.
Madison also tied for the fifth and sixth spots in calf roping with Nick Rettinger, of Amidon, N.D.
Overall, MPCC's men's team finished third, and the women's team came in fourth.
Rodeo #2
MPCC's women's team took the reserve champion title in the second rodeo, while the men's team ended up fifth.
Jacob Haren, of Erie, Colo., was named reserve all-around cowboy. Haren placed second in the steer wrestling for MPCC and also won the short round in the tie-down roping to finish second in the average.
Mykelsi Schnose, of Oelrichs, S.D., won both rounds of the breakaway and the average for the championship.
Wynn Schaack, of Wall, S.D., won the first go-round of steer wrestling and finished seventh in the average. He was also eighth in the tie-down roping.
Quade Potter, of Stockville, ended up third in the steer wrestling, followed by Rettinger in fifth, Patrick in eighth and Madison in ninth place.
Koby Jacobson, of Hershey, rode to a second-place finish in the bull riding.
Jentri Hurlburt, of Arcadia, and Barrett Schlieker, of Fort Lupton, Colo., were fourth in the team roping followed by Comfort and Ohlman in eighth place.
Landon Sivertsen, of Ree Heights, S.D., was 10th in the tie-down roping.
"Overall, we had a solid weekend in the arena," said Aukai Kaai, MPCC Rodeo Team coach. "The women's team was outstanding in the team roping and breakaway. On the men's team side, we started really well to begin the rodeo - just missed a few key opportunities in the short round. I have no doubt that we will regroup and finish the season off strong."
That puts MPCC halfway through the spring rodeo season. The team is up next at the 2021 Nebraska Cornhusker College Rodeo at the Lancaster Event Center in Lincoln this weekend.
---