MCC showcasing MPCC student portfolio works through April 30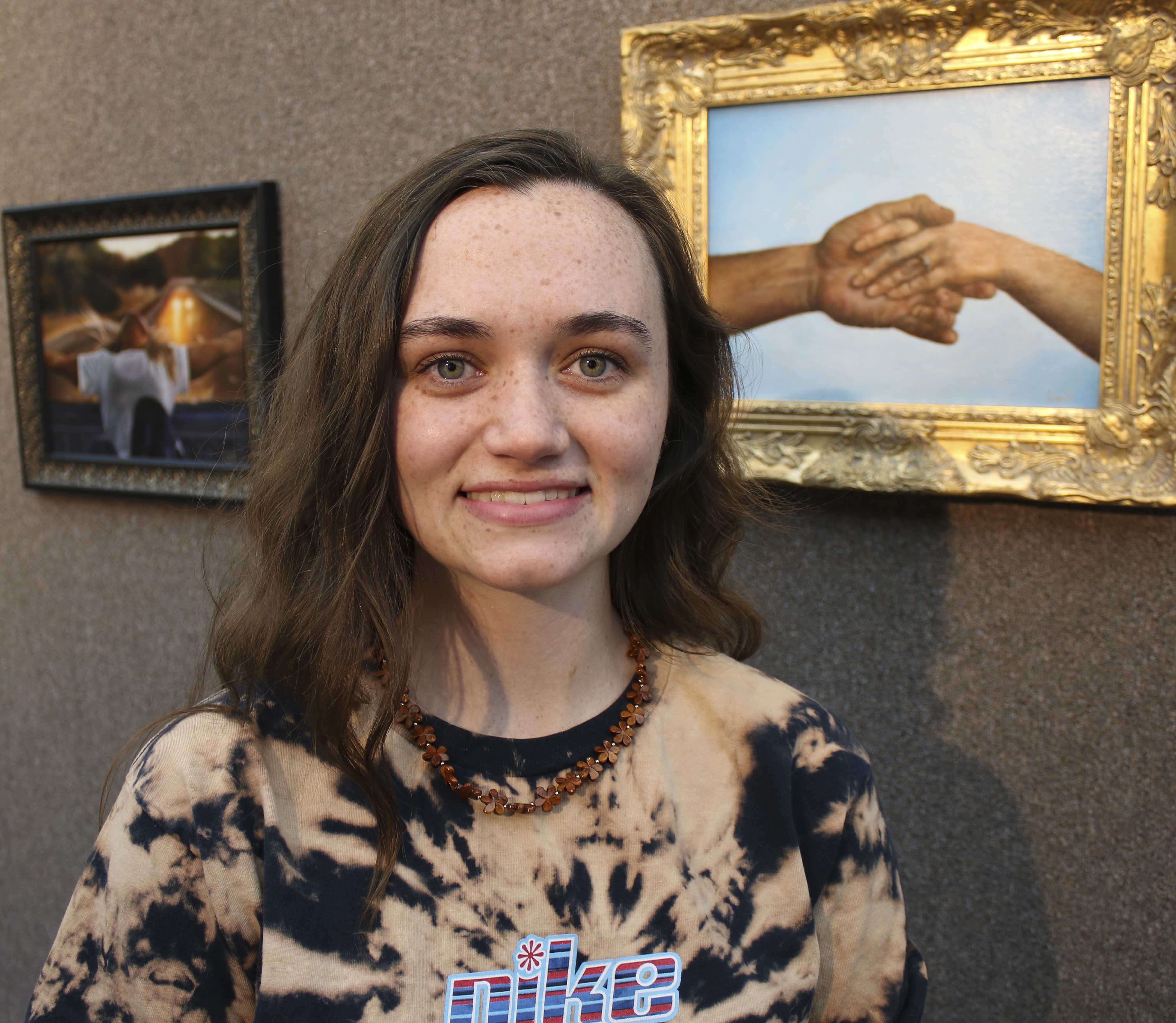 Thursday, April 22, 2021
The portfolio works of five Mid-Plains Community College students pursuing Fine Arts degree is on display through April 30 at the Wrightstone Fine Arts Gallery at McCook Community College.
An opening reception is set for Friday, April 23 from 5-8 p.m. in the gallery, which is open to the public.
MCC students include Destiny Davis, (Oklahoma City), Skyla Henning (McCook) and Lydia Hagan (Culbertson) as well as North Platte students Sabrina Rivera and Gillian Allen.
This Capstone and Thesis exhibition features works completed in the past two years from these five candidates for MPCC's Associates of Fine Arts Degree. They are set to make their oral defenses on April 30 throughout the day.
Here is a little about each candidate:
DESTINY DAVIS: In addition to graduating with a Fine Arts degree, this Oklahoma City native is also receiving an associates of science degree. She plans to continue her education and her basketball career at a four-year school. She said her thesis consists of "a cohesive body of work expressing black excellence by showing the elegance within African American beauty."
GILLIAN ALLEN: Who lives in North Platte, said her thesis revolves around "how messy her three prior chances with motherhood were" and how they shape her today as a pregnant artist. After graduation she plans to devote the next three years with her newborn and create art on the side before pursuing her artistic passions in North Carolina either as a full-time artist or art therapist.
SKYLA HENNING: of McCook plans to continue her education at Concordia University in Seward to earn a bachelor's degree in art therapy, then a master's degree. She said her thesis tells a story of how wonderful life is from being a young child, to growing up. She said her technical painting style is verisimilitude (the appearance of being true to nature). "With the manipulation of subtle transitions of light and shadow to the modeled surface, this style comes to life," she said.
SABRINA RIVERA: of North Platte developed a thesis revolving around time and specifically encompassing the idea of Memento-mori (the reminder of death). "The idea that time is an essence of death is really intriguing and it is the pushing force for the creativity of this project," she said. She is still contemplating her future plans beyond graduating, but knows she wants to pursue art because that is her passion.
LYDIA HAGAN: plans to get her associates in Fine Art and Science and plans on becoming a nurse. She said growing up in Culbertson, she has always been fascinated by rural parts of Nebraska and her thesis is based on trying to capture that fascination in oil paints. She said with a two-year-old son at home, life hasn't been the easiest, and she has had detractors, but she refuses to give up. She said as a young mother she wants to be the best she can, to prove to everyone that no matter what life throws at you, life is what you make it.
---