NebraskaLand Bank contributes to Health and Science Center expansion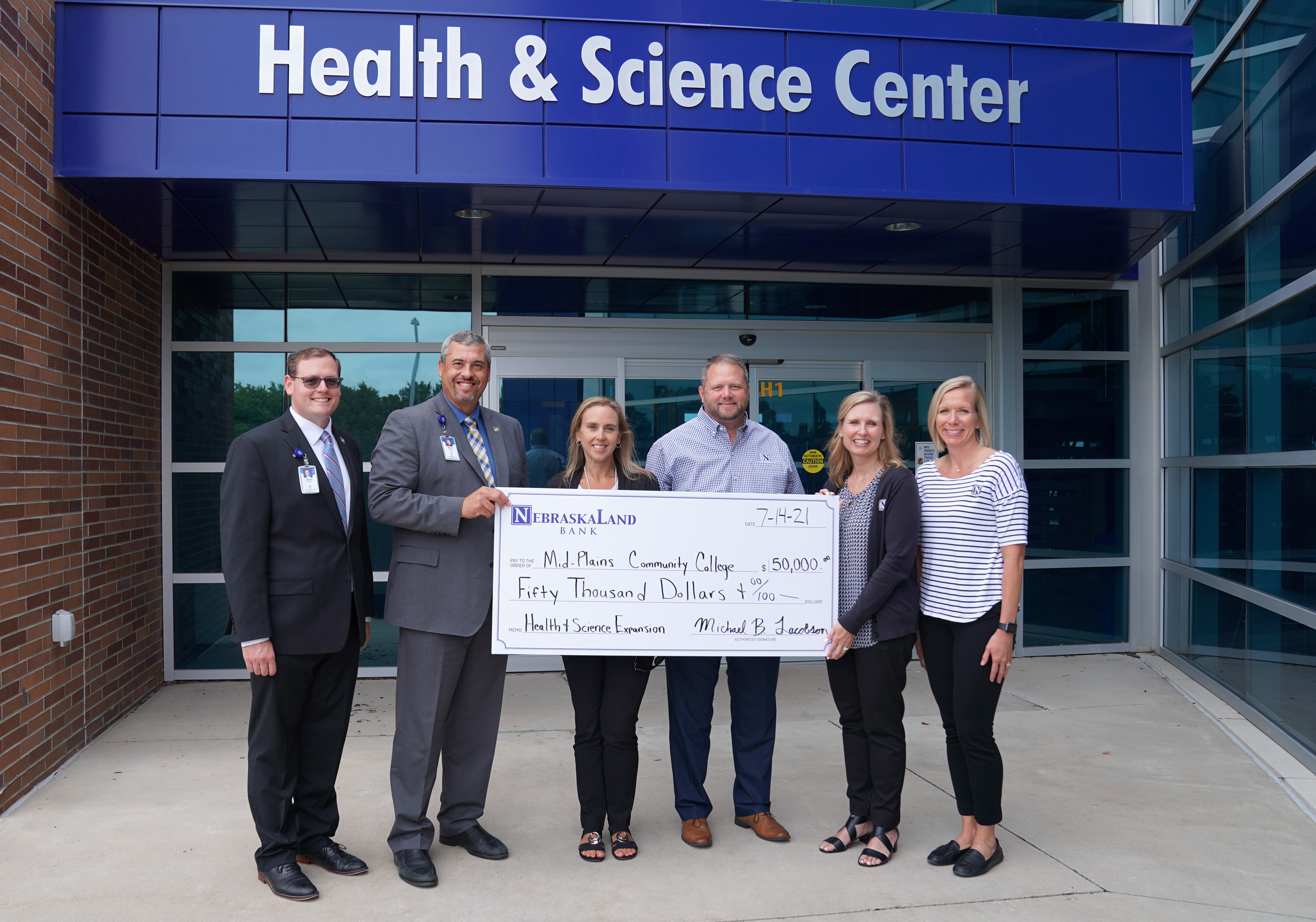 Wednesday, July 14, 2021
Representatives from NebraskaLand Bank present a check to North Platte Community College Wednesday to assist with the Health and Science Center expansion project.
Pictured left to right are: college officials Jacob Rissler, director of Institutional Advancement; Ryan Purdy, president, and Dr. Jody Tomanek, vice president of Academic Affairs and NPCC, along with bank representatives Ty Lucas, executive vice president and chief lending officer; Kim Schroll, executive vice president and chief operating officer, and Krista Heiss, executive vice president and chief credit officer.
The expansion of North Platte Community College's Health and Science Center is another step closer to becoming a reality thanks to a donation from NebraskaLand Bank.
NLB contributed $50,000 toward the project Wednesday during a check presentation at the college.
Mike Jacobson, President and CEO of NebraskaLand Bank, said all businesses have a responsibility to give back to the community that helped make them successful. He believes investments, such as the one in the Health and Science Center, will eventually result in huge dividends.
"Giving to the Health and Science Center project is important because it has allowed the college to attract and retain students in this region to further their education in the sciences," Jacobson said. "Filling local professional jobs, in many cases, begins with getting an education locally. NPCC provides a cost-effective educational solution for those living in this region who want to advance their education. NPCC is a great asset."
Meeting a need
The Health and Science Center is located on NPCC's South Campus. Constructed in 2012, it is home to the college's nursing, medical laboratory technician, emergency medical services, paramedic, dental assisting, math, biology, physics and engineering programs.
As the demand for more nurses and health care professionals has increased throughout the college's 18-county service area and beyond, so has the need for more space to train those professionals.
"Great Plains Health is one of our largest employers in the region, and it has an ongoing need to hire talented health care providers," said Jacobson. "The medical students at Mid-Plains can be a great feeder to GPH, as well as other medical professionals in the area. My hopes are that these students will get a great education and continue to live and work in this region following graduation."
The planned expansion of the building will include additional classrooms to accommodate increased enrollment in nursing courses, lab space for nursing and emergency services and an office area for new faculty.
Conference rooms, a classroom with flexible table and chair arrangements, private workspaces for students and a virtual innovation lab will also be constructed to complement existing programming and enhance learning experiences.
Construction is anticipated to start by spring of 2022.
The total cost of the project is expected to be nearly $4 million.
Those interested in contributing to the expansion project can contact Jacob Rissler, the college's director of Institutional Advancement, at risslerj@mpcc.edu or (308) 535-3754.
---