MPCC welcomes new faculty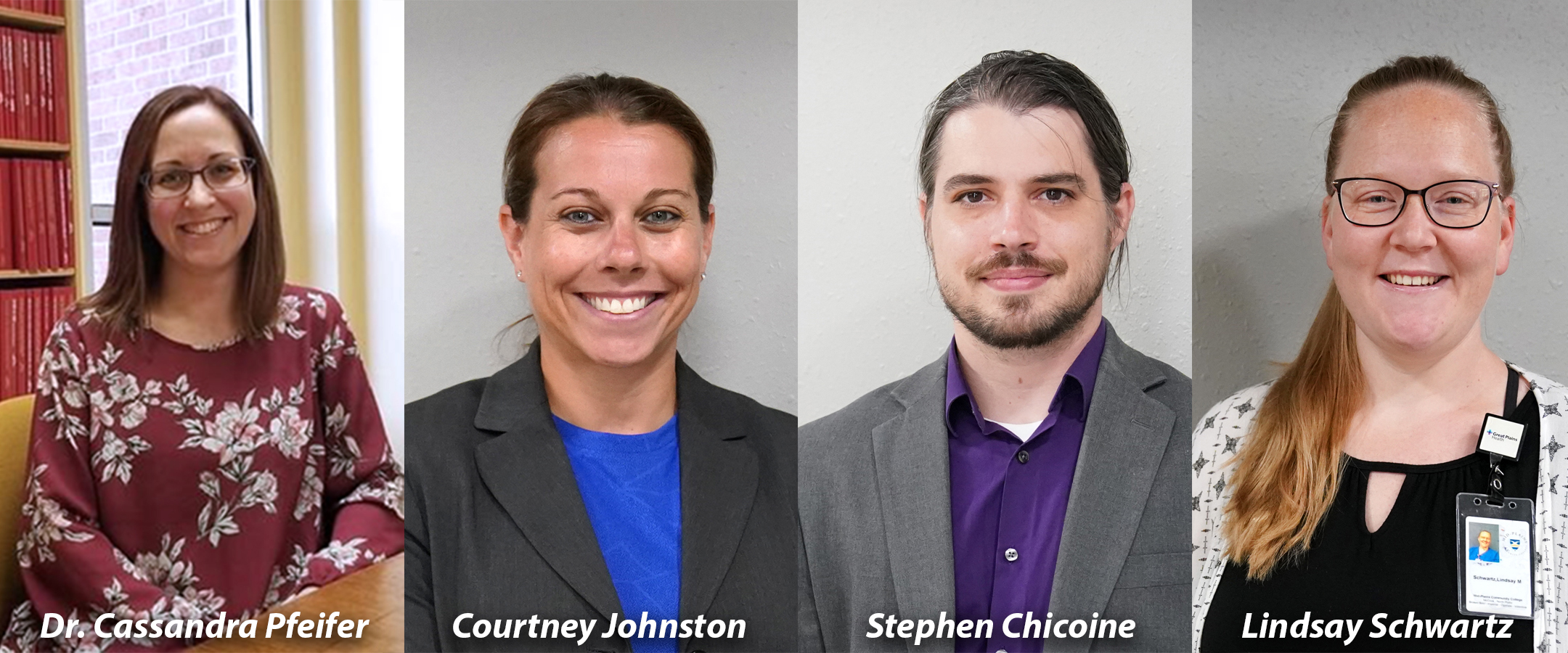 Wednesday, August 18, 2021
Mid-Plains Community College is starting the fall semester with four new full-time faculty members. They are Dr. Cassandra Pfeifer, English instructor; Stephen Chicoine, sociology and criminal justice instructor; Courtney Johnston, psychology instructor, and Lindsay Schwartz, nurse educator.
Dr. Cassandra Pfeifer
Dr. Cassandra Pfeifer will teach English at the McCook campus. Originally from Northern Illinois, Pfeifer also lived in England for a year and, prior to moving to McCook, was living in Southern Louisiana.
She earned an Associate of Arts degree in General Studies from Rock Valley College in Rockford, Ill. in 2006; a Bachelor of Arts degree in English and Philosophy from Northern Illinois University in DeKalb, Ill. in 2008; a Master of Arts degree in Literature from the University of Essex, in Colchester, England in 2010 and a Doctor of Philosophy degree in English and Folklore from the University of Louisiana at Lafayette in 2019.
"After earning my MA, I spent some time working in insurance in Rockford, Ill. before pursuing my Ph.D. in 2014," Pfeifer said. "Since then, I've been teaching English for the UL system in Louisiana and for South Louisiana Community College."
She was enticed to teach in McCook by the community's proximity to great hiking locations and other outdoor activities for her and her dogs.
She can't wait to meet her students.
"The transferability to other fields is the unsung hero of English courses," said Pfeifer. "No matter what your career goals, the skills you earn in the English classroom will make you a better candidate for jobs, a better employee and an all-around more successful person."
Pfeifer's work can be viewed at https://www.youtube.com/watch?v=FXXheYclFM4. The discussion, "Memes, Monsters and Macaroni Salad: Exploring Folklore in Our Daily Lives," was a virtual event for the Aurora Public and Fox River Valley Public Libraries in Illinois.
Lindsay Schwartz
Lindsay Schwartz has served as an adjunct nursing clinical instructor for MPCC for the past two years. She is now a full-time nurse educator in North Platte.
"As an adjunct instructor, I really found my passion for teaching nursing students," Schwartz said. "I love the nursing faculty team at MPCC. It's a great group, and I cannot wait to work with everyone full-time."
Schwartz is originally from McCool Junction. She graduated from Bryan College of Health Sciences, in Lincoln, with a Bachelor of Science in Nursing degree in 2016 and a Master of Science in Nursing - Education degree in 2020.
Schwartz gained a lot of preceptor experience as a staff registered nurse in a medical-surgical unit at Great Plains Health. She has been employed at the hospital for the past five years and will continue to work there on an "as needed" basis.
She's looking forward to learning more about the world of academics and watching her students grow in their knowledge and skills.
"I absolutely love being a nurse, and I love being able to share my passion and knowledge with the next generation of nurses," Schwartz said. "The world needs exceptional nurses now more than ever, and I am so excited to help educate and build them."
Stephen Chicoine
Stephen Chicoine is the college's new sociology and criminal justice instructor in North Platte.
He was born in Troy, N.Y. and raised in Beaufort, S.C. After high school, he attended Lander University, in Greenwood, S.C., where he earned a Bachelor of Science degree in sociology in 2009.
Chicoine then went on to earn a Master of Arts degree in Sociology in 2012 and a Ph.D. in Sociology in 2019. Both degrees are from the University of South Carolina, in Columbia, S.C. where he also taught sociology courses for seven years.
"As a graduate student, I found that I had a passion for introducing fields of sociology and criminal justice to students," Chicoine said. "My teachers were critical to my development, and I believe it is important to help provide the same opportunities to my own students. Teaching at Mid-Plains gives me the opportunity to help prepare students for academic success."
Chicoine also previously taught sociology for two semesters at Claflin University, in Orangeburg, S.C. and had a post-doctoral position from 2019-21 at the University of South Carolina teaching ethics and social advocacy.
"I am fascinated by why people do the things they do and found that sociology is the best field to study human behavior," Chicoine said. "I believe that sociology and criminal justice are critical fields for understanding the world around us, its problems and how best to address them. I am excited to meet the students at MPCC and become involved in the MPCC community."
Courtney Johnston
Chicoine takes over for Courtney Johnston, who had been the sociology and criminal justice instructor in North Platte. She is now the psychology instructor.
Johnston is from a ranch south of Brewster. She graduated from Sandhills High School in Dunning in 2005 then attended MPCC – earning an Associate of Arts degree in 2007. Johnston subsequently transferred to Chadron State College, where she obtained a Bachelor of Arts in Psychology degree in 2009.
In 2011, she received a Master of Science in Psychology degree from Walden University, in Minneapolis, Minn. Through Arizona State University, Johnston procured a Master of Arts in Sociology degree in 2017 and a Master of Arts in Criminal Justice degree in 2019.
"Most of my professional experience is from the field," Johnston said. "I worked as a probation officer for District 11 and District 12 probation offices in North Platte and Gering where I developed a love for working with people. I later worked for Region II Human Services in North Platte as a community support care coordinator - deepening my love for working with those who were at-risk or suffering from mental illness or substance abuse issues."
She began teaching for MPCC as an adjunct instructor in 2014, and in 2016, hired on as a full-time sociology and criminal justice instructor.
"I am humbled and honored to now begin the journey as the psychology instructor for NPCC," Johnston said. "What excites me about psychology the most is that we know so little about the human mind. We have been able to map the human genome, but we still cannot fully explain why humans behave the way they do. Thus, the field of psychology is a burgeoning area of research and discovery that is consistently fascinating."
She believes it's important for students to learn about psychology to develop a basic understanding of why people behave the way they do.
"It is integral that we better understand others," Johnston said. "When we understand ourselves and others, that can lead us to empathize with and understand the perspectives of others – and that, in turn, can produce positive change in our society."
The first classes at MPCC begin Aug. 22.
---