MCC starts semester with two new faculty members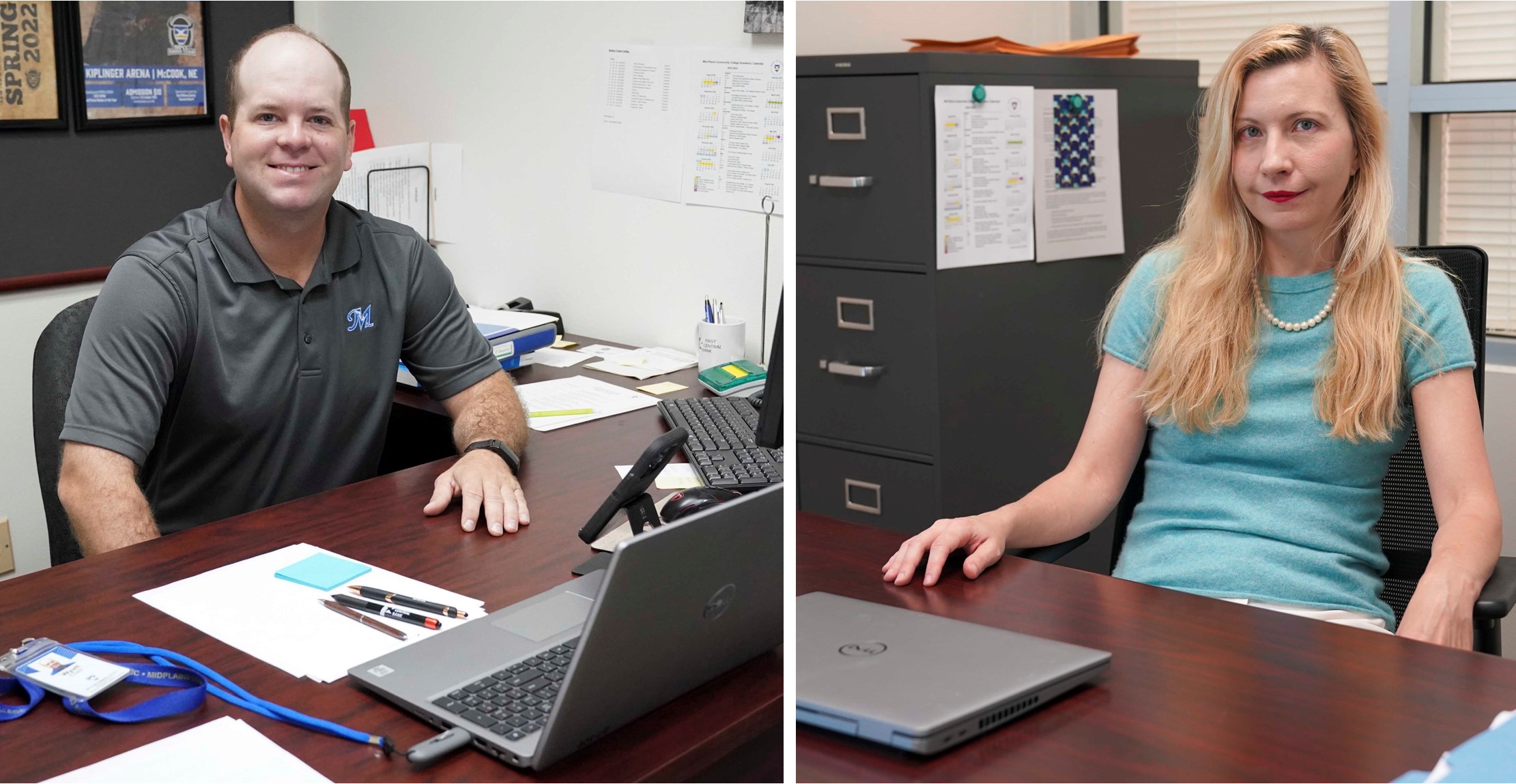 Thursday, August 18, 2022
Two new faculty members will teach classes at McCook Community College this fall when classes begin Sunday, and both arrive with a working familiarity of the campus.
Wyatt Clark will teach agriculture and business classes at MCC , after spending the past year as part-time rodeo coach. Dr. Mary Wilson joined the faculty early enough this year that she taught English classes over the summer.
Clark, who was named timed events rodeo coach in May of 2021, comes to MCC with professional career that combines agriculture business, main street business and finance.
The Wellfleet native, who graduated from Medicine Valley High School, received his associate degree in agriculture economics from Eastern Wyoming in 2012, and his bachelor's in agriculture business management from the University of Wyoming in 2014 with a minor in finance. He received his master's degree from Chadron State College in organization management in 2016. He was also a graduate assistant and assistant rodeo coach there.
After college, Clark was involved in ag lending with First State Bank-American Mortgage Company in North Platte, and Sandhills State Bank in Elsie.
He came to McCook in April of 2020 as an ag lending officer for First Central Bank in McCook as well as commercial and consumer lending. He has also pursued personal business ventures, including construction and livestock ownership.
This fall he will teach introduction to soil science, introduction to ag and natural resources, principles of marketing and introduction to sports management.
Wilson comes to McCook with 14 years teaching high school, community college and university courses.
She'll teach composition classes this fall at MCC, and eventually literature, dual enrollment, developmental reading and writing, and survey courses in American fiction and the novel.
Wilson received her bachelor's and master's degrees at Eastern Michigan University and received her doctorate in English at Louisiana State University in May of 2016 with a minor in women's and gender studies.
She began teaching as a graduate assistant at Louisiana State University in 2008 and continued through 2013.
In 2014 and 2015, Wilson taught junior and senior English classes at the Math and Science Academy at the Iberville Parish School District in Plaquemine, La. as well as English as a Second Language classes.
She spent two years teaching sophomore and senior English classes at Silsbee High School in Silsbee, Texas.
From 2018- 21, Wilson taught high school English and adult education at Bowie High School in Arlington, Texas.
While in Texas, she became an adjunct instructor at the Lamar Institute of Technology, in Beaumont, Texas in 2016 and later at the University of Texas – Arlington. Wilson spent the past year as an adjunct instructor at Texas Christian University where she received the Distinguished Teaching Award for Contingent Faculty. She was also involved in the mentoring program.
She is an avid reader outside class and enjoys the arts. This summer, she joined Creation Station, a new local organization for local artists.
---