NPCC adds more classes to motorcycle safety training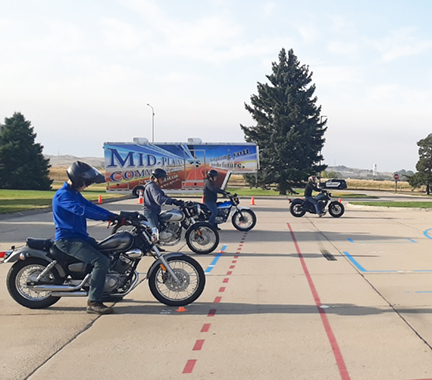 Tuesday, January 26, 2021
Students participate in motorcycle safety training offered by North Platte Community College last summer. This year, a total of 20 Basic Rider classes are available.
North Platte Community College's Business and Community Education department is expanding its motorcycle safety training program following the success of initial classes last summer.
Kendrick Marshall, Business and Community Education coordinator, said the plan is to more than double the classes offered this year – bringing the total to 20.
"We had an amazing response last year – people were beating down the door," Marshall said. "We ran nine classes and trained 51 students. I hope that popularity continues. I expect it to."
The Basic Rider Course is geared toward beginners and returning riders. It was developed by the Motorcycle Safety Foundation and is approved by the State of Nebraska. It is taught by MSF-certified instructors.
The course consists of 15 hours of hands-on motorcycle training as well as a three-hour online class that must be completed ahead of time.
Students will learn the fundamentals of becoming safe and responsible motorcycle riders as well as the physical and mental skills required for operating a motorcycle in everyday road situations. Advice on basic motorcycle safety checks and the types and benefits of motorcycle-specific riding apparel will also be presented.
"No previous experience is necessary to participate," said Marshall. "The same balance skills needed to ride a bicycle are used in these classes, so for those who are comfortable with and enjoy riding bicycles – this could be a fun step up."
Successful completion will allow students to obtain a motorcycle license without any additional riding or testing. It could also lead to insurance discounts depending on the carrier.
Motorcycles will be furnished. Helmets are available as well, but attendees are also welcome to take their own.
The cost of the course is $229.
Sessions are scheduled for April 17-18, every weekend in May and throughout the summer. Classes are limited to six students each and are expected to fill up fast – partly because NPCC is the only motorcycle safety training provider of its kind between Kearney and Cheyenne.
"We have been without on this end of the state for quite some time, and have definitely filled a need," Marshall said. "One of the first students to sign up for classes this year is from Scottsbluff, and last year, we even drew from out of state."
Marshall can provide more information about the classes and register students at (308) 535-3614 or marshallk@mpcc.edu. Registration can also be done online at bceregister.mpcc.edu.
---