NPCC becomes host site for Project SEARCH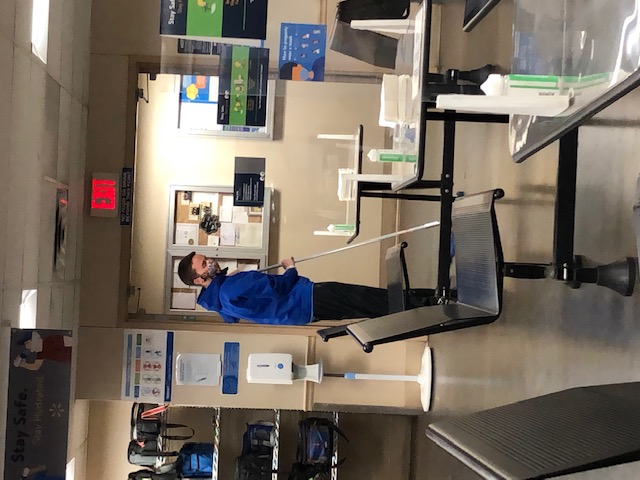 Tuesday, May 18, 2021
Intern Jared Gies does custodial work as part of Project Search in North Platte. NPCC will serve as a Project Search host site beginning this fall.
A new partnership among North Platte Community College, North Platte Public Schools and Nebraska VR will soon help students with disabilities make the successful transition from school to gainful long-term careers.
"It's not just about getting a job, it's about keeping a job," said Lisa Birge Project SEARCH coordinator.
Nebraska VR helps people with disabilities prepare for, find and keep jobs while helping businesses recruit, train and retain employees with disabilities.
One of the ways it does that is through Project SEARCH, a national program that prepares 18-21-year-old individuals with disabilities for success in competitive integrated employment.
Project SEARCH participants, known as interns, are identified through the NPPS system.
"Typically, they are in their last year of services – their senior year of high school," said Birge. "They don't need independent living skills, only work skills."
While available in several locations in central and eastern Nebraska, North Platte has the furthest west Project SEARCH offering in the state.
The addition of NPCC to the program makes it the only college host site in Nebraska. The other host organizations consist of hospitals, hotels and senior living facilities.
The cornerstone of Project SEARCH is total workplace immersion in a large business.
Beginning in August, and continuing through the NPPS academic year, the interns will spend five hours per day working alongside and learning from mentors employed in specific areas of the college such as information technology, food service, custodial and maintenance.
They will rotate through three of the 10-week internships – each tailored toward their specific skill sets and interests.
"Sometimes, a little extra boost is needed to be competitive in the job market," said Amy Sabatka, area career placement coordinator for the college. "By pairing the interns with NPCC employees, they will not only gain skills, but also a role model. The mentors are important to help the interns achieve more confidence, find success and become gainfully employed in the future. NPCC is excited to be a part of the Project SEARCH educational experience."
In addition to gaining hands-on, real-world experience, the interns will spend time in a designated classroom learning about finances, job applications, job interviews and résumés among other employment-related subjects.
Interns will also travel to the Walmart Distribution Center to assist with the NPPS Backpack Program, which provides free food packs to qualifying children ages 18 and younger in the NPPS district.
And, although they won't live on campus, interns will have the opportunity to receive social mentorship from NPCC students and will participate in activities with the ESU 16 Opportunity With Life Skills program.
Like Project SEARCH, OWLS is hosted by NPCC. An enriched transition program for high school students with intellectual disabilities, OWLS prepares students for independent living and for the workforce through academics and social, life and vocational skill development.
"The amount of growth we see from students in these programs is unbelievable," said Birge. "With Project SEARCH, we really try to focus on leaving the classroom model behind and moving toward more of a business model. Currently, we have an 80 percent employment rate one year after Project SEARCH completion."
That success rate is due to the preparation and support the interns receive. Among other things, monthly progress meetings are conducted to help them define their career goals and determine the necessary steps to achieve those goals.
"This year, we also plan to have employment meetings with some of the businesses the college partners with," said Birge. "We will be asking the interns about the skills they are learning and will help them identify jobs in the community that might match those skills."
A total of five students have been identified for the 2021-22 Project SEARCH program so far. They will begin in the fall.
---