Community college served as "springboard" for Perkins County superintendent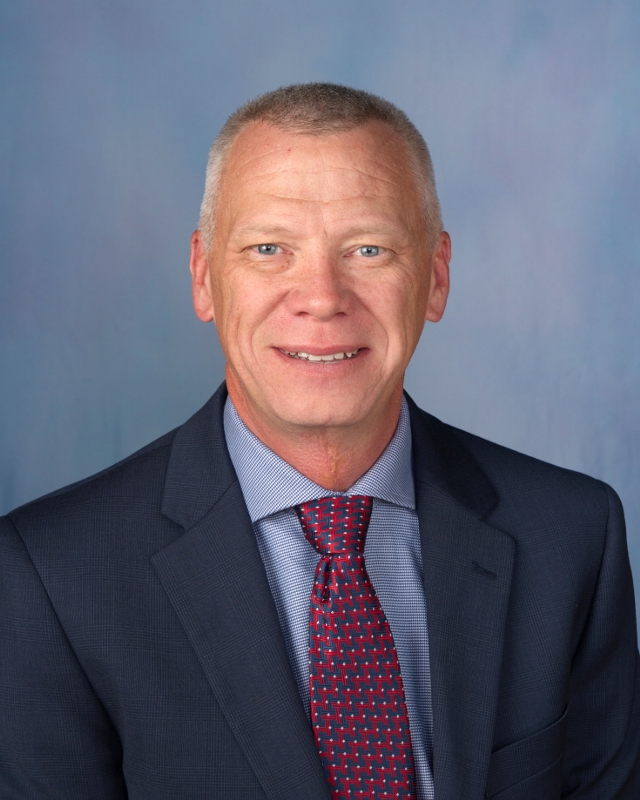 Wednesday, January 19, 2022
The man who thought a higher education wasn't in the cards for him is now encouraging others to go on and pursue college degrees.
Phillip Picquet is the superintendent at Perkins County Schools in Grant. He has spent a lifetime building up a career in the field of education, but it's not the profession he had envisioned for himself originally.
Picquet was born in Grant but spent his elementary years in Cozad and Paxton. He attended North Platte Public Schools from seventh through 12th grades.
"I was part of a single parent household, so we moved around a lot," said Picquet. "The benefit to that was that I was influenced by some great educators everywhere we went."
One of his fondest memories is from his time at Cozad.
"I had a phenomenal first grade teacher in Norma Johnson," Picquet said. "She really cared about her students. I realize looking back that kids don't care what you know until they know you care about them."
He was also inspired by his fifth-grade teacher in Cozad, Ila Davenport, as well as his English teacher, Susan Altig, and history teacher, Steven Gulzow, both in North Platte. It was Gulzow who sparked Picquet's interest in history.
"I always respected my teachers and enjoyed the history and English classes, but we didn't grow up with a lot of money so I didn't think continuing my education was something I would be able to do financially," Picquet said. "I just figured I would go into the military or start working after I graduated."
Fortunately for him, Picquet's guidance counselor had other plans.
"The ACT wasn't even on my radar," said Picquet. "But, my high school guidance counselor, Jean Church, noticed that I hadn't taken it. I didn't know much about the test, but she said, 'You're going to go to [North Platte Community College] and the ACT will be there. I don't know who paid for it, but it wasn't my family, so I can only speculate."
Picquet took the test and was subsequently called into Church's office. She wanted him to take it again to try for a higher score, but Picquet decided not to.
"Mrs. Church told me I scored well enough to go to any college in Nebraska, and that is all I needed to hear," Picquet said. "When she encouraged me to take it again to perhaps do a little better and qualify for scholarships, I really wasn't interested. I scored well enough to get into college, and I felt NPCC was a good place to start."
Picquet was familiar with the college because his girlfriend at the time, who is now his wife, was taking classes through NPCC.
The two of them had also looked at the University of Wyoming, the University of Nebraska–Lincoln and the University of Nebraska at Kearney, but none of the schools had the feel to them that NPCC did. Picquet enrolled there following his graduation from North Platte High School in 1994.
"I appreciated the familiarity and one-on-one instruction of NPCC," Picquet said. "For me, coming from the mentality of 'I don't know if I'm going to be able to go to college,' it was a great stepping-stone. I really liked it. I don't know if I would have finished college if I would have started out in a bigger community. I think there would have been too many distractions."
Picquet gained confidence and an understanding of what he needed to do to be successful during his time at NPCC. He also gained a sense of direction.
"The history classes further fueled my interest in that area, and that's when I decided I wanted to continue my education," Picquet said "I decided to get my history degree and doctorate and become a college instructor."
Picquet spent three semesters at NPCC, taking general education classes, then he and his wife transferred to UNK. At that point, Picquet felt prepared for a university setting.
"We just decided it was time to move on. That was really it. We were ready," Picquet said. "We had gone to college in the same community we were raised in, but it was time to be adults and be more independent - away from our families. I wouldn't change a thing about my time at NPCC. I saved a ton of money - to the point that I didn't have to take out any student loans. I got a quality education that set me up for success, and my credits transferred seamlessly."
He built on that foundation and continued to thrive at UNK.
"I made the Dean's List every semester in Kearney," Picquet said. "The second semester, the award came in the mail, and my wife opened it. She looked at me and said, 'Are you cheating?' But I wasn't. I was enjoying school, and if you enjoy something you do well at it."
Picquet graduated from UNK in 1999 with a Bachelor of Arts degree in Education with a Social Science 7-12 Teaching Field Endorsement. He taught at Kearney Public Schools as a para then as an eighth-grade history teacher.
Picquet went on to earn a master's degree in secondary principalship then took the high school principal job in Grant in 2004. He was there during the consolidation with the Wheatland School District, serving as Grant's youngest administrator.
In 2006, Picquet accepted a middle school principal position in Waverly. He returned to Grant eight years ago when he became the Perkins County Schools superintendent.
Picquet's oldest son followed in his footsteps, earning an associate degree from NPCC before transferring to UNK where he received a bachelor's degree in outdoor recreation management.
"He had his mother and I to look at as examples that community colleges work," Picquet said. "When I was in high school, I wanted to better myself. I didn't want to live the way I had been, and community college helped me do that. I share that story with my students. I'm better off now than I ever thought I would be, and NPCC played a big part in that. It was the springboard on my path to success."
---