MPCC Rodeo Team members receive scholarships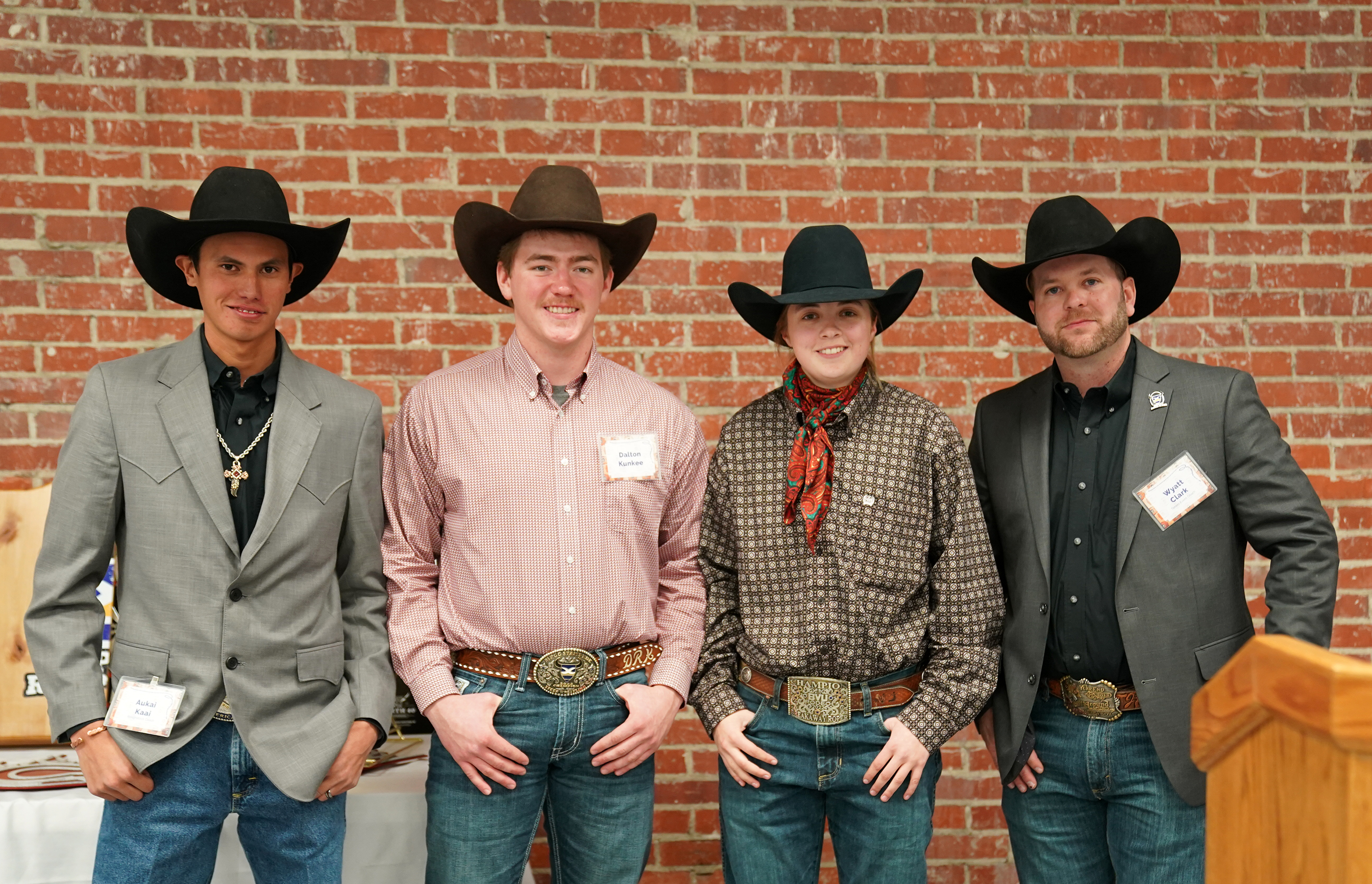 Saturday, February 11, 2023
Several members of the Mid-Plains Community College Rodeo Team have been awarded scholarships to help them continue their pursuit of a higher education.
Jace Richter, of Ogallala; Jett Sjeklocha, of Hayes Center; Dalton Kunkee, of Lexington; Kaden Wooters, of Elwood; Rex Day, of Bartlett; Kalyn Nielsen, of Verdigre; Nick Rettinger, of Amidon, N.D.; Maggie Underhill, of Hill City, Kan. and Malcom Imes, of Spirit River, Alberta, Canada were recognized Saturday night at Venue304 in North Platte during the team's annual banquet.
Kunkee and Nielsen each took home a $1,000 Dual Excellence Scholarship from the Wranglers booster committee. The award is given to rodeo team athletes who excel in both the classroom and the arena during the fall semester. Selection is based upon GPA and total points earned.
Both Kunkee and Nielsen made the President's List during the fall term. Additionally, Kunkee garnered 460 points for the rodeo team while Nielsen racked up 250.
Rettinger was the recipient of the $500 Bob Hoyt Memorial Scholarship. Bob Hoyt, formerly of McCook, was an integral part of the MPCC Rodeo Team as a mentor and chute help, a position he was loved and respected for. Former rodeo team member Reece Weber created the scholarship in Hoyt's honor.
Underhill was selected to receive a $500 Ben Marlin Memorial Scholarship, which was donated by Marlin's daughter, Melissa Brouillette, of North Platte. Marlin taught for a while then became a pharmaceutical sales rep for various veterinarian companies in Nebraska, South Dakota and California. After retiring, he moved to Glenwood, N.M. and became a big game guide and outfitter for 25 years.
Richter won a $500 scholarship for being the top point earner in the MPCC Rodeo Team's fundraising contest. He tallied 804 points for selling raffle tickets and banquet tickets and gathering auction items for the banquet. The scholarship was created to reward those who made outstanding efforts to help the team raise funds.
Wooters, Day, Imes and Sjeklocha were all presented with $250 from the Wayne Carpenter Memorial Scholarship Fund. Carpenter grew up on his family's farm near Indianola in rural Red Willow County.
As an adult, Carpenter lived in the McCook area and was employed as a mail carrier, parts manager for Hormel Chevrolet and was the owner and operator of Western Iron Machine Shop. In 1990, he moved to North Platte where he worked for Western Engineering and John Deere, which later became Murphy Tractor, until he retired at 64.
Carpenter loved team roping and calf roping. His hobbies later in life included black powder shooting, hunting and fishing.
Also at the banquet, team jackets were presented to Sjeklocha, Richter, Imes, Troy Kirkpatrick, of Broken Bow; Matt Miller, of Callaway; Conner Schutz, of Elwood; Raina Swanson, of Genoa; DJ Martian, of Bowman, N.D.; Elias Garcia, of Ault, Colo., and Madison McGee, of Deloraine, Manitoba.
The students earned the jackets through their fundraising efforts and work producing the MPCC Stampede last fall.
In addition to the scholarship and jacket presentations, the banquet included live and silent auctions, a prime rib dinner, a recap of the rodeo season, music by Pete Butler and a dance.
---