Ablard receives You Rock Award from NPCC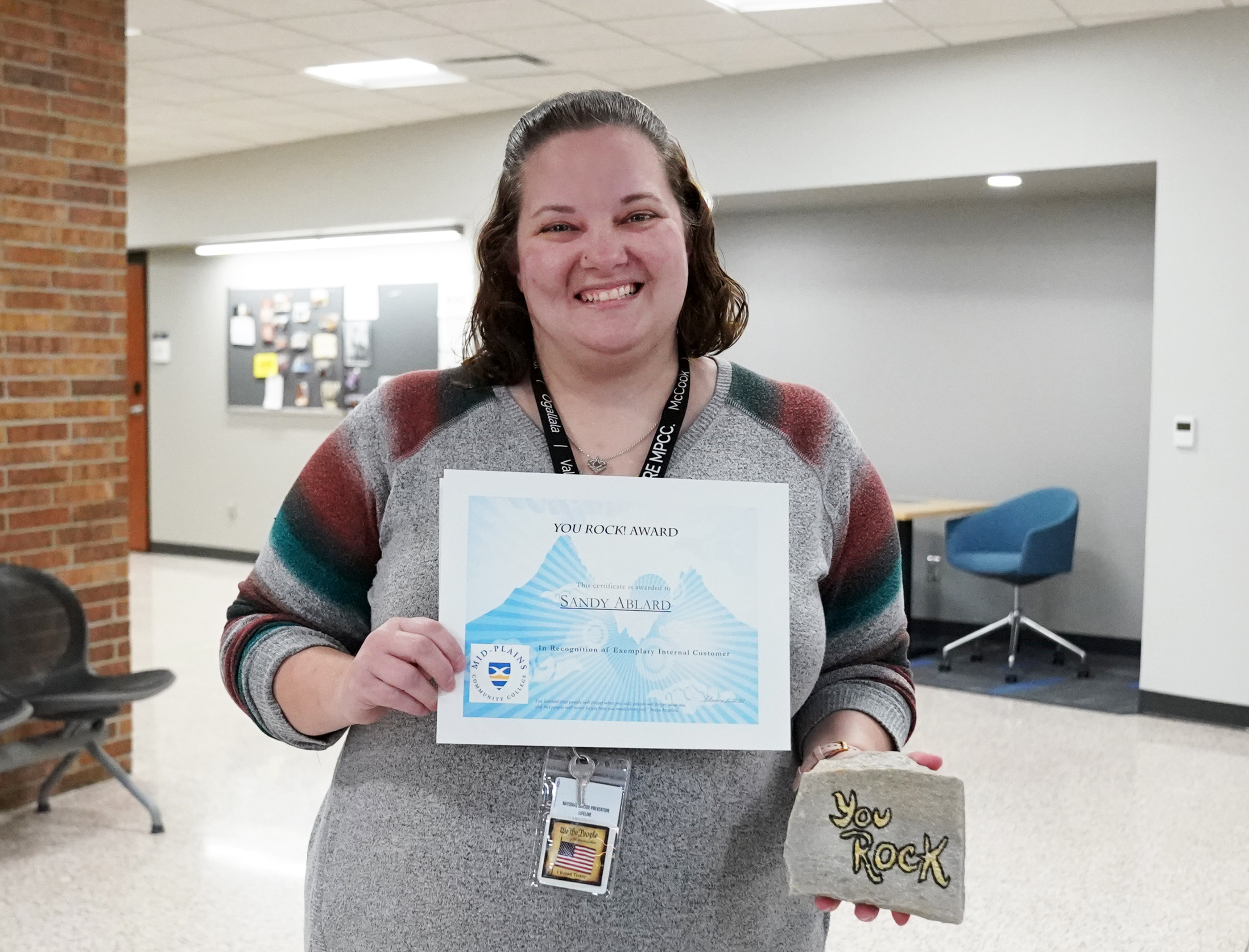 Monday, February 7, 2022
Sandy Ablard, of North Platte, is the recipient of a You Rock Award from North Platte Community College. The award is given to college employees who demonstrate exemplary internal customer service.
Ablard was nominated for the award by Wendi Galvan, Institutional Research administrative assistant, and Robert Merchant, research analyst.
"Sandy Ablard has been an incredible resource for Robert and I as we navigate [Integrated Postsecondary Education Data System (IPEDS)] reporting, graduate reports and other processes that pertain to admissions data for Institutional Effectiveness," said Galvan.
Galvan said she and Merchant began working on spring IPEDS reporting before Christmas and since that time, have relied on Ablard's knowledge and expertise in admissions and enrollment management to help resolve any challenges they have encountered.
"She answers every email promptly and professionally and always gives an explanation as to the 'why' of the answer," Galvan said. "Sandy has even taken time out of her busy day to sit down with Robert and I to explain aspects of the admissions process we were not familiar with."
Galvan said Ablard's efficient replies and willingness to assist her and Merchant has helped them complete the IPEDS Outcome Measures, 12-Month Enrollment, GRS-Graduate Rates and the Graduates at Work reports.
"We are ahead of schedule for spring IPEDS reporting, and she has been a large part of that accomplishment," Galvan said. "This recognition is the very least we can do to say 'thank you' to Sandy. She is an asset to the college, and we appreciate her immensely."
Ablard was recognized Monday morning in the NPCC South Campus fireplace area, surrounded by her colleagues. She received a certificate and commemorative rock for her efforts.
---