New members inducted into NPCC chapter of Sigma Kappa Delta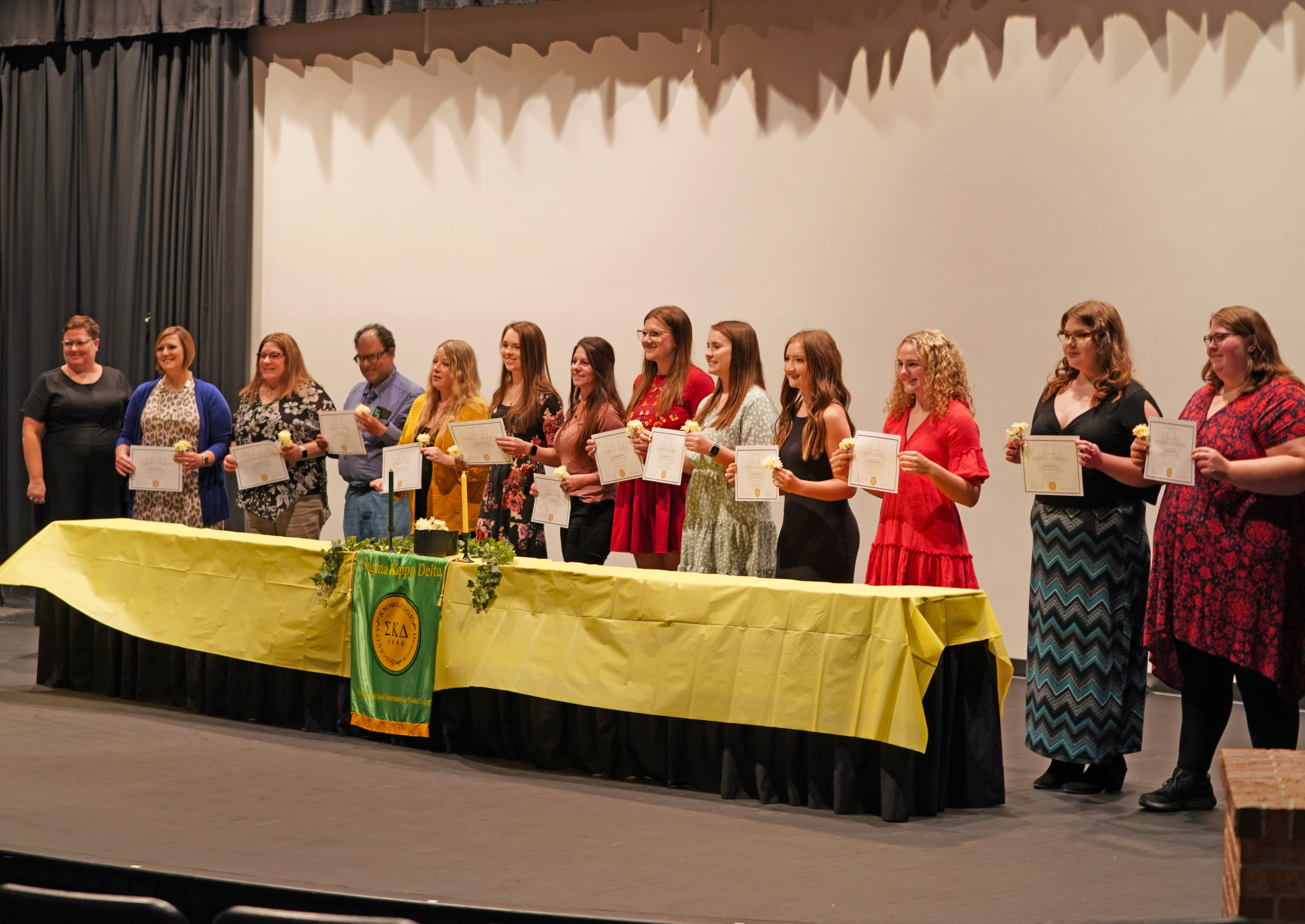 Wednesday, April 27, 2022
Eighteen new members were inducted into the Rho Zeta chapter of Sigma Kappa Delta during a ceremony at North Platte Community College Tuesday evening.
NPCC is the only college in Nebraska to offer membership in SKD - the official English honor society for two-year colleges. Kristi Leibhart is the faculty advisor.
SKD's objectives are to confer distinction for high achievement and general scholarship in English language and literature, to provide cultural stimulation on college campuses through local chapters, to foster community within English departments and to encourage creative and critical writing.
To be inducted, students had to complete at least one college level English class, earning a "B" or higher, complete at least 12 semester hours of college level courses and have a minimum overall G.P.A. of 3.0.
Those inducted at the NPCC ceremony were presented with official society pins, along with yellow carnations and green and gold honor cords to wear at commencement.
Membership grants them recognition on diplomas, résumés and applications, eligibility for scholarships, writing and photography awards and the opportunity to participate in and present at national conferences.
The following students were inducted this year:
Dunning – Kenna Rogers
Maxwell – Emily Collins, Brianna Rico
North Platte – Isabella Arizona, Ann Marie Baker, Andrea Clouatre, Hannah Cook, Olivia Davis, Gabrielle Dowling, Joslyn Freeze, Justin Jorgensen, Darcey Lindsey, Scarlett Mijares, Maci Sorge, Sierra Winder, Kaylee Yonkers
Stratton – Shelly Wallace
Wellfleet - Mariah Schneider
---