Temple Grandin shares insight on various types of thinking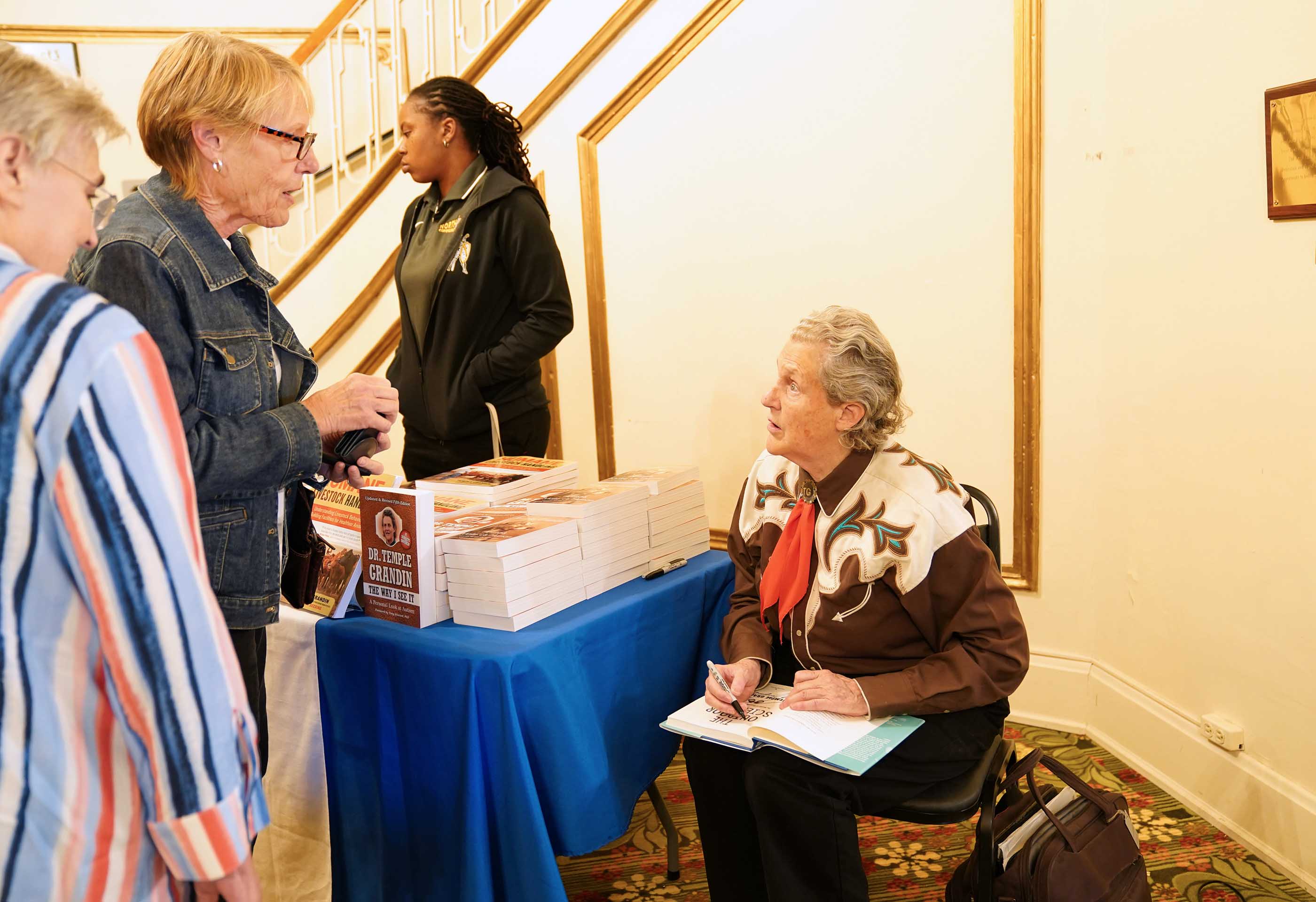 Monday, September 26, 2022
There are three different types of thinkers. All are important and all should be recognized for their uniqueness.
That was the underlying message of Temple Grandin's presentation Monday to a packed house at North Platte's Fox Theater.
Grandin, who is autistic, has made it her mission to try to bridge the gap between individuals with autism, education and industries.
"I want to help other people like me go out and be successful," Grandin said.
Success is something she knows quite a bit about. Grandin made an international career out of designing livestock equipment, and her efforts have been credited with revolutionizing the U.S. meat industry. She is widely considered the world's leading expert on humane animal handling.
The accomplishments didn't come easily. In the early days, Grandin not only battled a stigma surrounding autism, but also surrounding the fact that she is a woman.
"What drove me? I wanted to show the world I wasn't stupid," Grandin said.
Now she's hoping to do the same for others. Grandin estimates that 20 percent of the people she's worked with on projects over the years have been autistic, dyslexic or had attention-deficit/hyperactivity disorder. That didn't stop them from doing big things.
"Too often, the label of 'autism' holds people back," Grandin said. "But we need those people. We need different kinds of minds working together with complementary skills to be able to grow and move forward."
Grandin is of the opinion that thinking can be sorted into visual, spatial and verbal categories. Artists and photographers are examples of visual thinkers, while spatial visualizers think in patterns and often go into the engineering, chemistry, physics and mathematical fields.
Verbal thinkers tend to think in terms of words. They typically end up as writers, lawyers, teachers and marketers.
Grandin falls into the visual thinking category, which is what fueled her work in animal behavior.
"Visual thinkers see the world in images, much like animals do," Grandin said. "They are very good at seeing things that shouldn't be there. They see things that could potentially be a problem. Most people are a mix of the different kinds of thinkers - the so called, 'normal people'."
She's concerned that opportunities are being taken away from those that fall into one category or another. She's also concerned that many of the industries she works with are seeing a loss of skilled workers.
"We're losing the clever engineering people who work in the shops," Grandin said. "Part of the reason for that is we're taking the hands-on classes out of the schools, and that's where the visual thinkers really thrive. I'm seeing too many smart, autistic kids in the basement playing video games when they should be doing mechanics - simply because they are being stereotyped by the autism label."
Grandin thinks recognizing that different minds exist is the first step toward combating the issue. The second is to provide opportunities at home and through the educational system that allow all types of thinkers to be exposed to a variety of experiences that could potentially lead to careers.
"Finding that identity is crucial for individuals with autism," Grandin said. "I'm a prime example of why a career is so important. I am what I do."
Grandin's presentation in North Platte followed a similar talk in Broken Bow Sunday night. That one focused on cattle handling.
The presentations were made possible thanks to MPCC's Student Life and Business and Community Education departments, Custer Federal State Bank, Adams Land and Cattle, Becton, Dickinson and Company (BD) and Bruning Bank.
---