Ten high school students earn associate degrees from MPCC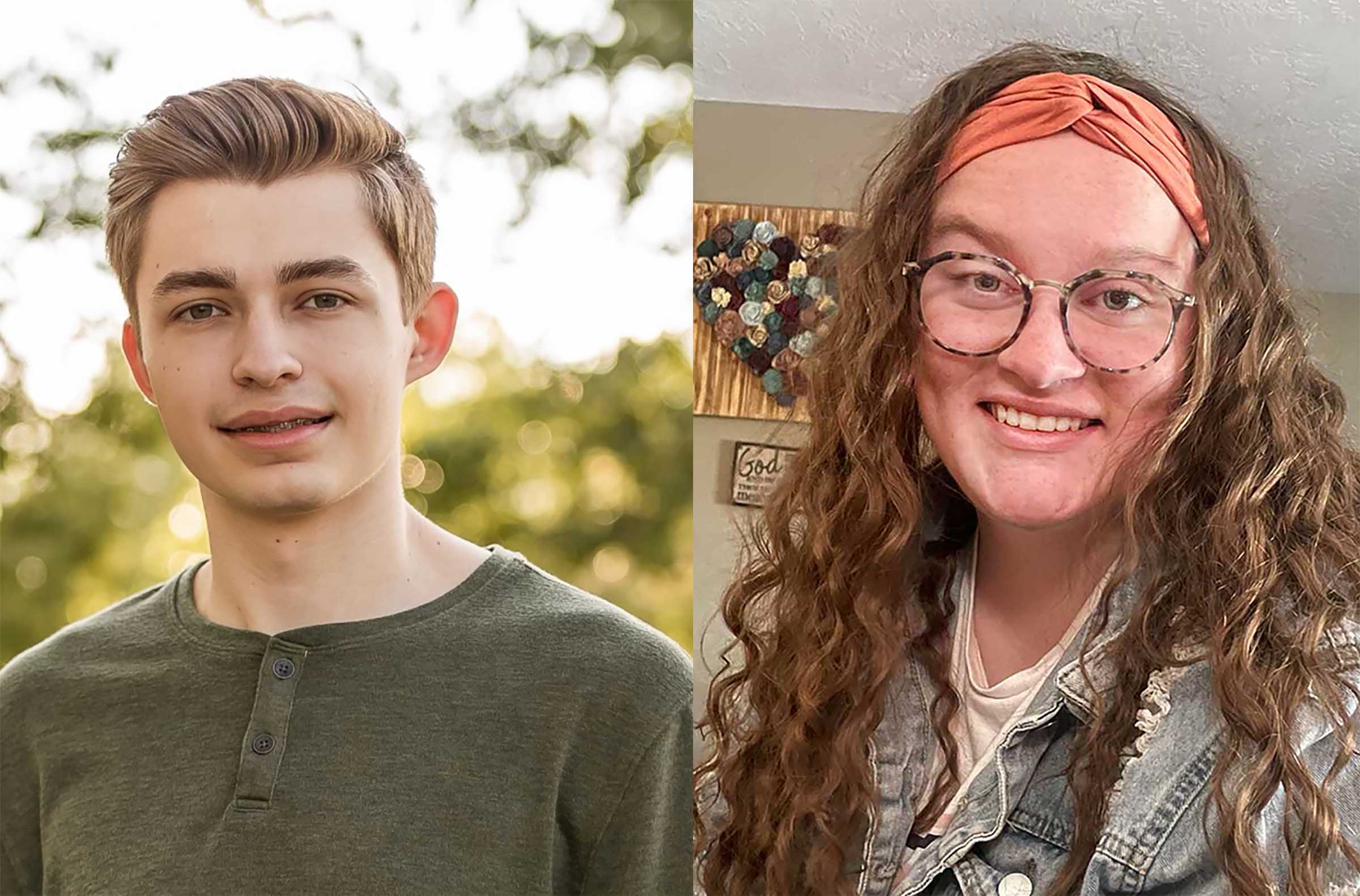 Thursday, April 6, 2023
Landon Brott (photo courtesy of Naomi Kate Photography) and Eva McCreery
A record number of high school students will earn associate degrees from Mid-Plains Community College this year before they receive high school diplomas.
Ten students managed the accomplishment - more than half of them from North Platte High School - by successfully completing enough qualifying classes through MPCC.
The students and their high schools are as follows:
Gothenburg High School – Trevor Galas
Hershey High School – Eva McCreery
North Platte High School – Brooklyn Ayres, Kaden Gilbert, Landon Brott, Jaden Ouderkirk, Carly Purdy, Savannah Stefanatz
Valentine High School – Mekallyn Bancroft, Taylor Battershaw
"These graduates are great examples of high school students utilizing the expanded early entry offerings at Mid-Plains Community College to earn associate degrees," said Kayla Thurman, director of Early Entry and Program Development at MPCC. "Early entry is more accessible to area students than ever before. They can enroll in classes online, at their high schools or attend in-person at any MPCC campus location. I would like to congratulate all the students on their achievements this year."
Eva McCreery
McCreery will become the first student to earn an associate degree from MPCC as a junior in high school. She will graduate with an Associate of Science.
"I don't think that it has necessarily hit me that I will be graduating as a junior," McCreery said. "I have been planning out my senior year, and since that is when most people take their college classes, I will have to find other things to fill the time. So, that is the most I have really thought about it, but I am excited for it to come to a close."
McCreery began taking classes through MPCC in the summer of 2021. The majority were online to accommodate her high school schedule, but during the summers, she would take about four classes in person, on campus.
"I decided to take classes through MPCC because I remember looking at the newspaper at my grandparents' house when I was about 10 or 11 and seeing two students who were graduating from college before they finished their senior year," said McCreery. "I remember thinking that I wanted to do that and be like them, so, I put my mind to it, and I got it accomplished."
The only dual credit classes she enrolled in, meaning they counted for high school and college credit at the same time, were English. The rest she took as a separate courseload from her high school schedule.
"I enjoyed the challenge," McCreery said of her experience taking college courses. "I also enjoyed being ahead of the curve in some of my classes. I think the biggest challenge for me was finding a school-life balance. I was so focused on schoolwork that sometimes I would forget about promises I had made. It was definitely difficult, but also worth it."
Not only did her efforts put her ahead of her peers in terms of academics, but it will also save her money in the long run. That's a huge benefit considering she plans to be in school for a while.
"Since I will have all of my generals done, I will be able to graduate with a [bachelor's degree] two years early, which will be nice for my plans," McCreery said. "I want to become a doctor, and this will give me a bit of a boost so I can hopefully go into the workforce faster."
Landon Brott
Brott will become the first student to receive three associate degrees from MPCC while still in high school.
He will earn Associate of Arts, Associate of Science and Associate of General Studies degrees from Mid-Plains during the college's commencement ceremony May 12, and the next day, will walk in his high school graduation.
"I decided to take early entry courses to get ahead on college and because I like learning," said Brott. "I hoped I could learn more by taking things like Critical Thinking instead of a gym class."
Brott started taking classes through MPCC via dual credit in the fall of 2020.
"Most of my classes were dual credit but four of them were offered separately through the college," said Brott. "Of those, three were online, and one was in-person over the summer."
It didn't take him long to realize that college was a whole new world.
"The biggest challenge was probably the difference between how college and high school environments work," Brott said. "College has a more formal and mature atmosphere, and early entry courses are a commitment that takes away some of the 'fun' classes in high school and replaces them with more serious classes. I do think it was helpful for me."
More information about MPCC's early entry offerings can be found online at: mpcc.edu/admissions/early-entry-high-school-students.php.
---