Award-winning chemist got start at MCC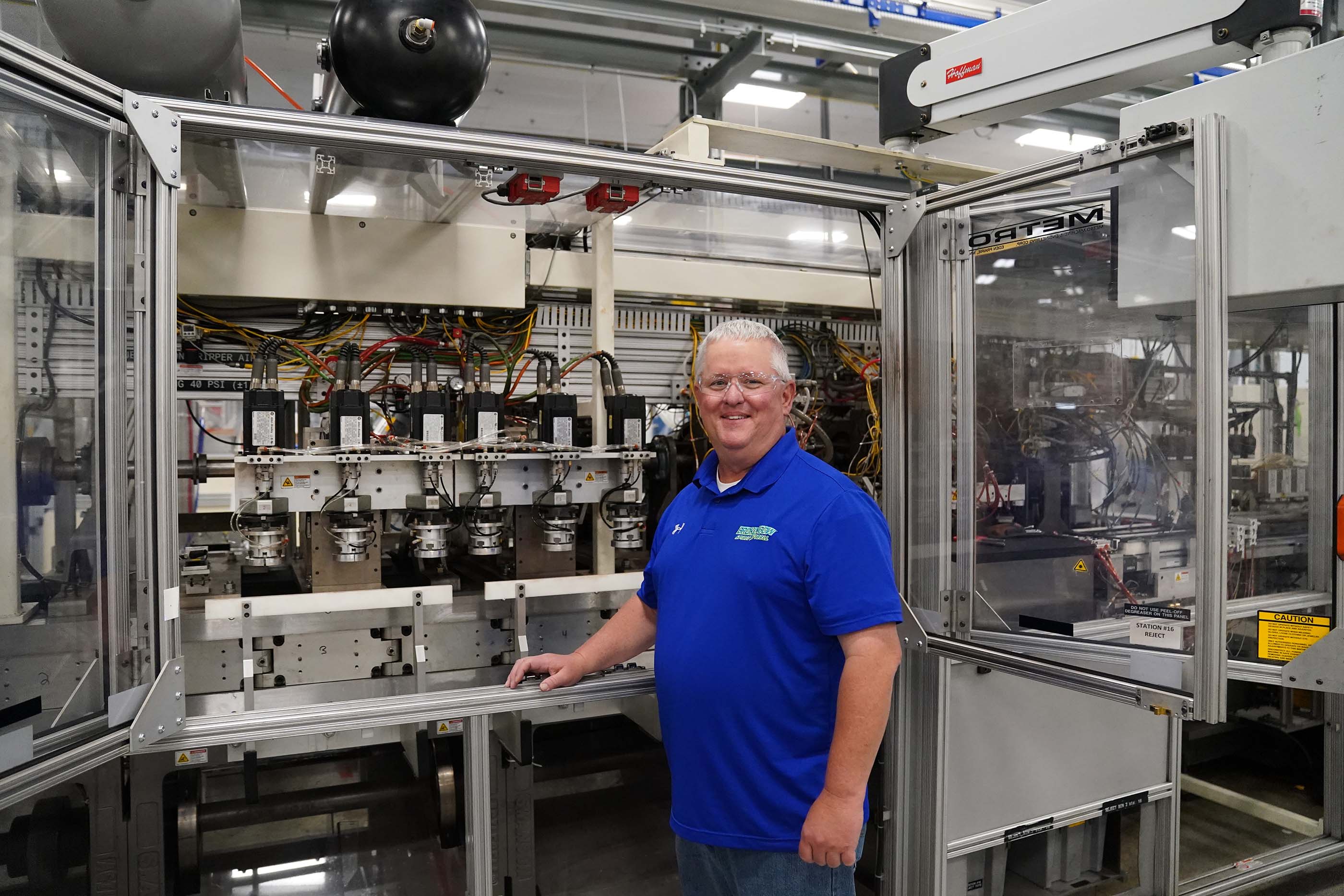 Wednesday, July 5, 2023
For someone who didn't even know if he wanted to go to college, Thomas Griffith has established a highly successful career for himself.
The operational excellence manager at Becton, Dickinson and Company in Broken Bow has saved BD more than $25 million among his many career accomplishments, which were built upon a foundation that began in the chemistry lab of McCook Community College's Barnett Hall.
The early days
Like a lot of students, as Thomas Griffith approached his final months at Broken Bow High School in 1987, he didn't really know what he wanted to do. He thought he'd probably just find a farm job. However, his high school guidance counselor urged him to consider a scholarship opportunity at McCook.
Griffith visited MCC's campus the summer after his high school graduation and accepted the Area Board of Governor's Scholarship. He was too late to secure a room in Brooks Hall, but a few weeks before classes started, someone from MCC called him to say that a room became available.
"The thing that sticks with me is that from that first time on campus, it seemed like everybody I came into contact with had a genuine interest in me succeeding," said Griffith.
He remembers Glenn Haney, dean of students at the time, helping him sign up for classes and introducing him to instructors to get a better feel for his interests.
"Coming out of Broken Bow, McCook was the perfect size of college for me," Griffith said. "I probably would have been swallowed up at a bigger school."
One of his childhood friends from country school, Doug Dunkel, who was a year ahead of Griffith, lived two doors down in Brooks Hall and helped orient him.
Griffith enjoyed the variety of the student body - students from McCook and nearby communities merged with others from all over the world. In those first few months, strangers became friends.
Griffith fondly remembers student life activities at MCC such as homecoming dances in True Hall and playing flag football in Kelley Park.
He worked at Valentinos and recalled that during the warm months, there was a guy in town who mowed lawns. If students were looking for spending money, he'd stop by Brooks Hall, and they would hop in his truck and go mow laws or rake leaves.
"Those friendships and bonds remain today," Griffith said.
In the classroom, one subject that interested Griffith was computer science, taught by Lynn Salyer, who also taught math. Griffith took both of those courses as well as accounting, chemistry with Jim Hall and physics with Jim Garretson. He particularly enjoyed the instructors in Barnett Hall.
Unexpectedly, it was a chemistry class that left the biggest impression on Griffith. He hadn't even taken the subject in high school, but by his sophomore year at MCC, he was loving the subject and his understanding of it was growing "tremendously."
Into the world
Griffith received an associate degree from MCC in 1989 then transferred to the University of Nebraska-Kearney where he graduated with a bachelor's degree in chemistry.
After working for a health food supplement company in Wray Colo., he moved to Lyons, Kan. and worked as a chemist at North American Salt. In 1998, Griffith headed to Green River, Wyo., and worked for Solvay Minerals as a chemist.
Four years later, he took a chemist job with BD at its plant in Columbus. He later transferred into the operations group where he led a manufacturing team of 85 associates. At that time, BD's main product was large syringes. Griffith would eventually move into the cannula department where the stainless-steel portion of needles were created and cleaned.
"After that, I took on a project engineer role where I was responsible for building an addition to the plant," Griffith said. "We started a new process to treat the plastic resin that we used in injection molding, developed new cleaning processes for the cannula manufacturing department and took on various other small projects."
In 2012, after 10 years at the BD facility in Columbus, Griffith returned to Broken Bow to take a position with the BD facility there. He currently works in manufacturing and continuous improvement.
"Most of my job focuses on improving manufacturing processes to be more efficient and reliable," Griffith said. "I work with various teams throughout the plant to improve high-speed assembly lines as well as manual production lines."
He has received many H.P. Becton Quality Awards for improving the quality of products, solving production issues and saving the company millions.
Griffith credits MCC for getting him to where he is today.
"The instructors really made us feel like they wanted us all to be successful," he said. "They cared about people, and that made an impression on me. I've really tried to duplicate that in my professional career."
---