Two selected as Nursing Students of the Month at MPCC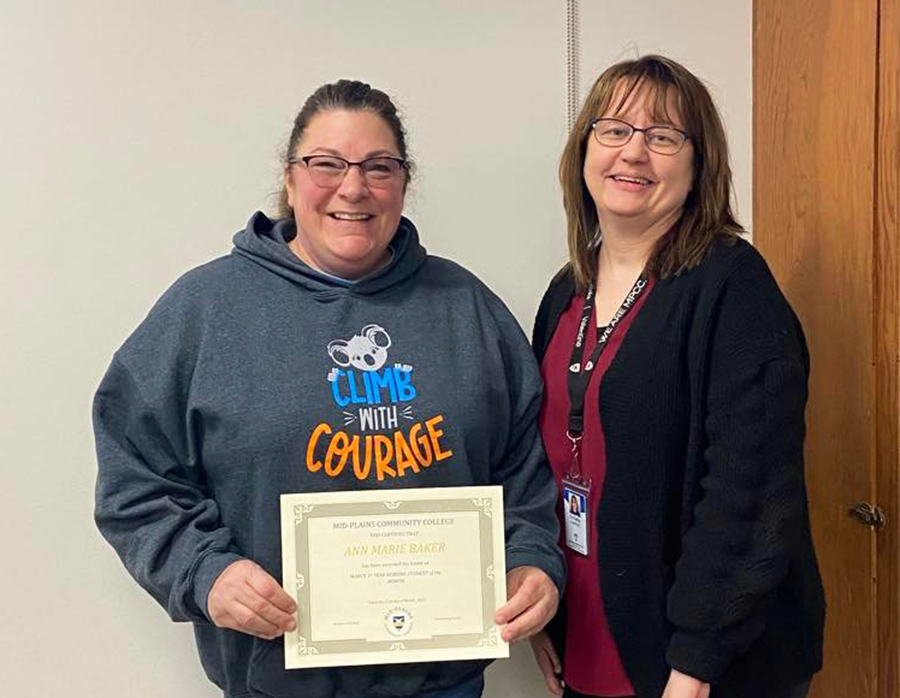 Monday, March 28, 2022
Ann Marie Baker and Nicole Rauch have been named Nursing Students of the Month for March at Mid-Plains Community College.
Baker is a first-year nursing student at MPCC, and Rauch is in her second year. Both were nominated for the recognition by their nursing instructors and classmates.
Ann Marie Baker
"Ann Marie's attitude and zest for learning is infectious to those around her," said Nicole Kissinger, nurse educator. "She is willing to put in the extra time and effort to truly learn what she is studying. Her clinical performance is excellent and her ability to connect with her patients is wonderful."
Nurse Educator Mandy Flesch said Baker's contributions in class help the students understand content. She described Baker as a hard worker and great team player.
"Ann Marie is always attentive and participates in class," said Lindsay Schwartz, nurse educator. "She shares stories and knowledge with her peers. She also asks questions and engages in what is taught. She comes to class with a positive attitude and always strives to do her best."
Baker is from Oakdale, N.Y. A non-traditional student, she graduated from high school in 1990. She was already a paramedic prior to attending nursing school, which she decided to pursue because of the many opportunities the field provides.
"MPCC has given me the opportunity to advance my career," said Baker. "I took my paramedicine classes at the college back in 2009 and also obtained my associate degree in EMS. The faculty at MPCC are amazing. They all go the extra mile to help us be successful."
Baker works as an emergency department technician at Great Plains Health. Her hope is that she can continue working in ER as a registered nurse upon graduating from Mid-Plains in 2023.
Baker currently lives in North Platte with her husband Jeff Baker and their 8-year-old daughter.
In addition to studying nursing at MPCC, Ann Marie teaches emergency medical services and CPR classes for the college. She is a member of the Sigma Kappa Delta English honor society, the North Platte Optimist Club and is a committee member for Relay for Life of the Plains.
Nicole Rauch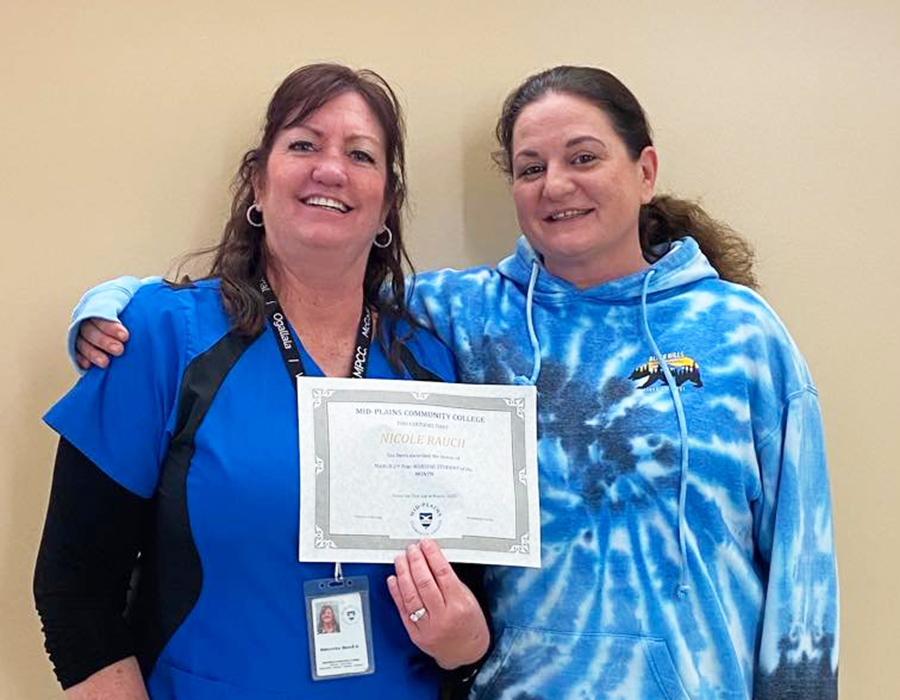 Rauch lives in Benkelman but is originally from Germany. She and her husband, Nathan Rauch, have two children.
"Nicole is a stellar scholar and has consistently been at the top of her class this whole year," said Addie Schaeffer, nursing instructor. "She is not afraid to ask questions for clarification and is a go-getter in the clinical setting. She was also the winner in a HESI question contest we had. She is a team player and overall does well."
Schwartz echoed those sentiments, calling Nicole a hard worker.
"She does her very best to provide exceptional care to her patients every single time," Schwartz said. "Nicole is eager to learn new things and asks questions to expand her knowledge. She is not afraid to speak up about things in the clinical setting and is an advocate for her patients. She also demonstrates critical thinking when providing patient care."
Rauch selected the nursing program at Mid-Plains because of its proximity to her home.
"It is a good program," Rauch said. "MPCC helped me out during a difficult time with some family medical issues."
Nicole's classmate, Brittany Masters, also nominated Rauch for Student of the Month – based on her grades and willingness to help other students in class and clinical settings.
"She always speaks up for herself and others when she feels the outcome will be beneficial," said Masters. "Nicki has overcome challenging personal life situations without it affecting her academic standing or her attitude toward other classmates. She is always present and attentive during class lectures. Nicki is very professional during clinical and continues to impress us as students. I have heard nurses praise her for her performance and how inquisitive she is."
Nicole is on track to graduate in May. After that, she would like to work in a surgery department and pursue certification in diabetic education.
Outside of the college, Nicole enjoys fishing, swimming, kayaking and spending time with her kids.
---