Saturday's MCC/North Platte Purple-Out games to shine light on epilepsy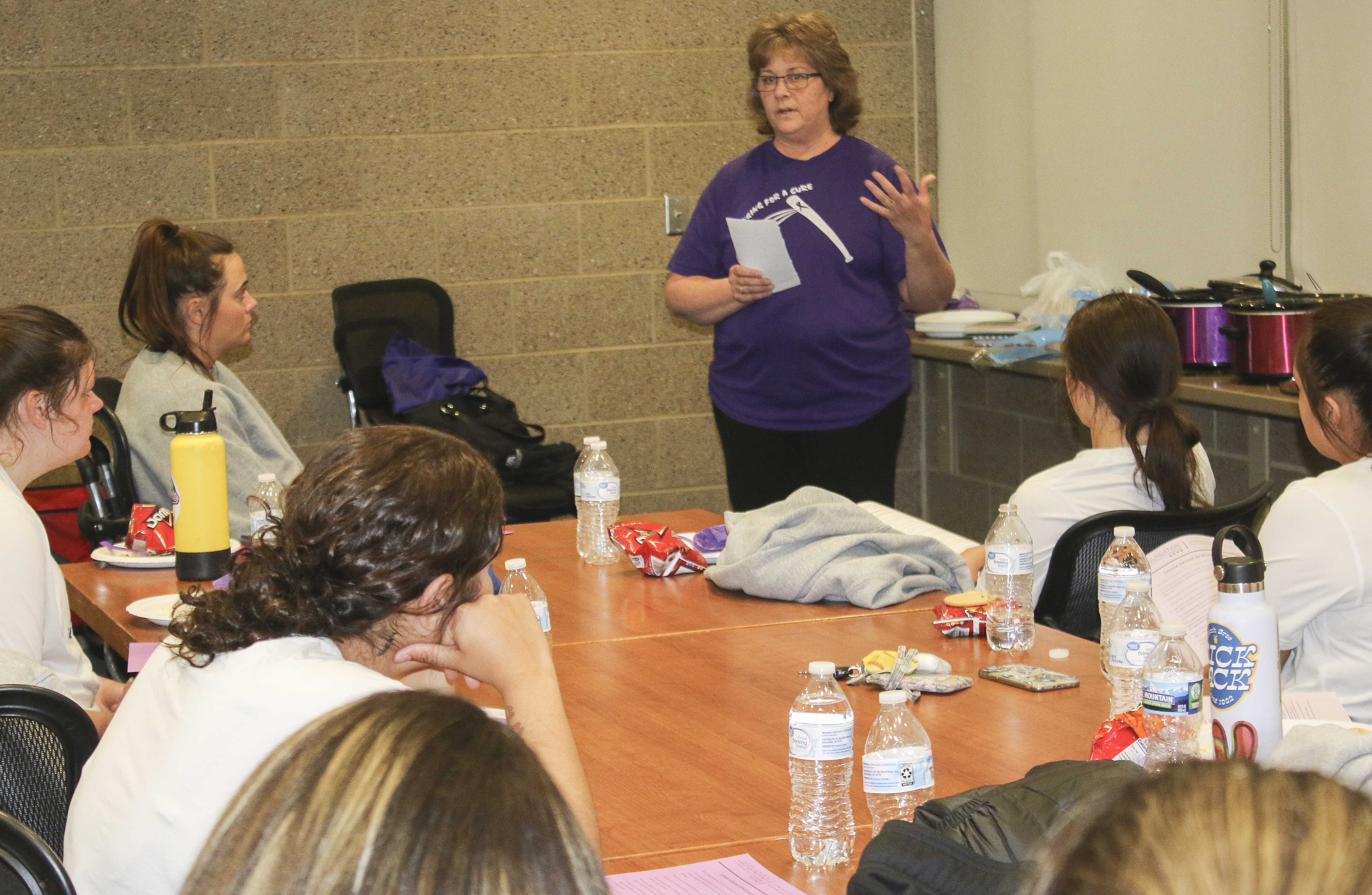 Monday, March 28, 2022
Organizers for McCook Community College's annual Phi-Theta Kappa Purple-Out softball games are hoping a slight schedule change in this year's annual event will bring even more attention to epilepsy. Specifically Purple-Out is about telling the story of Abbee Terry, a McCook girl who was diagnosed with epilepsy 16 years ago, when she was three.
Purple-Out is about drafting more players for Team Abbee.
For the first time since the event was staged in 2014, the annual home doubleheader against North Platte Community College will be played on a Saturday afternoon, and organizers are hoping those who've been unable to catch the games -- normally held on mid-week afternoons -- can come to the Jaycees Sports Complex to support this event and become a part of Team Abbee.
Softball players always chalk the sidewalks around the complex with messages of hope and encouragement. Players from McCook along with the North Platte team will wear purple warmup shirts and fans wear purple to help raise money and awareness for epilepsy.
There are several fund-raising activities, including T-shirt sales, a bake sale, a silent auction including signed softballs from both MCC and North Platte, as well as and other collectibles from other MCC teams. Also up for bid will be MCC athletic gear, and auction packages and baskets from area businesses and individuals. All proceeds go to the Nebraska Epilepsy Foundation.
More importantly the annual Purple-Out event was established to help raise awareness for epilepsy through Abbee's story.
Most years, Abbee has thrown out the ceremonial first pitch. Not this year.
She's had a difficult year from a health standpoint and spent too much time in hospitals. She's scheduled for more surgery when Saturday's Purple Out games will be played. Each year her condition regresses, and 2021 was a particularly bad year with several surgeries, weeks in hospitals, and more on the horizon. Doctors have prescribed upwards of 25 pills a day, they've imposed strict diets limiting carbohydrates and excluding sugar. They performed a vagus nerve implant to sends electrical signals to the brain to help with seizures. But the seizures frequency and severity keep increasing. As many as 400 a day.
The Terry family has always had close bonds, being part of the MCC family. Abbee's dad Doug drives the busses for many of MCC's out-of-town athletic trips, and mom Bonnie worked as preschool teacher at the Child Development Center at MCC for 18 years.
Abbee was on-target developmentally as a three-and-four year old. She knew her numbers and letters. Then she had her first seizure. Doctors first believed it was the type of seizures that she would outgrow. But she didn't. In kindergarten she began to regress. For almost two and a half-years, the Terrys struggled to find answers as she continued to regress.
As the severity and the number of seizures increased, Bonnie had to leave her job to take care of her daughter's increasing needs. Ultimately it was discovered that Abbee has a rare and severe form of childhood epilepsy known as Lennox-Gastraut Syndrome (LGS).
In 2014, brother Justin was finishing his MCC baseball career about the time Bonnie had to leave work. He helped lead the first "Purple Out" games on the diamond to bring attention to his little sister Abbee, then 10. All his teammates wore purple to bring attention to epilepsy. Brothers Coy and Quentin have also been an important part of the effort to educate friends, teammates and members of the public about Abbee's story.
Eventually all the athletic teams, MCC faculty and staff, and members of the community joined Team Abbee, with the softball team and Phi Theta Kappa taking lead. A few years ago, even the rivals from North Platte joined. Every year, both teams gather at home plate for the Team Abbee photo.
Every year, Abbee's mother Bonnie speaks to MCC groups and other groups throughout the area about what epilepsy has meant for the Terry family in an effort to increase awareness.
Earlier this month, she made and brought supper to campus for the softball team and talked to players and coaches about the how Purple-Out has evolved, what epilepsy has meant to her family, and shared her photo album of Abbee's journey. She also talked about her wish that when they graduate and go out in the world, that they will always be on "Team Abbee," raising awareness and understanding.
And while Abbee won't be at the games this year, family members will likely step in as relief pitchers. Her brother Quentin filled in one year, and it looks like this year Abbee's five-year old neice Kazlyn will likely get "the starting assignment." And yes, she is the daughter of Justin, who first had the idea to bring epilepsy awareness to the diamond.
The first pitch is set for 1 p.m.
---